What You Need To Know About Moms On Call
This post may contain affiliate links. As an Amazon Associate I earn from qualifying purchases.
Have you heard about Moms On Call? Many follow the method for sleep training purposes, but it is so much more than that!
It is a comprehensive guide to baby care written by two paediatric nurses.
It also has similar principals to those found in Babywise. Read–> Babywise vs Moms on Call: 5 Differences You Need to Know About
If you're curious to know more, then keep reading.
Before we go any further…if you don't like Babywise or are opposed to the principles behind it, then you probably won't like Moms On Call. (If you've never heard of Babywise then read more –> HERE)
Mom's On Call is hardcore. It is for sure more hardcore than Babywise.
Moms On Call does advocate allowing your baby to cry from a young age and by age 12 weeks, as long as your baby is feeding and growing well, then they recommend staying out of their room 7pm-7am and allowing them to learn to self-soothe.
The Moms on Call schedules do allow for flexibility and feeding when your baby is hungry, but there are certain aspects that they recommend sticking pretty firmly on.
For instance, they recommend waking your baby at a certain time in the morning and starting the day from there. This is a very similar concept to that of the desired wake time that you'll find in Babywise.
It Is A Sleep Training Method
Moms On Call is a baby care guide, but it is also a sleep training method.
It gives age-appropriate routines and guidelines to help your baby work towards sleeping through the night. It focuses on forming a solid routine during the day and a very consistent bedtime routine.
There are specific Moms on Call schedules that they provide so that there is no guesswork involved for you.
And then during the night Moms On Call recommends doing 3x rounds of waiting.
So, you allow your baby to self-settle for 5 minutes, then comfort them and insert the paci (if you use one), and then leave them again. I can say that this works really effectively. Annie would often wake in the night and I would just give her her paci and she'd sleep for another 2-3 hours!
You can read more about the soothing rounds from Moms on Call in this post –> What You Need to Know About Moms on Call's Soothing Rounds
The book encourages safe and independent sleep from day one.
Using this method, my third baby started sleeping 8+ hours at just 5-weeks old! And we didn't use any kind of real CIO or anything. She did it on her own.
The main thing that helped was waiting a full 5 minutes when I heard her wake at night to see if she was truly awake and hungry. Most of the time she stopped crying and fell back asleep within five minutes.
She is now 4-months old and sleeps 12 + hours overnight with no wake ups. In fact, most mornings I have to go in and wake her.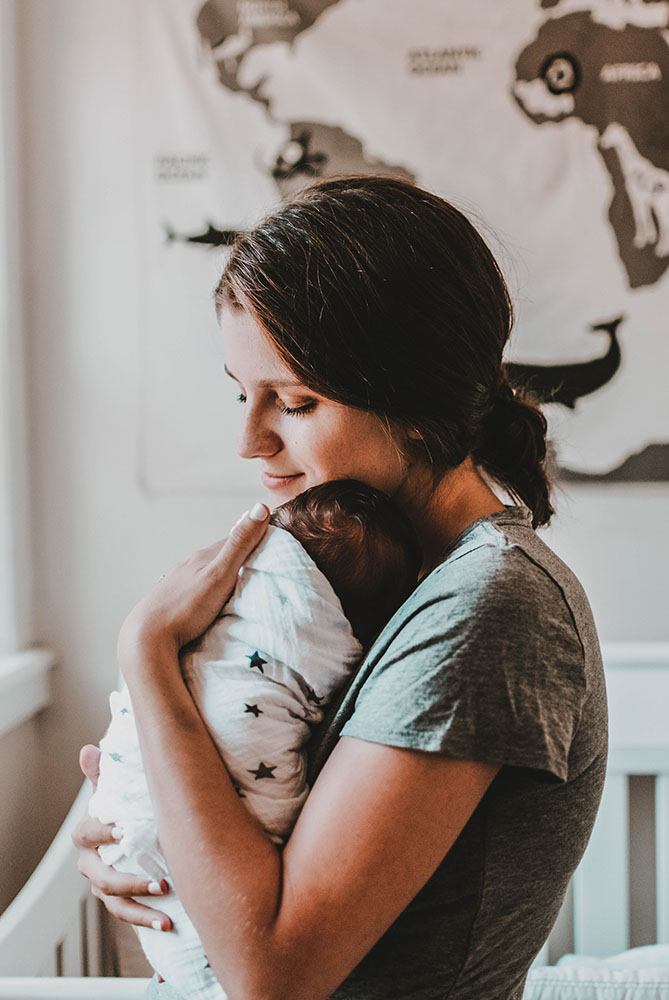 It Is Also A Care Guide
While the majority of parents follow Moms On Call for its sleep training method, there is so much more to be found in the book. Everything from how to bathe your baby to the appropriate swaddle blankets to invest in.
I think many appreciate that it is written by two paediatric nurses who have vast experience. What's more, is that they have a consulting service that is there to answer any questions you might have.
They also have more than one book. In fact, they have books that go up to the toddler years.


It is Cut and Dried
This is one of my favourite things about Moms on Call. While they are very much non-judgemental in their approach, they also don't beat around the bush.
You will find their suggestions unambiguous and easy to follow. This is especially true for the Moms on Call schedules.
Many first-time parents have used this method, but I have found it particularly helpful now that I have more than one child.
I have far less time on my hands to be constantly tweaking schedules. Because Moms on Call provides all the schedules you need it is simply a case of setting out to follow it.
Of course, you need to read and follow your baby's cues because as we know, babies are not robots.
However, Moms on Call does simplify things.
Who Is It Good For?
If you're looking for a parent-led method, then Moms On Call is great. It would also be a great gift for a new mama, as it covers a lot of basic infant care.
However, it is brilliant for the mama with one or more children because of its simplicity. There is less guesswork, and more structure with very few principles to have to remember.
I haven't personally looked into it, but I've heard from other mamas that there is a Moms on Call schedule that is specific for both your toddler and infant.
That could be so helpful, especially in the early days when you are tired and struggle to think through things clearly.
We personally used a mix of Moms on Call and Babywise with our second and third babies and had great success! As mentioned above, I appreciated the simplicity of Moms on Call and not having to guess so much about wake times, etc.
I'm often told that I'm 'lucky' to have babies that sleep so well.
The truth is, luck has very little to do with it. We put in the hard work and trusted the Moms on Call schedule. Consistency really paid off and as a family we are all reaping the benefits.
Have you used Moms On Call? Let me know!