How to Establish the Ultimate Mommy Morning Routine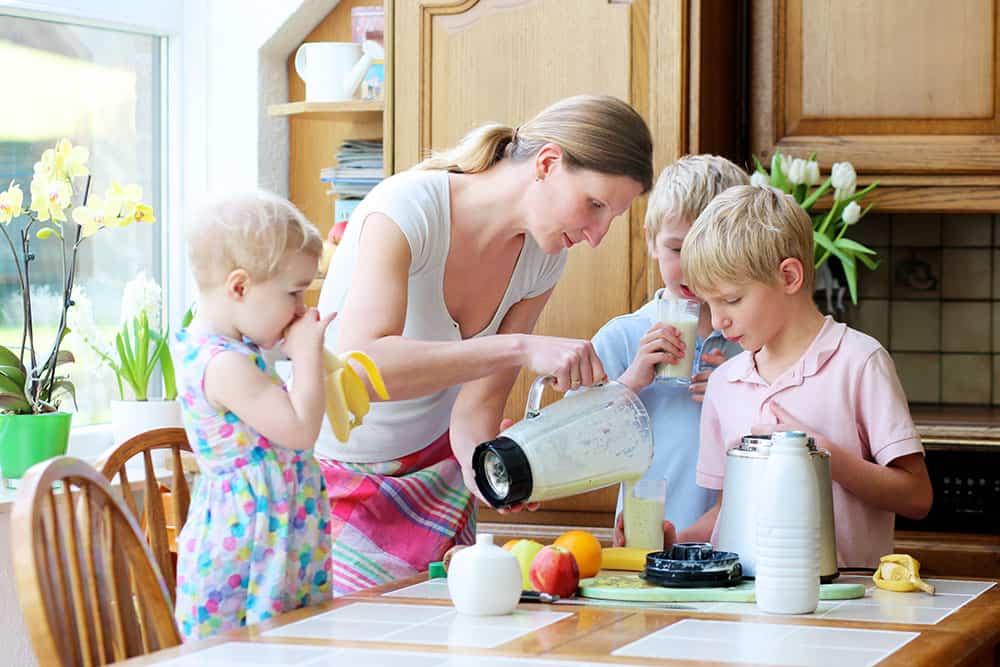 This post may contain affiliate links. As an Amazon Associate I earn from qualifying purchases.
What does your mommy morning routine look like?
Is it total chaos and absolutely exhausting?
If you have to leave the house it is left looking like a bomb went off. Or, if you're staying home, you just never quite feel as though you've got a handle on the day.
I've totally been there. In fact, some days I still AM there.
However, with a few years of mothering under my belt now, I've come to realize that there is one thing that can make all the difference when it comes to how crazy your morning is going to be.
It is your morning routine…or lack of one.
If you don't have a morning routine, then chances are that your mornings represent a lot of the scenarios I just talked about.
However, if you do have a morning routine, then you'll know that it can really help to simplify things and reduce the chaos.
Whether you're starting from scratch or looking to revamp your current routine, this post is going to hold some real valuable content.
I'm sharing my best tips for getting through the morning unscathed and you'll also find several tips from other moms from all different situations and scenarios.
Mama, if you want to start your day on a happier note and without feeling exhausted by the time 9 AM rolls around, keep reading, cause this post is your answer.
The Best Tips for Creating a Simplified Mommy Morning Routine
There are lots of different aspects to a morning routine, so I've broken them down a little in order for you to not feel so overwhelmed (especially if you're just putting together a routine for the first time).
You'll find a really helpful morning routine printable at the end of this post that will help you to stay organized.
First up are some tips for you as the mama.
#1 Get Up Before the Kids
Whether it is 10 minutes before your children get up or an hour…you will find great value in getting up before your children do.
This isn't always possible, especially when you have a newborn, but if you can make it happen, I strongly recommend that you take advantage of the opportunity.
My children get up at 7 AM and I get up around 6:30 AM.
It gives me a minute to check emails, have a cup of tea, converse a little with my husband (he's NOT a morning person), and just check out my to-do list for the day.
When my children do come through, I can greet them with a smile and be able to devote 100% of my attention to them.
Considering this is one of the most important and impactful times of the day for them, I really love being able to do this.
#2 Get Ready for the Day
Obviously, if you're a working mom you're going to need to get dressed for the day, but I strongly urge stay-at-home (and work-at-home) moms to do the same.
I get dressed during my children's independent playtime, however, if you don't have an opportunity like that, I suggest you do it before your kids get up in the morning.
There's something about being dressed for the day that just helps you to be more productive and feel more put together.
#3 Fill Your Soul
Whatever this looks like for you…do it.
It could be reading Scripture, listening to a podcast, meditating, reading, etc, etc.
Take the time to fill your soul before the day really gets started. It will help to lift your attitude and mood as well as give you the mental energy that you need to face the challenges of the day.
We have a verse that I work on getting my children to memorize every month. Some mornings that is all I meditate on, but it really does make a difference.
#4 Fuel Up
This doesn't have to mean a cup of coffee, but if that's your thing, then go for it.
We've used several different coffee machines in our home over the years (my husband loves the stuff!). Some of them can be set on a timer so that your coffee is ready for you when you wake up!
I personally am a tea-drinker and love a strong brew.
However, what I'm really referring to here is just making sure to fuel your body in some capacity or another.
Make sure that you're not starting the day running on empty.
Preparing rolled oats the night before or batch cooking and freezing pancakes or muffins are both great ways to make sure you get a wholesome breakfast without cutting into prime morning time.
#5 Take 5 Minutes to Relax
Before those babies of yours come marching through to the living room making demands for breakfast and snuggles and this and that…take a minute or five, to just relax.
Drink whatever beverage it is that you enjoy and just sit.
You don't have to multi-task…just sit.
There will be enough multi-tasking throughout the rest of your day, so take those five minutes to do nothing but relax.
Mommy Routine Example
For a bit of context, I have 3 children currently aged 4 and under. I also work around 25ish hours a week from home. The children are all with me all of the time.
6:25 AM (Alarm goes off)
6:30 AM Go to the computer and check emails/start the work day
6:40 AM Read daily verse
6:50 AM Drink tea while catching up on the news/current events (thanks hubby for making it!)
7:00 AM Big kids come through and I go get the baby
7:00-7:20 AM Feed the baby & snuggles on the couch until daddy leaves for work
7:30 AM Start breakfast and do a couple of work jobs while the children are eating (also unpack the dishwasher)
8:00 AM Put on laundry
8:30 AM Tidy breakfast dishes
8:45 AM Get all three children dressed for the day
9:00 AM Baby naps & big kids each have independent playtime
9:00-10:20 AM Get dressed for the day/hang out laundry/get meat out for dinner/work
10:20 AM Spend time with the big kids
10:45 AM Get baby up from nap & feed
11:00-11:45 AM Big kids outside playing while baby plays in the living room where I work
11:45 AM Get everyone cleaned up for lunch
Mom Routine Hacks
Along with having a good routine for yourself, there are a few hacks that can really help things to run more smoothly in the morning.
#1 Prepare the Night Before
This can be applied to so many things, but seriously, if you want to take away from the chaos of the morning, go ahead and see what you can prep for the night before.
Breakfast is something that I've already mentioned, but you could also have clothes picked out ahead of time, bags packed, and lunches made.
Sit back and think about what could be sorted out the night before and I guarantee that it'll free up your mornings.
Quick Breakfast Tools
#2 Teach Your Children to Stay in Their Room
My children do not come out of their rooms from 7 PM-7 AM except for bathroom breaks, sickness, or bad dreams.
It isn't magic and my children are not angels.
It is something that we've worked on right from when they were babies.
Having a consistent start to the day just helps everything else run a lot more smoothly.
We have a toddler clock like this one in our children's room that tells them when it is time to get up in the morning.
Trust me on this one…it'll make your life so much easier having your children stay put until a time that you decide on.
Even if our children wake earlier than 7 AM (which they often do), they'll just read or play in their room until it is time for them to get up.
#3 Delegate
You do not have to do it all.
Let me repeat that…you do not have to do it all.
Even though there are times when it may feel that way, you really don't have to be the one doing everything.
Children are capable of helping out from a really young age.
My two-year old is expected to clear her own dishes, put her used pull-up in the trash, and put her dirty clothes in the hamper.
Is she perfect at it? Nope, but she's getting better and better.
Teach your children to help and if your significant other is around to help in the mornings, give them some jobs to do so that your plate isn't quite so full.
#4 Build in Extra Time
This is a tip that I share in this post about how to get of the house on time.
The key is to build extra time into your morning routine so that even if things go wrong, you've got a little leeway.
Write down approximately how much time you think it'll take to achieve each task and add some onto it.
Or, if you need to be somewhere at a specific time, bring that time in my 10 minutes so that you're a lot more likely to get there early or right on, instead of late.
#5 Pick Your Battles
Let's be honest, when it comes to getting things done in the morning, one of the most variable factors is our children.
They're not always easy to get to do what we expect of them and if you have toddlers or babies then you can be met with all kinds of unexpected delays.
Try to pick your battles on this one.
Does your baby really need a bow in her hair? Is it the end of the world if your child's socks don't match?
Consider what is truly important and ignore the rest.
Baby Routine Example
I thought it might also be helpful to share what a typical morning would look like for my babies.
Obviously, different babies have different routines, but this is a general outline for babies. I've done one for younger babies and one for babies from about 6 months and onward.
Younger Babies
7:00 AM Wake & feed
7:45/8-9:45/10 AM Nap
10:00 AM Feed
10:30 AM Tummy time
10:45/11 PM-12:45-1:00 PM Nap
Older Babies
7:00 AM Wake & feed
7:00-7:30 AM Spend time with siblings/family
7:30 AM Solids
8:00-8:45 AM Floor time/bouncer/jolly jumper
8:45 AM Get dressed
9:00-10:30/11 AM Nap
11 AM Bottle
11:15-11:45 AM Play
11:45 AM Get ready for lunch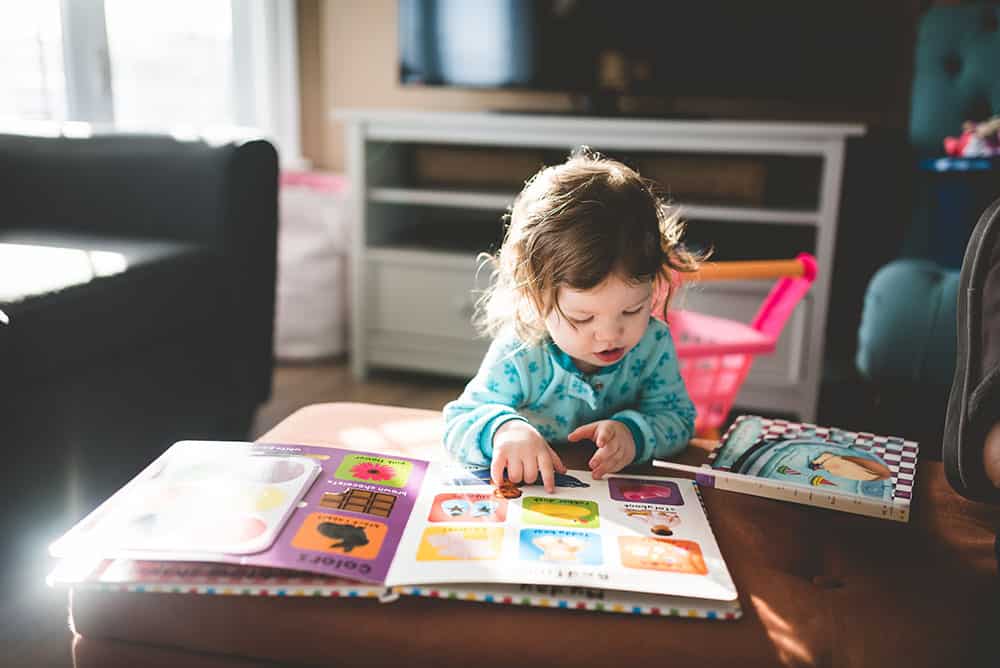 Toddler Routine Example
By the time my children are toddlers we still definitely have a routine in place, but they're a lot more capable of entertaining themselves.
The first is an example of our stay-at-home routine, but I'll also include the routine we would use if we were going out.
Stay at Home Routine
7:00 AM Get up & have a drink
7:00-7:30 AM Snuggles on the couch & some TV time
7:30-8:00 AM Breakfast
8:00-8:45 AM Help clean up breakfast then play
8:45 AM Get dressed & ready for the day
9:00-10:20 AM Independent playtime
10:30 AM Morning snack
10:30-11:45 AM Free play (usually outside)
11:45 AM Get cleaned up for lunch
Going Somewhere Routine
7:00 AM Get up & have a drink
7:00-7:30 AM Snuggles on the couch & some TV time
7:30-8:00 AM Breakfast
8:00-8:30 AM Clean up breakfast & play while mom gets ready
8:30 AM Get dressed & ready to go out
9:00 AM Leave the house
These printable routine cards are also awesome for toddlers to gain some independence. Check them out HERE.
How to Form a Habit
Part of establishing a simplified morning routine means that you'll likely need to form new, or break old habits.
This post goes into great detail on how habits are formed.
If this is something that you struggle with (I mean, I totally get hitting that snooze button over and over) then you'll want to give it a read.
Tips from Other Moms
Because some moms work from home, some moms stay home, some moms work outside of the home, and some moms do a combination, I wanted to provide you with tips from other moms aside from just myself.
Below are some really valuable pieces of advice from moms that are adept at balancing many needs while also being productive.
A couple of things stood out and were repeated across the board:
Prepare ahead of time
Get up before your kids
I've addressed both of those previously, but just wanted to reemphasise how important they both are and what a difference they can make when it comes to reducing stress.
Your Ultimate Guide To Establishing A Morning Routine
Now that you have all of these amazing tips to create your mommy morning routine, let me make it that much easier for you by giving you this printable routine guide.
You can keep track of:
Your morning routine tasks
Your top 3 priorities for the day
Your meal plan
Your appointments and reminders
Just download it below.