Should You Have a 3rd Child? | Here's the Honest Truth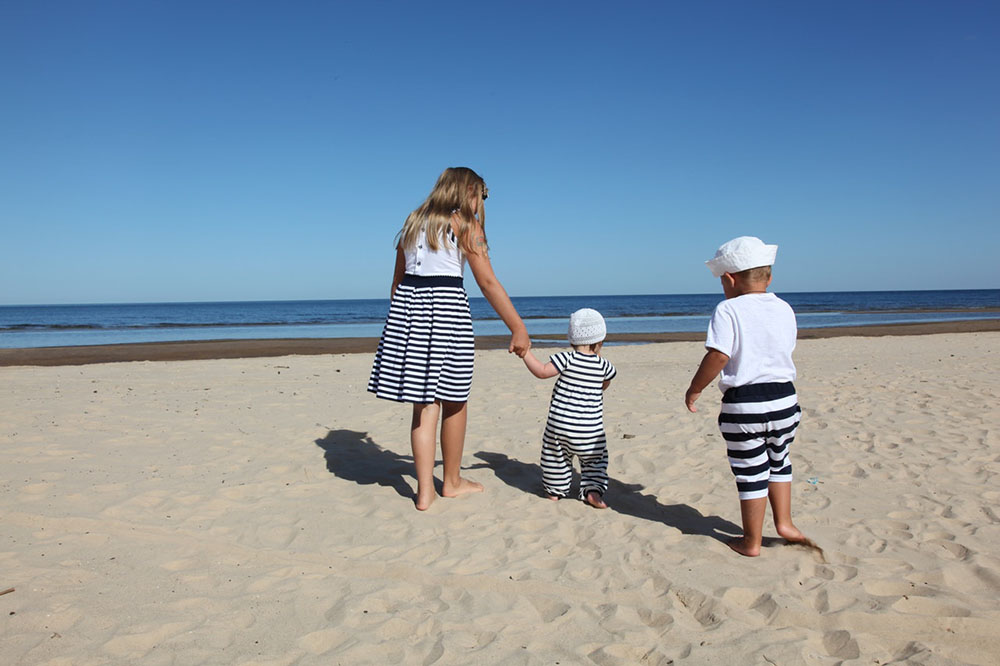 This post may contain affiliate links. As an Amazon Associate I earn from qualifying purchases.
Why did you click on this post?
Perhaps it was because you're considering having a 3rd child. Or, it could be that you're pregnant with your 3rd.
Maybe you aren't intending to have a 3rd, but you're just curious to know what it is like.
Read –> 7 Truths of Life with 3 Kids
Well, whatever your reason, this post is here to bring you the honest truth about having 3 kids.
What is it really like? Is it crazy? Is it wonderful? Do I regret it?
Read on to find out.
Other People's Opinions
I always knew that I wanted to have more than two children. However, 3 was never on my radar.
In fact, 4 or 5 were the numbers that I had in mind.
But then I had very difficult pregnancies, and as much as I love my children, I knew that it wasn't worth it for our family to keep growing it.
Not only that, but I had a peace about stopping at 3 children.
We have one boy and two girls.
Like I said before, I have absolute peace about being done.
You can read more about my thoughts on that in this post –> How to Know When Your Family is Complete
What was the most difficult part about deciding if we were going to stop at 3 kids?
People's opinions.
If you're a parent then you will already know how easily people like to share their opinions on how you should raise your children. They often mean well, but we all know how challenging it can be.
When I shared that we were having a third and that it would likely be our last, I was met with lots of opinions.
However, one of the most common was that having 3 kids was the hardest.
If I was going to have 3 then I really should just go ahead and have four.
Find out what life with 4 is like in this post –> Life with Four
Posts Worth Reading
That sentiment was echoed quite a bit and so it made me nervous.
Well, flash forward several months and now here I am with 3 small children.
Jack is almost 4, Annie is 2, and Charlotte is 14 weeks.
So, from my experience thus far, would I recommend you have a 3rd child?
It isn't a simple yes or no answer, which is why I've jotted down a few points worth taking note of.
It Depends on the Age Gap
Our children are all close in age. There are 18-months between Jack and Annie and 24-months (almost to the day) between Annie and Charlotte.
We've been in the baby/toddler stage for almost 4 years now.
Because of that, I believe that the transition from 2-3 wasn't as difficult as it otherwise could have been.
Baby care was fresh on my mind and our home has a regular supply of things like nappies and wipes.
We had set sleep routines in place for our older two and so adding a third wasn't that big of a deal.
Read –> What is the 18-Month Age Gap is Really Like?
I could see adding a 3rd child being a little more difficult if you had school-aged children.
Juggling the routines and activities of everyone in the family is no joke.
For us, we don't venture out a ton. My 'big kids' love to play in our backyard and I'm a real homebody.
I don't have to work the baby's routine around many activities and that really simplifies things.
It Depends on Your Parenting Style
We are a routine-loving family. Read some more of my blog and you'll find out what I mean.
I'm not a sergeant major by any means, but I like our home to be a place of order. Well, as much as it can be when you have 3 children under the age of 4.
All 3 of my babies have been sleeping through the night before 3-months of age.
We have nap/rest time from 1-3 pm for all 3 children.
Life is not regimented, but there is a consistent flow to each day.
Read –> How to Have a Balanced + Productive Routine as a SAHM
Personally, this has made having children close in age a lot easier. I don't have to guess what each child will be doing at different times of the day.
I can plan appointments and outings ahead of time because I know when the baby and toddler will be napping.
Some parents thrive on more of an attachment parenting style, but I can tell you now that I wouldn't have made it past two kids if that were the way I chose to parent.
Which leads me to the next point…
It Depends on You
We're all built differently. We all have different thresholds for things such as sleep, stress, and noise.
Some women are able to have the most fantastic pregnancies and feel so feminine and healthy throughout.
That was not the case for me.
I had so many obstacles along the way including but not limited to SPD, Sciatic pain, anemia, and pre-natal depression.
That played a huge part in our decision to call it quits once we had baby number three.
I wanted to be healthy and strong enough to be able to parent the children I already had.
If you have the mental and physical capacity to have another child, then don't let anyone persuade you otherwise.
You know yourself and your family best.
Another thing that is worth talking about is what your priorities are.
I'm 27 and I have 3 children. Yes, I work from home but having a successful career has never been a major goal of mine.
You can read about my journey to become a work-at-home mom in this post –> 5 Simple Reasons Working from Home Saved my Motherhood
The work I do now is secondary to raising my children. They have and will always come first.
If pursuing a career is of utmost importance to you then having a 3rd child almost certainly will disrupt that.
Some might think that unfair, but I think we have the privilege of bringing a life into the world. Taking the time to do that isn't a sacrifice.
It Depends on Your Village
This is a really important point that I must address.
We all know that raising a child takes a village, but what that village looks like is different for everyone.
I will be the first to say that I am surrounded by a barrage of love and support.
We have family and friends that will drop everything if we need some help.
When I was pregnant with Charlotte, my parents took the older children for a little while because I could barely care for myself let alone my children.
My husband and I are a team. We work together.
Without him, I struggle.
He's just such an amazing support and is a very hands-on parent.
That is the way it should be for everyone, but the truth is that it isn't.
Having another child can be really difficult if you do not have enough support. It isn't in and of itself a reason not to, but it is worth mentioning.
What it is Really Like:
The Same but Different
So what is having 3 kids really like?
The best way that I can describe my experience is that it is the same but different.
Life has changed, but not all that much.
Not any Harder
Personally, I have not found having 3 kids any more difficult than having 2.
I think that in part it is because I had such a difficult pregnancy. Having 3 kids and not being pregnant felt like a walk in the park in comparison.
Because we had a solid routine and order to things before Charlotte came along, she just fit right into our daily living.
It does help a lot that she has been a very easy-going baby right from the getgo.
For some tips on the 2-3 transition read this post –> Two to Three Child Transition
Life is Busier
The main difference that I can think of is that life is busier.
Our days don't look all that different to what they were before, but the hours go by faster and there is more to do.
Naturally, having to feed the baby every 3 hours or so takes up a lot of that time.
It doesn't mean that I don't get a break or time to myself, but I have definitely had to be more intentional about scheduling that in.
Read –> How to Make Time for a Shower: 5 Self-Care Tips for Moms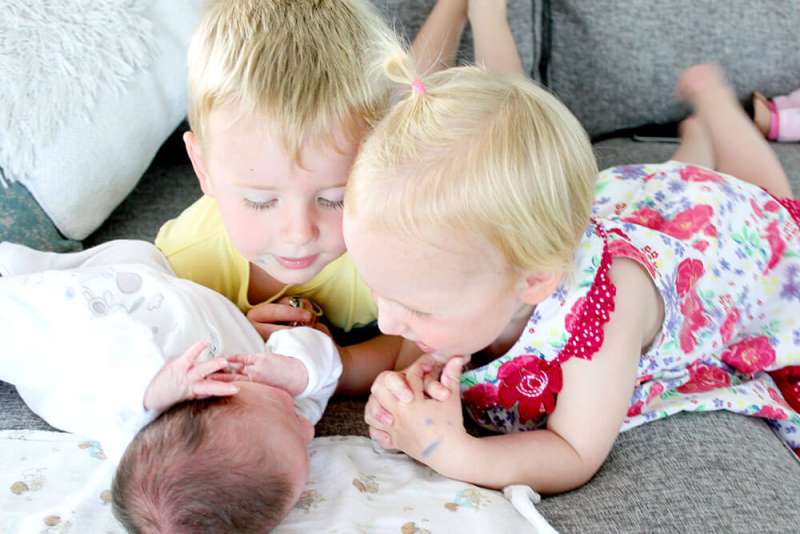 Life is Fuller
I feel even richer since the birth of our third child.
Abundantly blessed.
Yes, the days are crazy and the endless tasks I carry out are often thankless.
But, it is worth it.
I'm doing one of the most worthwhile jobs in the entire world.
So what is having 3 kids really like? Is it crazy? Is it wonderful? Do I regret it?
Yes, yes, and no.
Some days it feels like I'm living in a petting zoo. There's food everywhere and almost every surface is sticky to touch.
I change 3 nappies in a row and have spit up on my shoulder.
It isn't easy. It isn't always fun. And gosh, in all honesty, why we choose to do it doesn't always makes sense.
But, it is wonderful and full, and rich. Life is better because my three babies are in it.
If you have that longing in your heart for a third child, then go for it.
Charlotte has brought even more joy into our home and made us a stronger family as a result.
Until next time!