How To Successfully Have Siblings Share A Room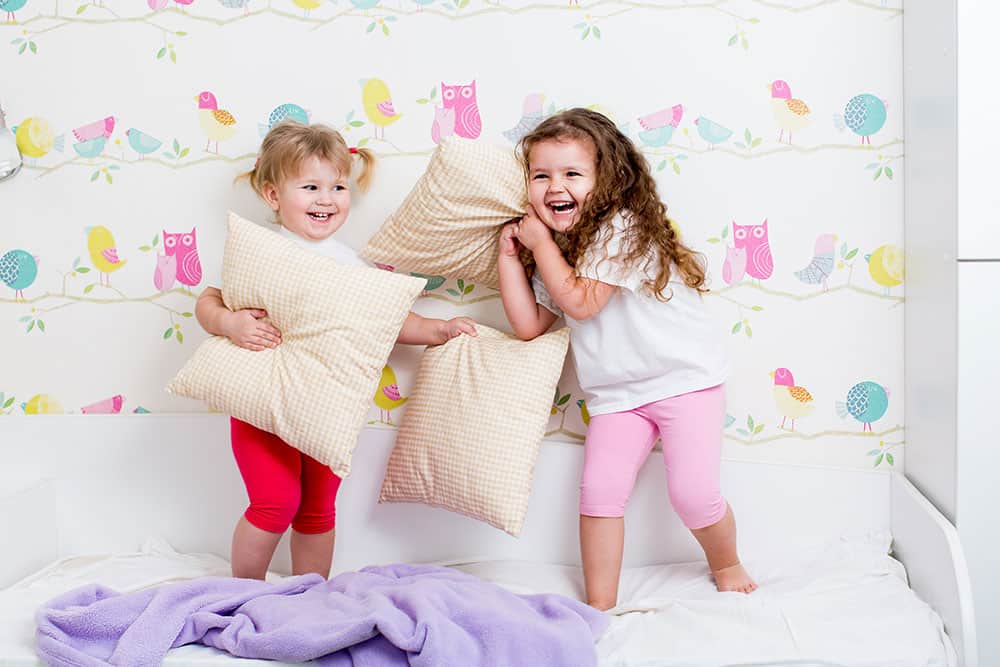 This post may contain affiliate links. As an Amazon Associate I earn from qualifying purchases.
A couple of months ago we went ahead and moved my two children into the same bedroom. Up until that point, they had always had their own rooms.
For reference, they were 18-months and 3-years old when we made the move. The main reason we did so was that we're expecting baby #3 in a few months and live in a 3-bedroom house.
So, we needed the room for the baby. I was a little nervous about the transition, but not terribly so.
However, I did find that when looking for advice there was very little out there. So, here are my tips.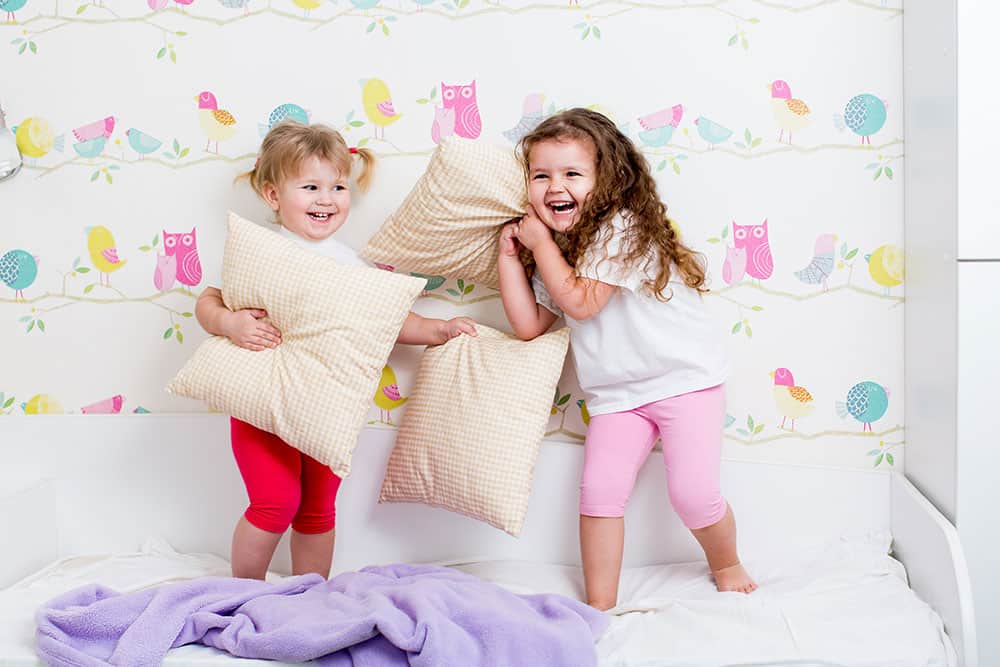 Figure Out The Sleeping Arrangements
Work out who is sleeping where and in what. We had already made the big bed transition with our daughter a couple of months previous (check out my post on that –> HERE) so both kids were able to go into twin beds.
If you still have a toddler in a crib, I would personally keep them there until they are used to sharing a room.
We considered low bunk beds for a while because of space they would save. However, I loathed the idea of having to make bunkbeds daily, and even though our kid's room isn't huge, they don't generally keep more than their bed and clothing in there.
All toys are in our playroom. (Read how we keep toys from dominating our home –> HERE)

Do It Ahead of Time
If you're moving siblings together because of the arrival of another baby, then I strongly suggest doing it several months ahead of time.
This will give you ample opportunity to work out any issues that arise without the added stress of being heavily pregnant or sleep deprived.
Safety First
This is especially true for younger children. Furniture needs to be anchored, windows need security latches, and power outlets need covers.
Kids can get into things quickly and as far as mine are concerned, they become far more creative and destructive when left alone together.

Safety Products
Have A Video Monitor
This kinda goes along with the safety point, but it's also great for discipline. My personal favourite feature is having an intercom.
It means I don't have to get up every time I need to correct them. Trust me on this one, it is so helpful to have a set of eyes on your kids without having to actually be physically in the room.

Set Expectations
Lay down the law for your kids before you make the transition. Let them know what is expected. For us that means:
Do not wake the other sibling up if they're sleeping
No getting out of bed until the 'sun is up' – We use the GroClock
No looking out the window
Do not turn on the light
Essentially, they're to stay in bed until it's time to get up, with the exception of toilet breaks.

Be Consistent
Once the rules have been put in place it is your job to be consistent. Follow through with any discipline that is required.
Kids are smart and will quickly pick up on how far they can push the boundaries. The first few nights you may need to be going in there every few minutes until they fall asleep.
Remain consistent and I promise it won't last long.
Give It Time
With any transition there comes a period of things just being rocky. This is no exception.
Resist the urge of separating your kids at the first sign of trouble. Give it a solid month of consistency and then reevaluate.
The novelty will wear off for them and they should start settling into the new situation.
Relax
They're likely going to giggle and play longer than they usually would have, especially during the early days. My advice is to set a limit on it, but do allow some leeway.
One of the best things about room-sharing is the opportunity for siblings to bond even more.
As long as my kids aren't being naughty, I appreciate the little giggles and whispers at the end of the day before they finally quieten down and fall asleep.
And there you go. Those are my hard and fast tips for making the transition. I hope you find them helpful as you attempt to do the same!