How To Start Babywise From Day One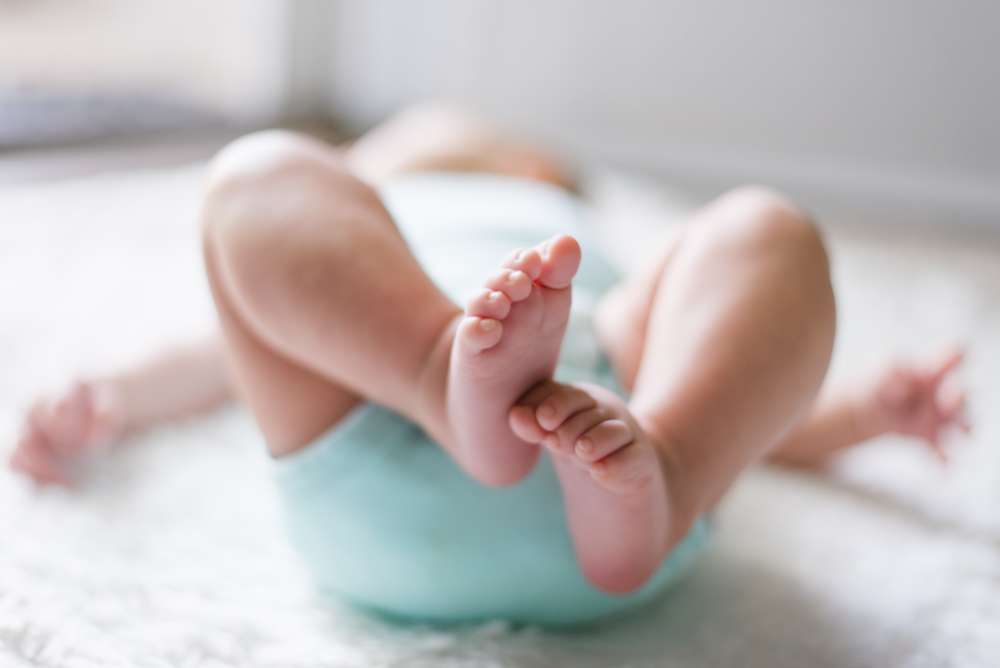 This post may contain affiliate links. As an Amazon Associate I earn from qualifying purchases.
Many parents want to know when to start Babywise.
Following that question is "how to start Babywise".
Like many things in parenting, there isn't just one way to do things.
For instance, some parents begin using Babywise when their babies are 12 weeks old, others (like myself) start on day one.
There is no right or wrong way, it is just what works best for your family.
If you are like me, however, then you might be wondering how to start right off the bat. That is why I have written this post.
If you're not at all familiar with Babywise, then start –> HERE.
Overview of the Babywise Method
The Babywise method is a book that teaches parents how to get their babies into a consistent and healthy day time routine with the intention of getting them to sleep through the night.
The outlook of the book is that a baby joins the family and that they are part of that family but not the center of it.
The family should not be a slave to the baby's routine, but in turn, the family should be taking into consideration the sleep needs of the baby.
You'll find that there is a big focus on teaching your baby how to establish healthy and independent sleep skills.
You can find the book on Amazon HERE.
The Babywise Series
Other Helpful Posts…
When to Start Babywise
There are so many opinions on when you should start Babywise and as I briefly mentioned in the introduction, there is no right or wrong time.
Some (like myself) like to begin using some of the Babywise principles almost immediately. Others prefer to wait until after the "fourth trimester" to start using Babywise.
Neither way is right or wrong.
In saying that, if we're looking at when Babywise recommends starting to implement their principles, you'll find that on page 110 of the 2001 edition, they recommend not adhering to the clock for the first week-10 days.
That time is set aside for recovery and establishing mother's milk supply.
It is around the end of the second week that they recommend you begin to try and begin implementing the Babywise principles such as:
Regular feeding intervals
With that said, let's talk about some practical ways to start using the Babywise method from day one.
5 Tips for How to Start Babywise from Day One:
#1 Don't Look At The Clock
This is the rule that is clearly noted in the Babywise book.
It is super important that during the first couple of weeks you look away from your clock and simply follow the lead of your baby.
I know that may not come naturally, but it really is an important factor in those early days.
Not only will it help you relax, but it'll also help you get to know the cues your baby gives.
By focusing on them and not the clock, you'll begin to understand how they react when they are hungry or tired.
This is particularly helpful for figuring out their early cues so that things don't escalate.
It is much easier to get a drowsy baby to sleep than it is to get an overtired baby to sleep.
#2 Relax
This is much easier said than done, I know.
What is important to remember is that you're not going to create any truly terrible habits in those first early weeks.
The first week or two is survival mode. You are still recovering while simultaneously trying to get to know the child you delivered, as well as keeping them alive.
It is hard.
It is a shock to the system, especially if it is your first time.
So, realise that Rome wasn't built in a day and neither will your baby's sleep routine.
Take this opportunity to just sit and hold your baby as much as you want.
I know that not everyone has the support that they need in order to do that (I wish they did!), but if you do, take advantage of it.
That super sleepy newborn stage is so sort-lived and one of the most precious times. Soak it up!
Related: The 5 Things that Will Give You the Best Postpartum Experience
#3 Understand The Sleep Hierarchy
My friend, Val from Chronicles of A Babywise Mom has written this genius post about the newborn sleep hierarchy.
I have personally referred to it over and over with both my children. I suggest you do the same.
While establishing a healthy sleep and feeding schedule is the ultimate goal, there are also other needs to consider.
Be sure to balance the two.
For instance, independent sleep skills are great to teach to your baby, but not if your baby ends up an overtired mess.
Getting the balance right isn't always easy, but it can be done.
I love Val's post because it gives mamas and babies the grace that we need during those first early months.
However, her advice is also clear cut and easy to follow (another need for sleep-deprived new moms!).
#4 Focus On Full Feeds
Getting your baby to take full feeds will go a long way in helping to establish a daily routine.
Not only is it great for that, but some obvious benefits are the health of your child and if breastfeeding, establishing your supply.
Keeping your baby awake for feeds is usually quite a challenge at the start but there are tips and tricks to help you out! See –> THIS POST
#5 Work On Day/Night Confusion
It is very common for newborns to arrive with some day/night confusion.
Working to correct that will help everyone get more rest in the long run.
It is a frustrating issue to deal with, but it can be overcome by practising some simple things. Find out what they are in my free email series. 🙂
By focusing on the above points, you'll likely find that your baby naturally falls into a 2-3 hour feeding routine by the end of the second week.
You can then start being more intentional about adhering to an Eat, Wake, Sleep routine. And then gradually focusing on independent sleep skills.
However, remember to always give you and your baby grace and to allow for flexibility when it is called for.