The Perfect Daily Schedule for a 4 Year Old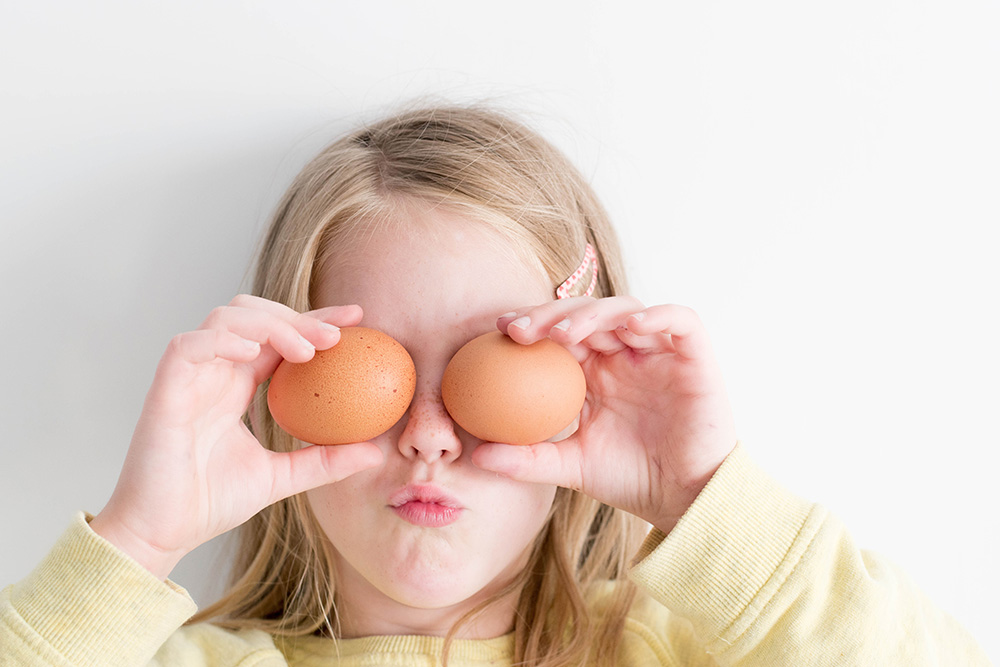 This post may contain affiliate links. As an Amazon Associate I earn from qualifying purchases.
It is difficult to come up with the perfect daily schedule for a 4 year old.
They are busy and learning so much at this age. And then, of course, you have to balance the needs of their personality with the rest of the family's.
It can also be an age of transition for sleep. If your 4 year old is still taking a nap, they will likely outgrow it sometime during this year.
This is the day and sleep schedule that we have been using for our 4 year old.
It is working well for our family and if you have multiple children you may also find it very helpful.
Daily Schedule for a 4 Year Old:
Below I have listed a very general schedule that we follow. However, for a more in-depth understanding, keep scrolling down.
4 Year Old Daily Schedule:
7:00 AM Wake
8:00 AM Breakfast
8:30 AM Get Dressed
9-10:15 AM Independent Play
12:00 PM Lunch
12:30 PM Reading
1-3:00 PM Quiet Time
5:30 PM Dinner
6:30 PM Bath
7 PM Bed
If implementing a routine is just not something that comes naturally for you or your child, then these routine cards may just be the thing that makes the difference.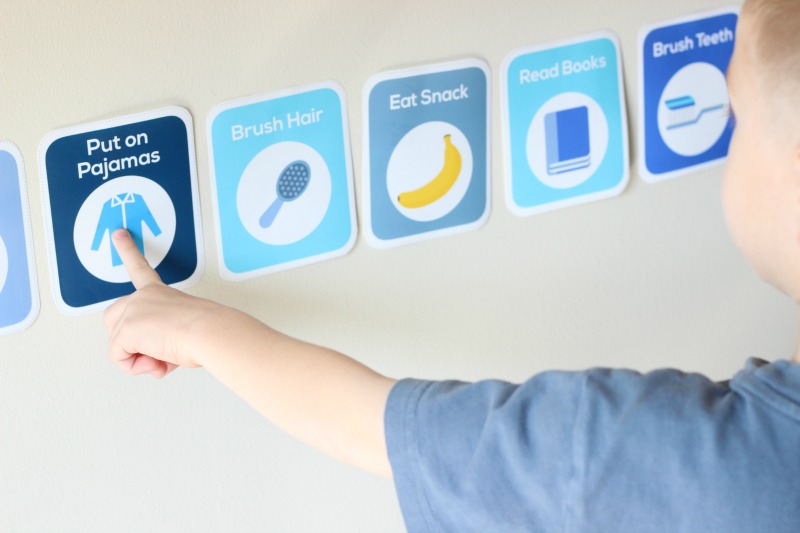 They are beautifully simple which makes them easy to use. Plus, they have great visuals so your child can understand them even if they can't read yet!
7-8:30 AM Wake Up & Breakfast
Our two eldest children share a room and know that they are not allowed to come out in the morning unless their toddler clock is showing the right color.
By the way, if you haven't got a toddler clock of some kind then you are missing out BIG TIME!
Seriously, this is one of the best things that you can own to help your kids learn to stay in bed until it is time to get up.
We have the Gro Clock and you can get it HERE.
Related: How to Stop Your Toddler from Getting Out of Bed
The only exception is if they need to use the bathroom.
Our 4 year old has always been prone to nightmares and yet has never come to our room in the night.
He just calls for us and we go to him.
At 7 AM their clock indicates that it is time to come out of their room and they both come through for a drink of Milo (a malt-based hot drink here in New Zealand).
The kids have a little TV time and then I make them breakfast.
During their breakfast time we also focus on one of our family rules. The month of March was all about showing kindness.
You can read more about how we teach our family values in THIS POST.
We don't have anywhere to be most mornings, so there is no rush.
8:30 AM Get Dressed
After breakfast, the children get dressed and ready for the day.
Jack, our 4-year old, is able to choose his own clothes and get himself dressed on his own.
He brushes his teeth with my supervision.
One of his chores is to pick up and dispose of any used pull ups and diapers.
If you have more than 2 children in diapers then you'll understand how quickly they build up!
He does this chore during this time.
Related: All the Chores that Your 4 Year Old Can Do
9-10:15 AM Independent Play
One of my favourite parenting tools ever!
For an hour and 15 minutes every morning both Jack and my 2.5 year old have independent play time.
Jack has his in the playroom as his sister is having hers in their room, and the other bedroom is occupied by their little sister napping.
Teaching your child how to play independently is so incredibly beneficial to them as well as to you!
Related: How to Get Your Child to Play Independently
We are home most days of the week and while Jack loves to play with his siblings, he also craves some alone time.
Independent play can teach a social butterfly how to be content in their own company. It can also give your introverted child the opportunity to have the time alone that they need.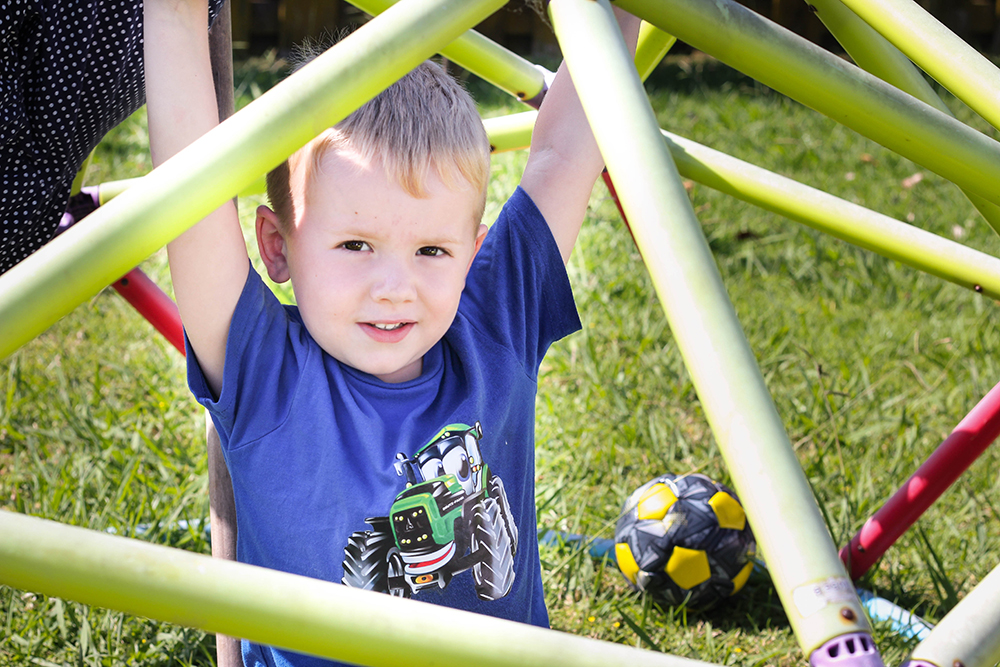 10:15-11:30 AM Free Play
Do you know just how important free play is for children?
It is the number one way in which they learn, and learn best.
In our home, we are BIG on play and for it to be as unstructured as possible.
You won't find me drumming up crafts and activities (although, there's nothing wrong with doing that!), but you will see me shooing my children outside to play every day.
Related: 5 Thought Provoking Reasons to Boycott Preschool
Unless the weather is completely awful and unsafe, they still love to play outside.
My 4 year old has had more conversations with our neighbours than I have and spends hours a day playing imaginary games in the garden.
If the weather truly is terrible, then some great indoor activities for your preschooler include: Playdoh, ThinkFun Roll & Play (my kids seriously LOVE playing this game), Freeze Dance on our Google Home Mini, cutting up spare paper (these scissors are great!), or coloring in.
You don't have to be a Pinterest mom in order for your kids to learn and have fun.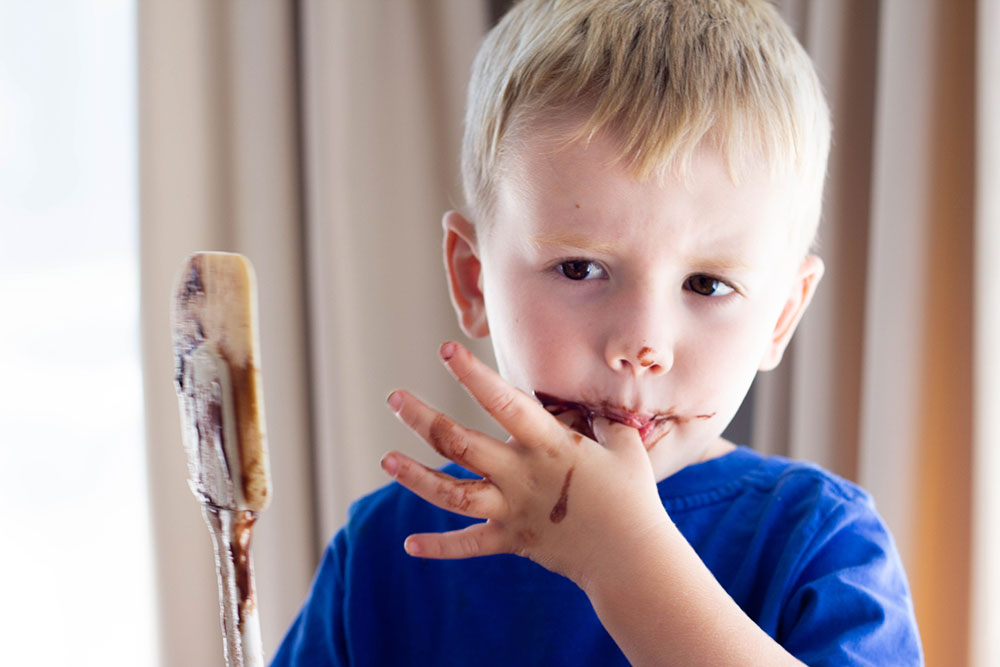 11:30 AM Tidy Toys
A good strategy for teaching your child to tidy up after themselves is to make it part of their daily routine.
Our 4 year old knows that just before lunch they playroom toys must be tidied up.
He doesn't often do it willingly, but it is something that we're working on.
Related: How to Teach Your Toddler to Tidy Up
12-12:30 PM Lunch
All three children have lunch during this time.
I make lunch for the older two and while they're eating it, I feed their 5-month old baby sister.
12:30 PM Reading or Music
Reading is the perfect wind-down activity to do before nap time. It is educational, relaxing and fun.
It is also a great way to have snuggle time and bond with your child.
At 12:30 PM I send both of the older children to choose two books each and then we read them together on the couch.
These are some of their current favourites:
Some days we forego reading and I play the piano to them and sing instead.
If you can play a musical instrument, then I highly recommend that you do it in front of your child. It will foster a natural curiosity and love of music.
1-3:00 PM Rest Time
Your 4 year old may or may not nap. Neither is wrong.
My son hasn't napped regularly for over 6 months now. Instead, he has rest time at the same time that his younger sisters take their naps.
On the very odd occasion, if he has had a late night or is sick, I'll tuck him up in bed and require that he sleeps.
Otherwise, his rest time looks like this:
Hour One:
Listen to an audiobook while playing with toys (usually lego)
Hour Two:
Netflix on the iPad. We have Netflix age restrictions on and also use guided access on the iPad.
Related: How to Transition from Nap Time to Rest Time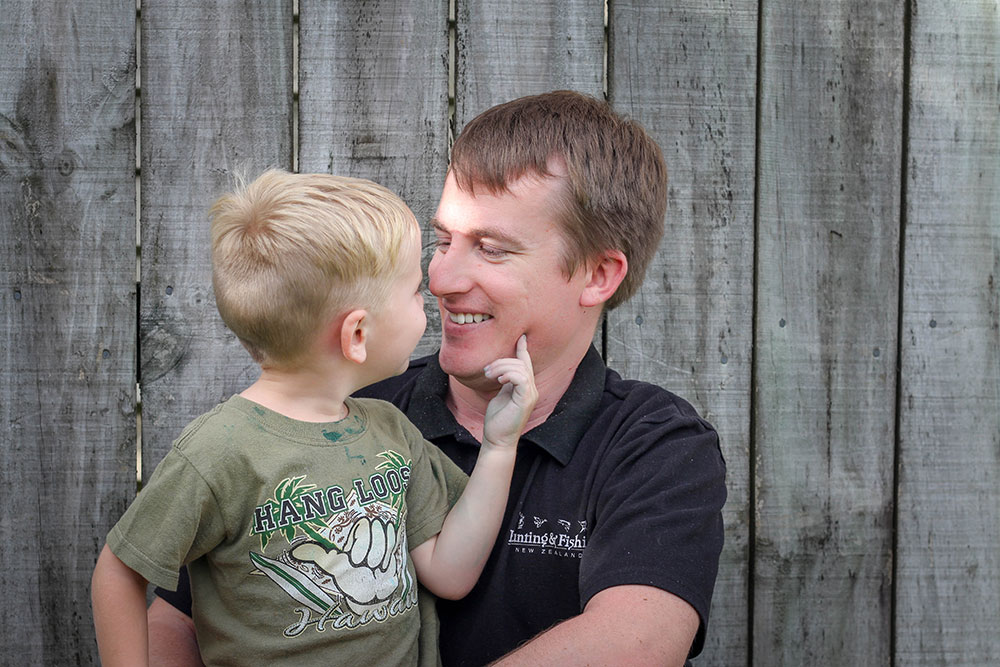 3-4:00 PM Free Play
All three children get up at 3 PM. I give the older two a snack and Jack usually heads straight outdoors to play again.
His younger sister Annie isn't usually very happy about having to wake up, so we ease her back into the day by letting her sit quietly and watch a show for 30 minutes or so.
4-4:30 PM Chores
Does your 4 year old do chores?
It is a great idea to involve them in activities of daily living right from when they are very young.
We've only really implemented structured chore lists in the past 3 months, but they do work well.
While it is a good plan to not pay for basic chores such as dressing themselves and clearing their dinner plate, there are some chores that you can pay them for if you'd like.
We have chosen to do so in order to teach our son the value of money, how it is earned, and what to do with it.
In the late afternoon he does any chores that he hasn't already completed (he doesn't have many).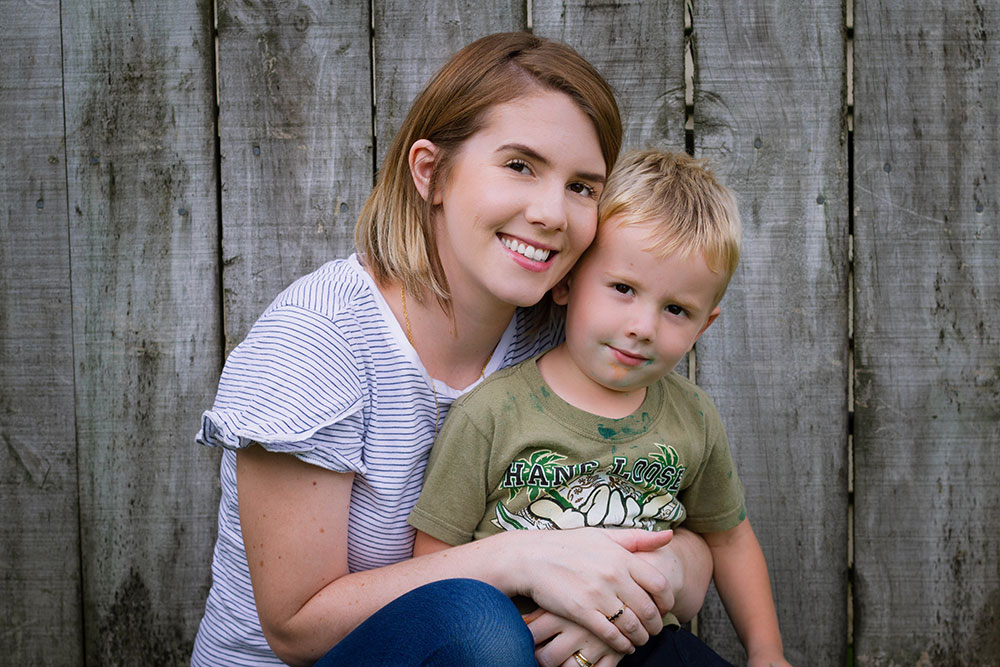 4:30-5:00 PM Free Play or TV Time
Depending on the weather and the general mood in the house (read, screaming baby, grumpy toddler, whiney preschooler, and just-about-to-lose-it mom) we either do free play or some TV time here.
I know that not all families are comfortable with screen time, but do what works for you and your family.
5-6:30 PM Dinner and Family Time
The evenings are for dinner and family time. It isn't any thing structured. Just all of us hanging out together.
Related: How to Get Dinner on the Table When You Have Small Children
6:30 PM Bath Time
Jack and his sister still bathe together and that happens around 6:30 PM. Not every single night, but most (because they insist on getting covered in mud most days!).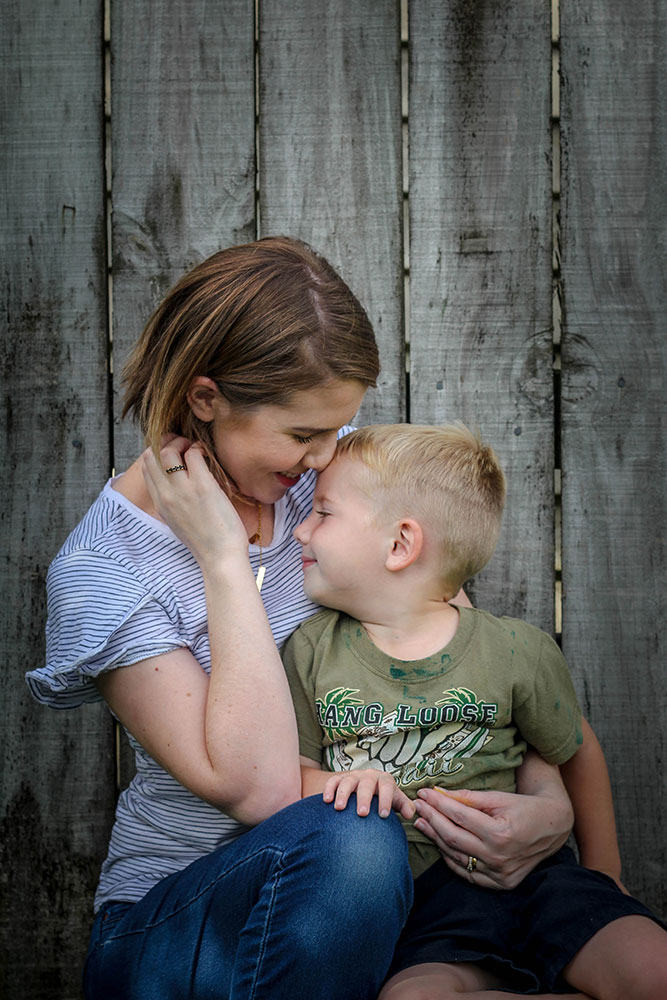 7:00 PM Bedtime
Bedtime has been at 7 PM for a very long time and now that Jack no longer naps, it is very important.
He is usually fast asleep before 8 and sleeps right through until 6:30-7.
4 Year Old Sleep Schedule
If you're wondering about a sleep schedule for a 4 year old, then I would do a little reading.
You can be forgiven for wondering how much sleep does a 4 year old need because the answer is different for every child.
10-13 hours is the recommendation, but of course that may vary.
Often times, if your 4 year old is still taking a nap their night sleep may be shorter. Again, that is not always the case.
For us, bedtime battles stopped happening when we eventually dropped the nap entirely. He just wasn't super tired and so he took a while to wind down.
With the nap gone, he is very ready for bed.
We don't do and never have done, a very complicated bedtime routine.
It is simply a case of changing into pyjamas, saying goodnight and being tucked in.
You may very well find that the older your child gets, the harder it is to shorten the routine. Do yourself a favor and keep things simple!
We do reading earlier in the day, so he still gets that special time.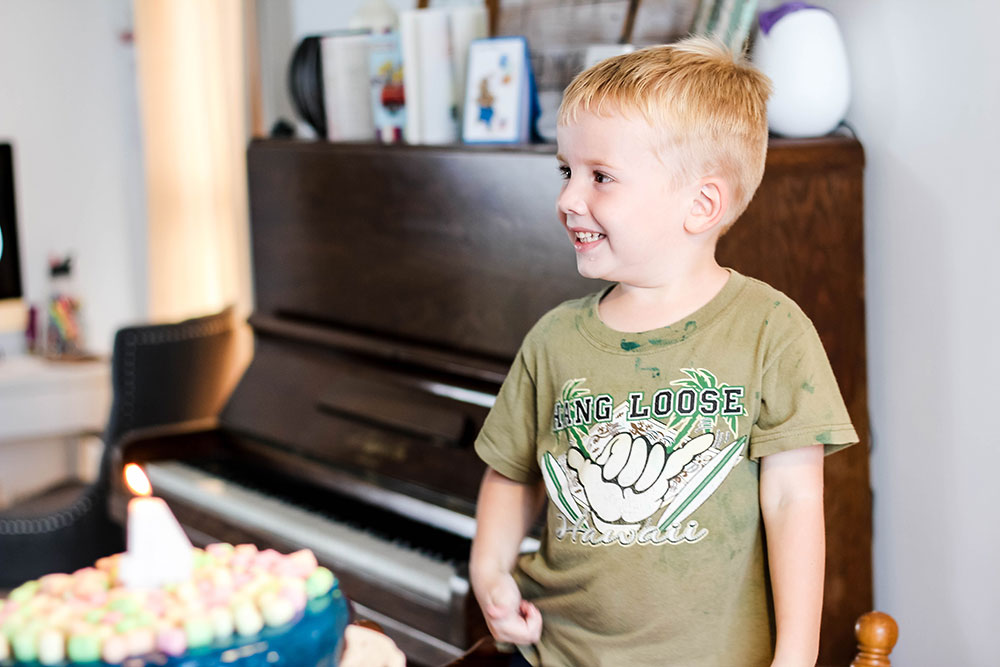 Jack's Preschool Summary: 4 Years Old
Behaviour
Some parts of parenting are just plain hard. There are days where you wish certain stages to pass by quickly.
Jack is not in one of those stages.
While his behaviour is not perfect (who would expect it to be?!), he has a very teachable heart.
At the beginning of the year, I started to actively teach our family rules and values along with the correlating Scriptures.
They have been a vital tool as part of any discipline we may need to carry out.
He is generally kind, spunky, funny and adventurous. It takes a lot to slow him down.
He fights with his sister as much as he loves her (which is like a crazy BIG amount!), and he ADORES his baby sister, Charlie.
Learning
Over the past few months, Jack learned to write the letter J. I think his Sunday school teacher can be thanked for that.
I have not done and do not plan to do any formal teaching lessons until he is around 6.
If he shows keen interest before that time, then of course, I'll introduce some learning activities, but otherwise I want him to just play as much as possible.
Jack is learning so much everyday, not just as far as literacy but also in social skills.
He is a quiet leader. He doesn't like confrontation or to assert himself too much if he isn't in his comfort zone, but he still tends to take control of social situations.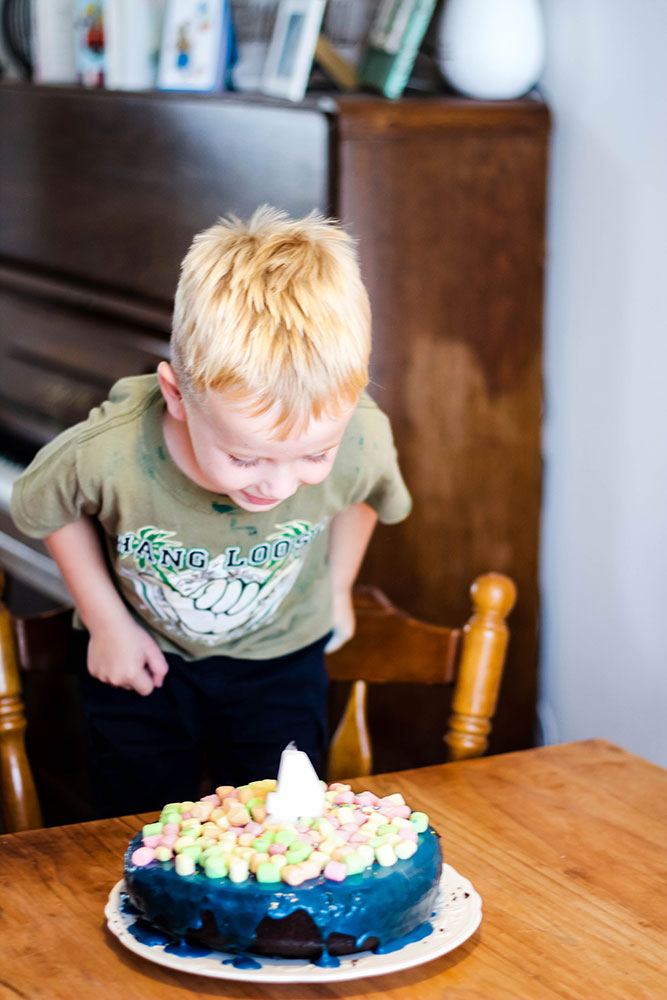 Birthday
Jack's 4th birthday was just lovely. It was a quiet day and we didn't have a party.
However, some family came over in the evening and we had cake together.
I think my favourite memory of the day was watching the absolute delight on his face as I brought out his cake and we sang "happy birthday" to him.
He was enthralled and practically beside himself.
And then, I couldn't help but be proud at how thankful he was for the gifts that we gave him.
Speaking of which, these were the main presents that we gave to him this year. He was gifted a small lego set for Christmas last year and has been obsessed ever since.
I thought it only made sense to expand his collection.