All the Chores that Your 4 Year Old Can Do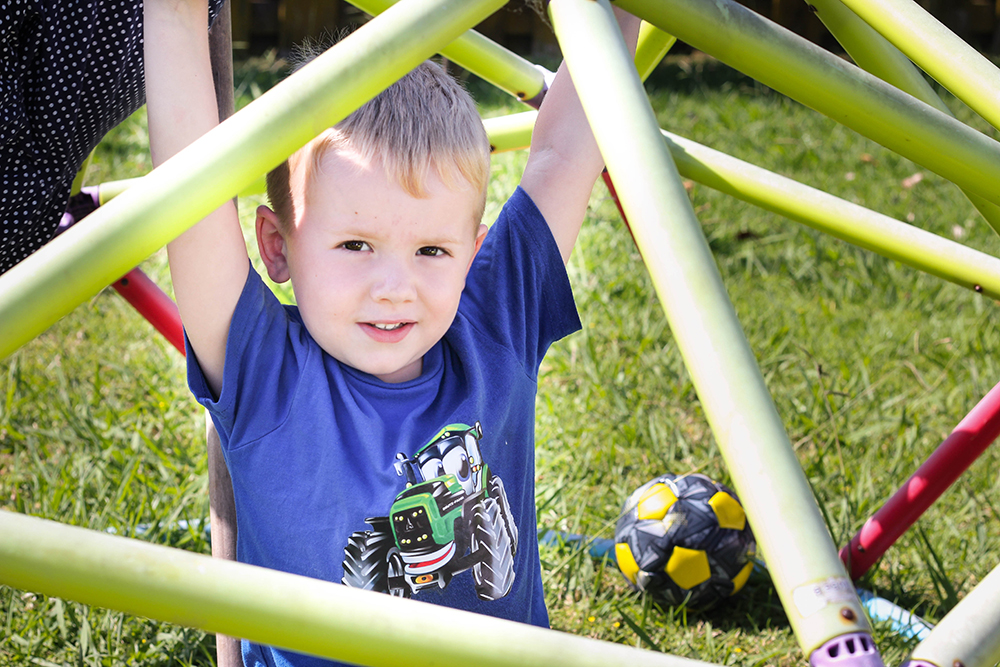 This post may contain affiliate links. As an Amazon Associate I earn from qualifying purchases.
Are you looking for age-appropriate chores that your 4 year old can do?
Our son is turning four in about a month and while he does help around the house a bit, we really wanted to be more intentional about teaching him responsibility in this area.
Not only because it is a great character trait to develop, but also because we want to start teaching him how to earn money.
We are not going to be paying him for all or even most of the chores he does, but we will for some. Because of that, I've been brainstorming chore ideas for 4 year olds.
This is the list that I've come up with.
1) Get Dressed
We started working on this skill a lot while Jack was three. For the most part, he can now get himself dressed independently.
Even if he does need help, I still require him to go and choose his clothes for the day and bring them to me.
It is helpful to keep your children's clothes simple and organised so they can be more independent in this area.
Most of the time, we're hanging out at home so I don't have to worry if things are a little mismatched. However, I also try to have most of his clothes match each other so that he can still pick them out on his own.
2) Brush Teeth
We've made this part of our daily routine right from when Jack got his first teeth.
Teach your child to brush their teeth and have them do it on their own.
If you're concerned that they're not going to do the job adequately let them try it on their own first and then finish it up for them.
3) Clear Dishes
I require this of both my 4-year old and 2-year old.
After every meal I expect them to take their dishes to the kitchen bench.
Most of the time they remember, but they're also happy to oblige when I have to remind them.
4) Pack Dishes
This one can take a little work and compromise, but it is a skill worth working on.
Teach your 4 year old to pack their own bowl, plate, and utensils in the dishwasher once they've finished using them.
Alternately, they can help handwash the dishes when they need to be done.
5) Unpack dishwasher
At age four, you can totally have your child at least help unpack part of the dishwasher.
My favourite thing to have him unpack are the utensils.
It's great for teaching him to categorise and match items as well.
When thinking about chores that your 4 year old can do it is easy to just see them as jobs to be completed.
It is worthwhile remembering that chores are not only great for character development, but can also be educational.
6) Pick up trash
We have three kids in our home who are all still using diapers/pull ups to some extent.
It seems impossible to have the used ones picked up all of the time.
So, that is Jack's job. Unless it is a particularly icky diaper, I have him take his own and his littlest sisters to the bin for me.
He also picks up other bits and pieces that need to be thrown out.
7) Empty bins
Speaking of trash…
A great chore for 4 year olds is to have them empty trash cans.
We have a few throughout our home that are light enough for him to carry to the main trash and empty there.
8) Dust window sills
Dusting is one of the easiest chores that your 4 year old can do.
I recently purchased a couple of feather dusters, one for each of my children.
They basically thought it was Christmas.
Anyway, dusting window sills is a great, easy job for 4 year olds to do.
Give them a feather duster and let them loose. Your kid will have a ball.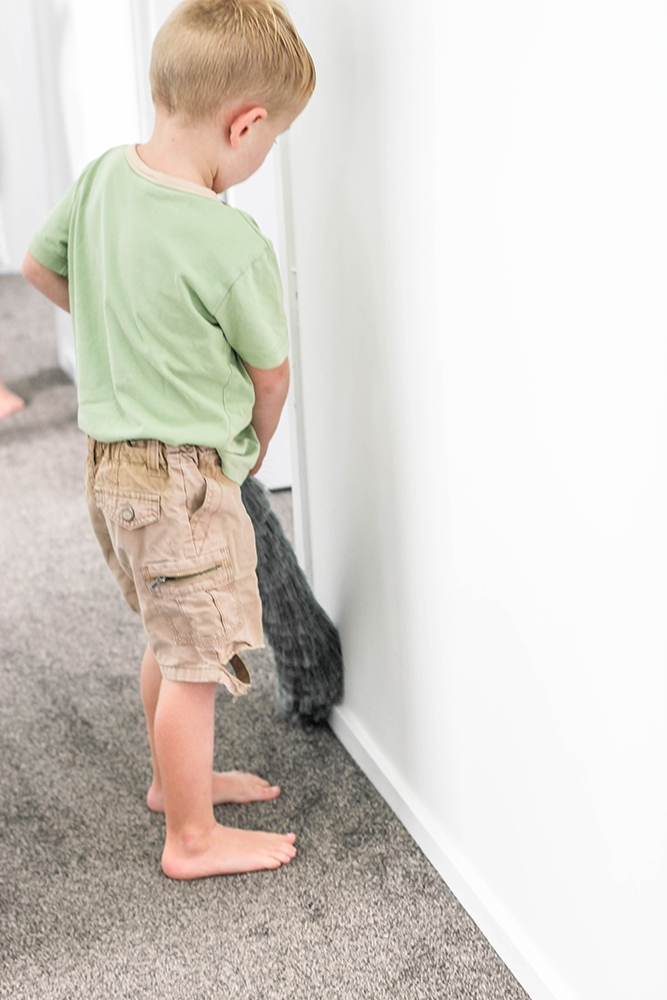 9) Dust/wipe baseboards
As with dusting window sills, baseboards are another great option.
Let them dust them off and then give them a damp cloth to wipe them down afterwards.
10) Wipe cabinets
You know how quickly kitchen cabinets get grubby with all the activity that goes on in the kitchen.
Actually, it is often sticky fingers that leave marks on my cabinets.
Give your 4-year old a damp cloth and have them wipe down the cabinets.
It is easy and super helpful.
11) Feed pets
If you have pets this is a great age to start teaching your 4 year old how to be a responsible owner.
Have them at the very least assist you with feeding them.
Teach them how much food your pet requires and help them to become independent in this area.
12) Put clothes in the laundry hamper
Part of our routine in the morning is to get dressed and ready for the day.
Once my son has his clothes on for the day he takes his night pull up and puts it in the trash.
After that, he puts his PJs in the laundry hamper.
Even my 2-year old eagerly does it.
13) Put clean clothes away
I'm a little bit of a laundry nut. I have a certain way of doing it and so I mostly do it all on my own.
However, I do ask my children to put their clean, folded clothes away on their own.
This is a great chore that your 4 year old can do as it will teach them to be responsible for their possessions. It will also show them the value of teamwork.
14) Matching Socks
While we're talking about laundry-related chores that your 4 year old can do, I'll include this idea.
Have them match up pairs of socks while you're folding the laundry.
It'll keep them occupied as well as allowing them to be involved in the process of doing laundry.
15) Sweep
If you have a brush and tray set then a great chore that your 4 year old can do is sweep up the crumbs after meals.
They may not get all of it, but they'll get better over time.
16) Tidy up toys
As far as chores that your 4 year old can do, tidying up there toys is a must.
It goes without saying that it is important to teach our children to clean up after themselves.
One of the most frequent 'messes' that they make is playing with their toys. Teaching them to tidy up will be a help to the entire family.
If you find that your child is overwhelmed in this area then check out these two posts for some helpful tips:
17) Tidy room
It is never too young to start teaching your child how to keep their room tidy.
Give them basic tasks that they can carry out on a daily basis in order to keep their room looking decent.
18) Make their bed
Around ages 3-4 it is great to start showing your child how to make their bed.
An unmade bed can make an entire room look messy, so this is a great skill to master.
Make it part of your 4-year olds morning routine to pull up the covers on their bed.
I hope that you found this list of chores that your 4 year old can do helpful.
Of course, every family is different as well as every child.
Not all of these are relevant to you, but my hope is that it gives you a jumping off point.