Babywise vs Moms on Call: 5 Differences You Need To Know About
This post may contain affiliate links. As an Amazon Associate I earn from qualifying purchases.
Want to know the differences between babywise vs moms on call?
Today I'm sharing 5 key differences between the two sleep training methods so that you can make an informed decision about which method will work best for you and your baby.
If you're new to both methods then go ahead and take a look at this post about what you need to know about Babywise and this post with what you need to know about Moms on Call.
Otherwise, read on!
Babywise vs Moms on Call:
1) Soothing Rounds
I think one of the most fundamental differences between the two methods is the use and advocation of the cry-it-out method.
In case you're unaware, the Babywise method has been met with a lot of controversy throughout the years it has been in publication. Parents often equate it with the extinction method of cry-it-out.
Read more about the Myths of Babywise –> HERE.
In actual fact, Babywise barely touches on the topic of allowing your baby to cry. It does mention that a baby crying for up to 15 minutes will do no long-term damage, but other than that brief reference, it doesn't focus on the topic at all.
Moms on Call, on the other hand, is a strong advocate for allowing self-soothing to take place using cry-it-out.
The method is referred to as 'soothing rounds' and it begins with allowing your baby to cry for up to 5 minutes before going in and settling them.
Read –> What You Need to Know About Moms on Call's Soothing Rounds
Moms on call also advocate full-on extinction cry-it-out once your baby reaches certain milestones in order to achieve sleeping through the night.
While some parents may not be on board with using cry-it-out in any form, I personally am a huge fan of the parenting tool, especially the way it is laid out in the Moms on Call book.
There is no current, compelling evidence to show that using cry-it-out to sleep train causes any long-term damages –> Helping Babies Cope With Stress and Learn To Sleep.
I've mentioned that sleep training should be done with intention. Those that find cry-it-out 'doesn't work' for their baby have often gone about it in a very inconsistent, and consequently ineffective way.
Moms on Call gives you a clear plan that is age appropriate and simple to implement.
So as far as Babywise vs Moms on Call in regards to cry-it-out. Babywise barely broaches the subject while Moms on Call goes into clear detail.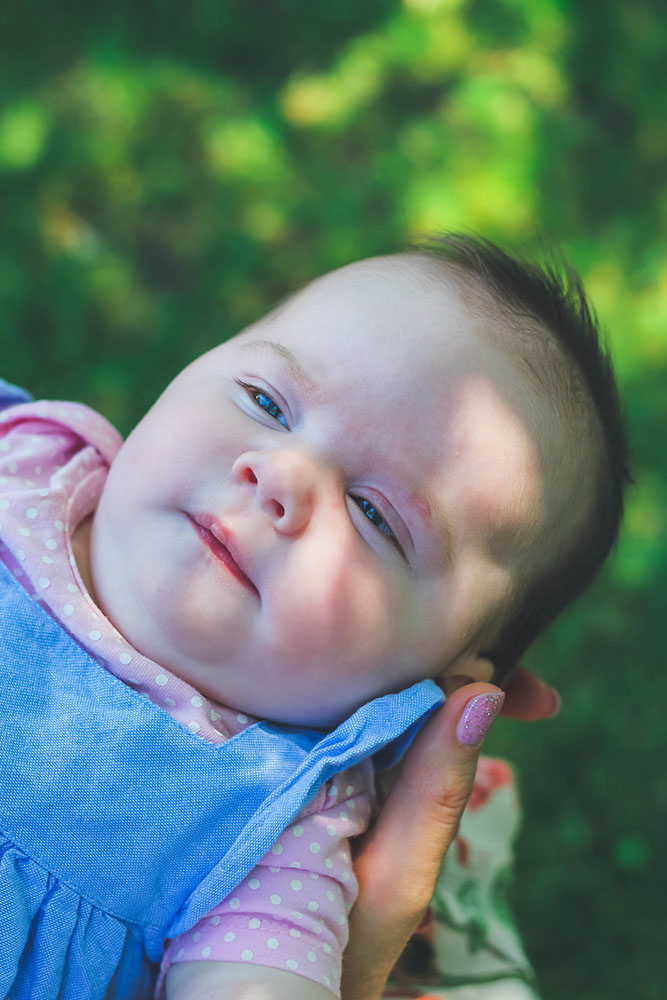 2) Eat, Wake, Sleep
While both Babywise and Moms on Call have clear schedules that they provide, one of the fundamental principles to Babywise is the eat, wake, sleep cycle.
Both methods emphasize the importance of establishing independent sleep skills from early on in your baby's life. However, Babywise goes into even more detail by providing the tools to do so.
The eat, wake, sleep cycle is a pattern that the parents attempt to establish from around their baby's 3rd week. It starts with feeding the baby and making sure they take a full feed by not allowing cat-napping.
The wake time is of an age-appropriate length that also includes feeding. Often times for newborns their entire wake time is taken up by the feeding.
As the baby gets older, wake time turns into more of a play time.
And then finally there's the sleep cycle which is the last step in the pattern.
The entire idea behind the cycle is that babies are able to learn to go to sleep without the aid of nursing. It also means that their wake time is spent contentedly because they are well rested and have a full tummy.
3) The Dream feed
This is a tool that we have implemented with both of our children. It is something that is mentioned in the Babywise method, but Moms on Call does not suggest implementing it.
I've seen it used with varying success for different children.
What is the dream feed?
Essentially, it is where you feed your baby late at night just before you go to bed yourself. The idea behind it is that you disturb them as little as possible so that they practically eat while sleeping.
As a result, your baby sleeps for a longer stretch and you get more rest.
For some children (like mine) it works brilliantly. In fact, my husband used to do the dream feed so that I could head to bed early. That meant that I could get a really solid amount of sleep before having to get up to the baby around 2-3 am.
It was also helpful because both of my kids have been on the smaller side. Neither of them was ready to sleep a full 11-12 hours until more like 4 months of age.
By having a dream feed it meant that their 7-8 hours of consecutive sleep fell at the same time that I was sleeping.
However, for some babies, the dream feed doesn't extend night sleep at all. Therefore, some parents find it easier to just go to sleep earlier and deal with more night feeds for a while.
So, Babywise vs Moms on Call for dreamfeeds. Babywise recommends them while Moms on Call does not.
4) Nap Troubleshooting
This is where I find that Babywise vs Moms on Call really differs.
Babywise really focuses on sleep and creating healthy sleep habits. As a result, there is a lot of troubleshooting information that they provide. Because let's face it, babies aren't robots that can be programmed to do exactly as we would want.
Moms on Call does give a lot of troubleshooting advice for things like feeding and overnight sleep.
Personally, I have found that Babywise is a lot more detailed when it comes to advice about naps and how to troubleshoot should issues arise.
5) Comprehensive Care
As I alluded to above, Babywise has a huge focus on sleep. Really, sleep has a huge effect on almost every other aspect of a baby's life.
Moms on Call definitely can be called a sleep training method. It does, however, provide a lot more information than just how to get your baby to sleep well and long.
It is written by two pediatric nurses. The book is filled with a ton of information that really can be summed up as a comprehensive care guide for your infant.
They touch on everything from how to achieve an effective swaddle technique, to what essential products you need to have on hand for your baby.
When it comes to Babywise vs Moms on Call for the content provided, Babywise mostly focuses on feeding and sleep while Moms on Call covers infant care in general.
So, Which Is Better?
Honestly, I can't choose which is why we have used both to some degree.
I like the Babywise daytime routine and dream feed. However, I love the Moms on Call method for teaching your baby to stretch their nighttime sleep.
My recommendation would be to grab a copy of both books. Use the techniques from both methods to come up with a hybrid routine for your baby.
There are even a couple of other helpful ones that I've included below.