Baby Refusing Bottle: What You Need to Know About Bottle-Feeding Aversion
This post may contain affiliate links. As an Amazon Associate I earn from qualifying purchases.
Help! Baby refusing bottle…
So much stress all in one little phrase. And I've been there.
The place where you're worried sick because your baby just. won't. drink.
You've tried different bottles, different positions, different times, different EVERYTHING.
And nothing, NOTHING is working to get your baby to drink.
No matter what you try, every feeding is a battle and you're tired, frustrated and just worried. Because ultimately, your job is to care for your baby and part of that is feeding them.
If they won't feed, they won't put on weight and then you're failing as a mom…
Or at least, that's what it feels like.
As I said, I've been there and I know first hand how difficult it can be when you're dealing with a feeding aversion.
Let me help you through this, mama. And let me tell you that as hard as it is right now, things will get better.
You're not a bad mom.
Help! Baby Refusing Bottle Suddenly
It could happen when your baby is a newborn or it could happen later on down the track.
One day they're totally great with drinking every last sip of milk in their bottle and then the next day they just won't.
At first you think it could be something wrong with the bottle, so you try a different one.
Maybe it gets slightly better, but the fix is temporary.
You switch formulas and try every other thing that you can think of so that your baby will drink.
If you end up in the same situation as I did, you spend 45 minutes to an hour walking around the house with your baby just so they'll take at least a couple of ounces.
There's a lot of crying, both from your baby and from you.
I vividly remember just sobbing into my husband's chest on Christmas morning because our then 8-week old just would. not. drink.
Other Helpful Posts…
How Do You Know it is a Feeding Aversion?
I was at the end of my rope when I finally realized that our daughter had a bottle-feeding aversion.
She did have some reflux, but she was on medication for it and it was mild to begin with.
I had checked off every other possibility and had even gone to the doctor a couple of times.
Out of desperation, I did a Google search and came across the book: Your Baby's Bottle-Feeding Aversion: Reasons and Solutions
It was then that everything started to make sense and for the first time, I had hope.
Hope that I would finally get some answers and hope that things would improve. I was just so worried that she wasn't gaining enough weight.
Here are some warning signs that your baby could have a feeding aversion:
Shows signs of hunger but won't feed
Sucks for a short while then pulls away and refuses to take any more
Cries when they see the bottle or are brought to the breast
Clamps their mouth shut and turns their head away
The trouble with this list of symptoms is that they could be applied to things like dairy intolerance or reflux as well.
And to be honest, it seems that is what most parents blame at first (I know I did!).
However, while some of these behaviors matched up to intolerances and reflux, the rest of it didn't.
My baby still slept fine and she was generally happy in between feeds.
If you're finding the same, then you could be dealing with a feeding aversion.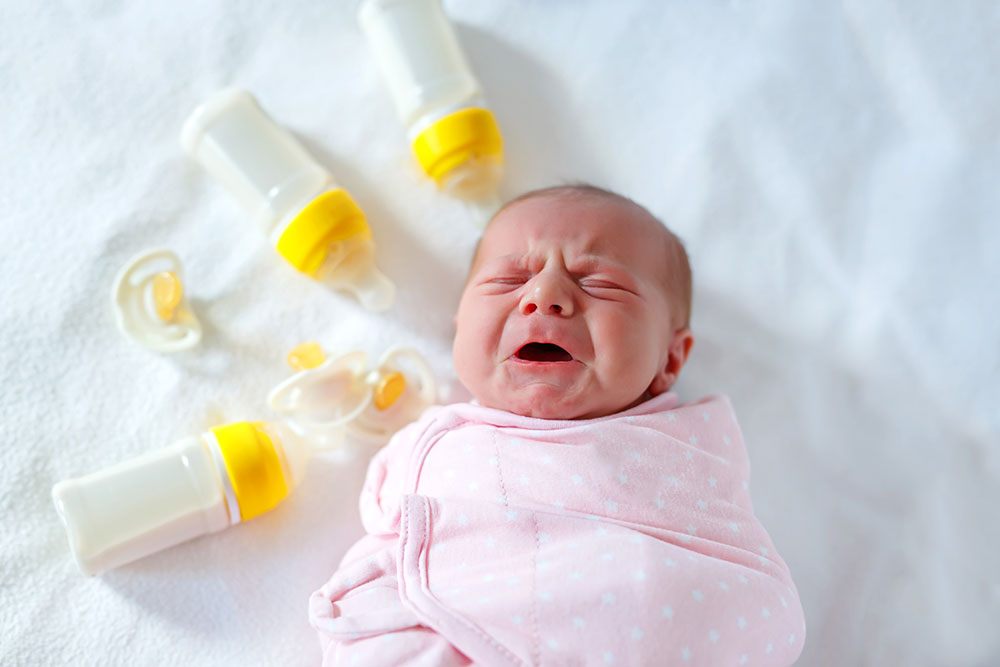 Why Do Feeding Aversions Develop?
You may be wondering why it is that your baby has developed a feeding aversion and there can be several reasons.
Ultimately, however, it is because they're associating feeding with some kind of negative stimulation.
Often times it is pain as a result of gas, untreated reflux or dairy intolerance.
However, there are other reasons too.
You know your baby best, so I can't tell you the exact reason. I will say, that if you suspect they are in any kind of pain, be sure to have them checked out and treated if appropriate.
If you intend on working to overcome the feeding aversion, the core issue still needs to be addressed.
Related: Shut Up About My Picky Eater
The Common Culprit – Force Feeding Baby
This brings me onto the next point and that is force feeding baby.
Unfortunately, it is a really common reason for feeding aversions and although it sounds mean, usually it happens because a parent is just worried.
I know I was!
There are charts and recommendations out there saying how much your baby should be drinking on a daily basis.
It is one downside to bottle feeding because it adds a level of pressure.
Related: The Real Pros & Cons of Breastfeeding vs Bottle Feeding
I also know that for us, it was a case of getting our daughter to drink because of the reflux she was experiencing.
So here is what often happens:
Your baby starts with some kind of pain which makes feeding difficult
You force the issue when it comes to bottle-feeding because you know your baby needs the nutrients
The original issue of pain may or may not have subsided but there's still a negative connotation to feeding because your baby is essentially being force fed
Gosh, that sounds awful, doesn't it? I know it make me feel awful.
The thing is though, this is usually a result of a mom wanting her baby to be growing and developing well. Not because she intends her baby any harm.
How to Overcome a Bottle-Feeding Aversion
If you come to the realization that your baby has a feeding aversion, then your next step is to overcome it.
Read the Book
So the first plan of action is to read the book.
Find it HERE: Your Baby's Bottle-Feeding Aversion: Reasons and Solutions.
It is written by a qualified nurse, Rowena Bennet, who has YEARS of experience in dealing with this exact issue.
That knowledge helped me a lot when it came to actually implementing the strategy because it truly was hard.
The book is also incredibly helpful because it gives you exact step-by-step instructions on what to do and how to do it.
I know that I second-guess myself a lot when things don't happen as I think they should.
The author does a really good job of being reassuring.
Not only that, but she is incredibly honest. She doesn't beat around the bush and is very straightforward about how difficult a process it can be.
Make a Plan and Stick to It
Once you have gone through the book and have a good understanding of what the process will require, you need to make a plan.
One of the most important parts of this entire "recovery" process is being consistent and sticking with it even when you're not sure that it is working.
From my experience (and what the book says) your baby will seem like they're making progress and then go backwards again.
The progress isn't necessarily on a constant upward trajectory. There will be really hard days.
In saying that, it doesn't mean that is isn't working. You just need to trust that it will.
And if it truly isn't, the author shares plenty about how to gauge how things are going and what to do if you're not seeing progress.
It is Going to Be Really Emotionally Difficult
You need to know this going in.
Because of the nature of feeding aversion and the process of overcoming it, you are going to be exhausted emotionally.
This whole process means a lot of letting go and allowing your baby to take the lead, even if they won't drink anything at all.
You'll be watching for their hunger cues but they still may not drink.
And that's tough. It'll be really challenging.
So please use whatever kind of support system you have to help hold you up and give you a break when you need it.
It isn't an overnight fix and you may be like me and have other children to care for.
It is hard to deal with a baby that won't drink when you've also got a preschooler asking you deep theological questions and a toddler pulling out all of the wipes from the container.
You're allowed to feel tired and sad. Just make sure that you treat yourself kindly and allow yourself time to rest when you can.
It Does Get Better
This is what you really need to know.
Once you've acknowledged that your baby has a feeding aversion and have gone through the valley of working to overcome it, you and your baby will come out on top.
Seriously.
It does get better.
It took us about 3-4 weeks for the aversion to disappear entirely and I now have a happy, thriving 7-month old that guzzles down her bottles in around 10-15 minutes!
Now the issue is her being constantly distracted by her older siblings.
But know this, it won't be this hard forever.
You won't cry over every feeding and your baby will drink a bottle without a fight.