What You Really Need Postpartum When You Have More than 1 Child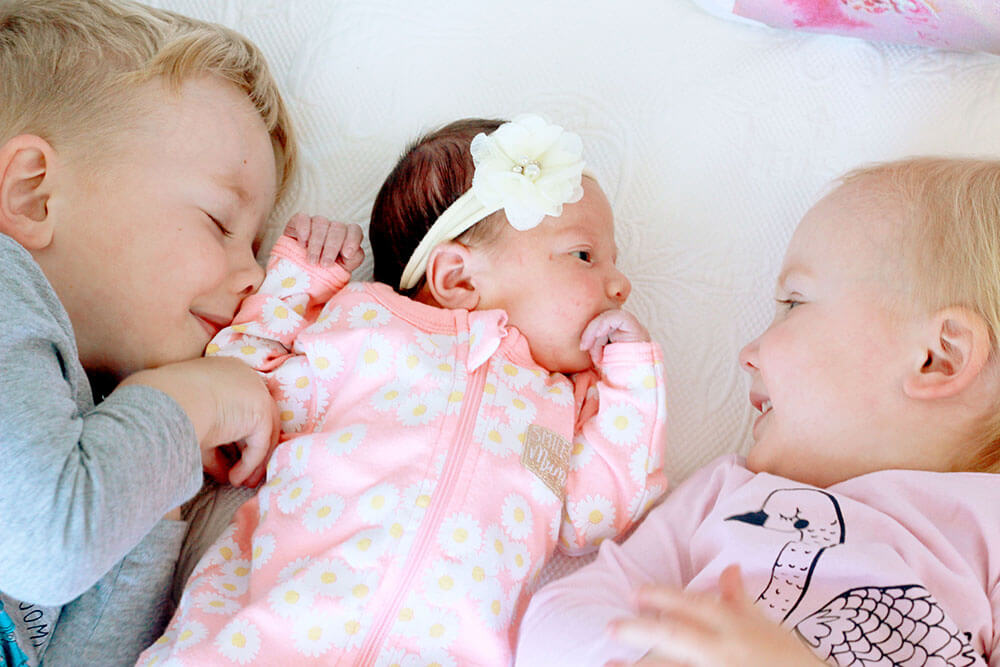 This post may contain affiliate links. As an Amazon Associate I earn from qualifying purchases.
Is it more difficult to go from 0-1 child or 1-2? Many moms will tell you it is the former. However, I'm not so sure about that. I mean, they're both challenging. Any kind of transition is.
However, you get better at doing it and so maybe that's why it seems easier.
Read –> How to Prepare Your Children for a New Baby
Regardless, the postpartum period can seem daunting no matter how many children you have had. It is so essential to be prepared in order to try and create the best possible experience.
I've put together this list of practical and honest things that you really do need during the postpartum phase when you have more than one child.
#1 Baby Carrier
Having a baby carrier of some variety is basically essential in my point of view. This is especially true if you have more than one child.
It is not uncommon for newborns to be fussy and want to be close to you. However, it is not feasible to just sit and hold a newborn all day long when you have other children to care for.
Read –> 5 Steps to Surviving the Newborn Phase
I've used a few different baby carriers but the issue that I've always come across is dealing with the heat.
All of my babies have been born at a time of year when wearing them for any length of time becomes uncomfortable.
I reached out to Solly Baby during my pregnancy with Charlotte to see if they would be interested in collaborating.
They were more than happy to and sent me out a beautiful baby wrap from their classic collection. While I am not being paid for this post, I was sent the wrap at no cost.
It arrived beautifully packaged. However, one of the things I love about Solly Baby is their ability to find beauty in simplicity.
I'm not one for big baby-themed patterns and prints. Their style is perfectly suited to my taste.
Like I said, one of the things that I've always had an issue with is the heat and how uncomfortable babywearing is in warmer temperatures.
This is why I love the Solly baby wrap. It is SO lightweight and yet at the same time, it is perfectly suited for keeping your baby safe and secure.
Finally, one of my other favourite features is the way in which you can store it.
Yes, there is a lot of fabric, but because of how lightweight it is, it can easily fit into your purse or diaper bag.
What is even better is that they've sewn a pocket of sorts at the end of the wrap where you can tuck all the fabric into.
It means that it can become really compact. This was a wonderful feature for me as I've always found storing baby carriers a real issue.
So, get yourself a baby carrier for those hectic days and evenings, and I can personally vouch for how great the Solly wrap really is.
#2 Self-Care Kit
When I talk about a self-care kit I'm talking about personal care for postpartum as well as some pampering. You can find more info on what I recommend in this post –> 5 Tested Things Every Mama Needs to Have Postpartum
Essentially, you want a kit put together of everything you'll need to keep yourself comfortable. This might include, sanitary products, witch hazel, aloe vera gel, a peri bottle, flushable wipes, numbing spray, and perhaps some adult diapers.
Add to that some things that will just make you feel good such as chocolate, your favourite beverage, a nice lotion, some face masks, shower gel or bath salts. Just things that will make you feel fresh and a little bit pampered.
It is so easy to feel down about your body image when you're in that postpartum phase. Therefore, it is important to do your best give yourself a little extra care, even if it might seem insignificant, it can make a big difference.
#3 Support
Every new mom needs support. After your first baby is born you might be able to battle your way through things on your own. In reality, some women have no choice but to do so.
However, once your second (or third, or fourth, etc) child arrives the game is up. It might take some coming to terms with, but you will need to embrace your village. You, mama, need support. Not only for your sake but for the sake of your family.
There are only so many things that you can do at once. Sure, moms are pretty incredible, but we're not superhuman and that's okay. It takes a strong woman to admit that she isn't capable of achieving it all.
Read –> 3 Things to Sacrifice When You Have a Baby
Instead of worrying about the bother you might be to those around you, accept their help. If they don't offer it, then ask. As they say:
Many hands make light work.
#4 Chore List
This isn't for you to do, although it will simplify things greatly if you have to. Nope, this chore list is for your support system. Those around you that are there to help out during the postpartum phase.
It's basic and aimed towards keeping the house in a manageable state. We're not talking about deep cleaning here, just the daily maintenance. And having things written down will make it easy to actually show people what needs doing when they ask.
Sign up for my free template below. 🙂
#5 Freezer Meals
When I was pregnant with Jack I put together about two-weeks worth of freezer meals and they were so good to have! That was when he was my one and only baby. With my second, some family friends bought us 2-weeks worth of delivered meals.
They were absolutely amazing a delicious. It was so wonderful to have them because we all got fed and they were super nutritious and filling as well.
Finally, with my third baby, my Mum cooked us several freezer meals. I was so immensely grateful because I wasn't able to do it myself this time around.
You might find that you feel fine to cook, or you may have someone to do it for you postpartum, but if not then it is so worthwhile to put just a few in the freezer.
Things get hectic in the afternoon/early evening and your energy levels will be fairly spent by that time. Do yourself a favour and try your best to prepare ahead of time by stashing meals in the freezer. Even if you don't use them all in the immediate postpartum, you'll have them there for a rainy (crazy!) day.
For a list of great meals visit this link –> Freezer Friendly Meals
#6 Grace
Here is the lucky last point of this post, and quite possibly the most important one.
Mama, give yourself and others grace. This is but a phase in the many phases and seasons of life. Your hormones will be all over the place for a while. You are healing.
Give grace to your children, grace to your spouse, and grace to yourself.
Be gracious when it comes to your mental health and show yourself grace when it comes to your body. I know you want to look and feel yourself again. Trust me, I know. But, it will take time. For some, it takes longer than others and that is no one's fault.
Remember…
Successful mothers are not the ones who have never struggled. They are the ones who never give up despite the struggles. – Sharon Jaynes