What to Do When Baby is Teething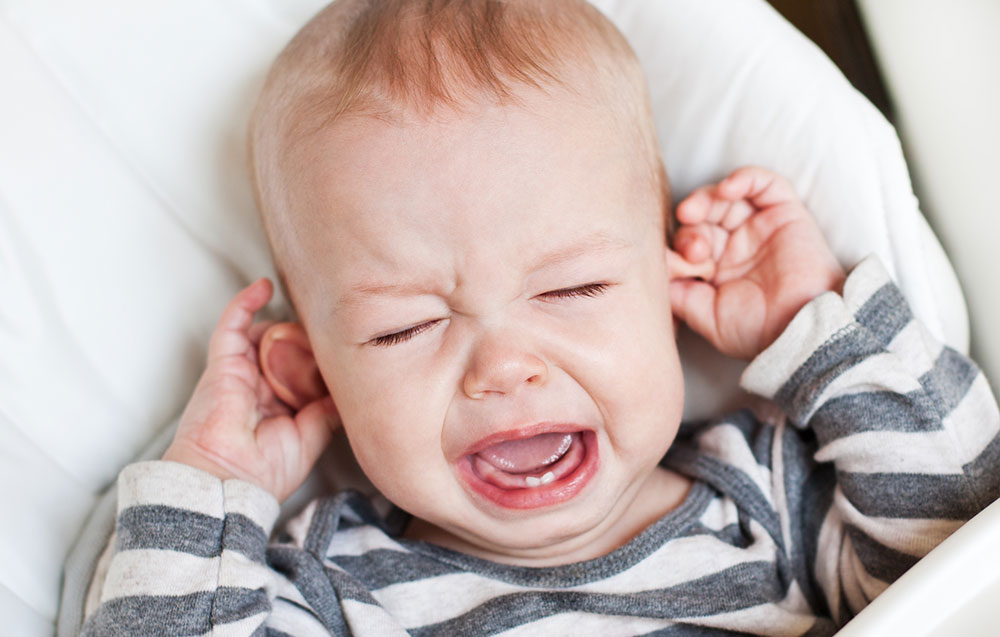 This post may contain affiliate links. As an Amazon Associate I earn from qualifying purchases.
What to do When Baby is Teething.
Ugh. Teething. I swear it's the devil. Seriously.
Dealing with a teething baby is one of the worst parts of parenting. Right up there next to potty training, seriously.
Actually it's worse than potty training. Because at least with potty training you go through it ONCE and then you have the reward of being DIAPER FREE.
Babies get a LOT of teeth. And each time it's painful. And not fun for anyone, Mom included.
So, yes, teething is THE worst part of parenting. Period. Nothing comes close.
The reality is, teething is just something you have to get through.
I hope these tips help you (and your baby) survive teething and make the process easier to handle…but no amount of tips or tricks or products will make teething enjoyable.
So just grin and bear it (get it, grin like with your teeth).
Signs Baby May Be Teething
Teething can start at various ages. There are some telltale signs that your baby may be entering the teething stage:
Drool
Fussiness and Irritability
Eating Issues (often refusing to each, but sometimes wanting to eat for comfort)
Biting (especially with nursing)
Sleep Issues (including waking at night)
Crying
Pulling Ears
Excessive Chewing (wanting everything in their mouth!)
Rash (usually around the mouth but some of my kids even get a light rash elsewhere too)
Low-Grade Fever (people say it's not related but ALL MY KIDS get a low-grade fever with teething)
Runny Nose
Loose Stools (another one that "they" swear isn't related but it happened with my kids consistently!)
Other Helpful Posts…
Household Tips for Easing Teething Pain
Some babies struggle with teething more than others. Some act normal and just fine and bam! There is a new tooth peeking through!
Others have teething symptoms for weeks or months before finally getting that tooth.
It truly varies by each baby and the way they handle that first tooth is a good indicator of how each additional tooth will affect them (and you!)
Here are ways to help your baby with their teething pain:
Put pressure on the gums, even just running your finger along the gums may comfort.
Wet a washcloth and freeze it. This is comforting for baby and free! Chewing is a great way to help alleviate the pain.
Break the "rules" a bit when it comes to sleep. Offer comfort when baby wakes and help them ease back into sleep.
Some babies need extra sleep when teething, adjust the schedule to allow the extra sleep as needed.
Have a comfort object for your baby that they LOVE and allow them to have lots of snuggles with their special friend!
Cold food can be a wonderful relief for babies who are eating solids. Frozen peas are a great one!
Take a break. I know this isn't helpful for the baby exactly, but a teething baby can really push your patience levels…ask for help and get out of the house so you can stay sane!
Products to Help Relieve Teething Pain
I'm a big fan of baby products that help make life easier.
Teething relief items? Load. Me. Up.
I've had FOUR kids go through teething (well my toddler is still going through it) and I have many favorite products!
Over The Counter Relief Options for Teething Baby
There are countless over the counter products aimed at helping to reduce the pain that comes with teething.
Many people have opinions when it comes to teething relief.
Some are against numbing agents. Some swear by them.
Some love amber teething necklaces. Some say they are a placebo.
It's truly a personal choice and up to YOU as the parent to decide what works best for you!
Here are over the counter teething relief options and my thoughts on each:
Tylenol: Tylenol is safer for babies under 6 months old and your paediatrician can give you the appropriate dosage amounts based on the weight of your baby.
IBProphen: Typically I have found this works better for pain relief for my kids.
Teething Tablets: I've always been a fan of Hyland's Teething Tablets and find they are very effective in relieving teething pain. I know there have been recalls over the years on this product and I believe the issues have been sorted out with the new products on the market today!
Oragel: It's controversial regarding the numbing of the gums but I use it sparingly and right before sleep times and it can be helpful in allowing baby to relax.
Punkin Butt Oil: I had a friend recommend this to me and I'm all about trying ANYTHING when it comes to teething! It helped!
Essential Oils: Everyone has their favorite brand but each one offers an option that can relieve teething…ask your favorite oily mama (or the millions on Facebook) and I'm sure she can recommend one!
Teething Conclusion
The wonderful day comes where your baby FINALLY has that FIRST TOOTH! Praise the LORD! Teething is OVER!
But then…they get the second tooth. And the third.
And if you're SUPER lucky they get several teeth erupting at ONE TIME.
Load up on the chocolate sister. Find a binge-worthy show.
Figure out what helps you stay SANE because teething is no joke and when it finally ends…then they start losing them and needing braces which is a whole other level of fun!