Week Two: Charlotte's Newborn Summary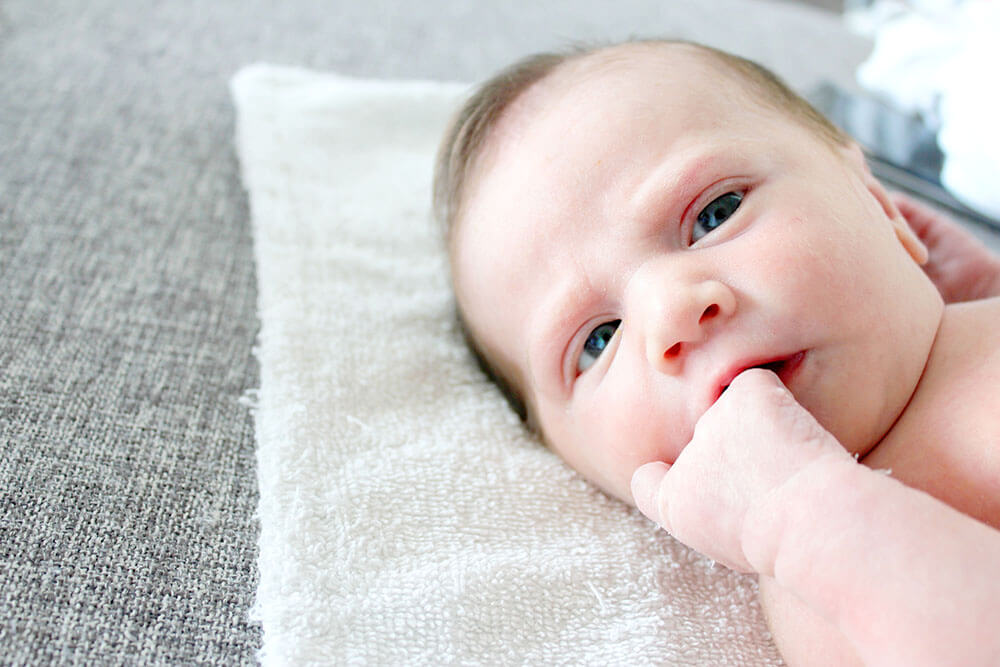 This post may contain affiliate links. As an Amazon Associate I earn from qualifying purchases.
Week two was when real life really kicked in again. Shane had to go back to work and for the first time, I was left alone all day with all three children.
It wasn't nearly as difficult as I had anticipated, but there were definitely challenges along the way. Week one was the honeymoon period and it was wonderful. However, week two was just as great. Keep reading to find out how things went and what our days looked like.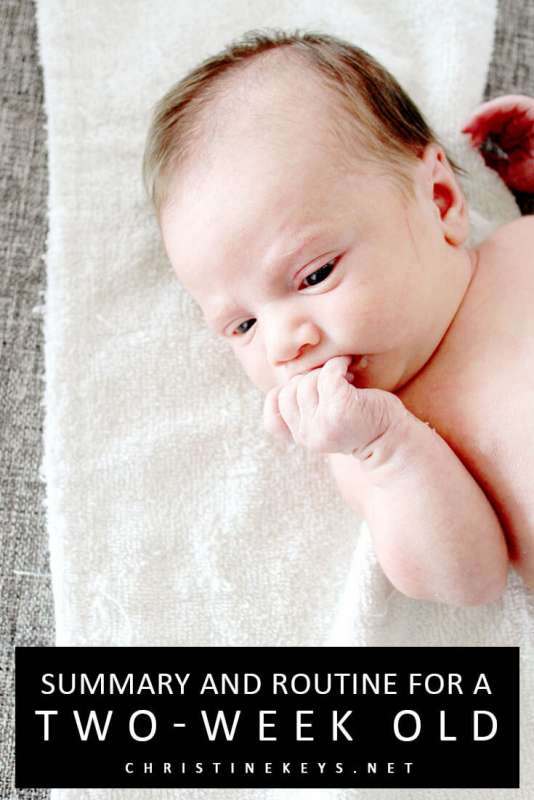 *this post contains affiliate links
How I'm Doing
I'm not sure how long I'll keep including an update on myself, but I thought it might be helpful to some of you that are approaching postpartum. Knowing what to expect and how to prepare can be really helpful.
Emotionally
I was anxious as week two approached. I wasn't looking forward to Shane going back to work. Not only was he a huge help and support, but I knew I would miss his company as well.
The unknown is always something that gets me worrying. However, I did my best not to let it overwhelm me. Part of what helped was having really low expectations.
My mum had cooked us a bunch of freezer meals so I made sure to utilize those and not put any pressure on myself to have to cook. I also totally let go of any guilt when it came to allowing the older two more screen time than usual.
Read –> 5 Tested Things Every Mama Needs to Have Postpartum
The only time I felt as though I struggled was when I couldn't fit in time for a short cat nap. And then as the week drew to a close I was really feeling the effects of the lack of sleep and I'll admit that my temper was short.
Generally speaking though, I haven't been overly anxious and I feel as though I've been able to cope so much better than I did following my previous two pregnancies.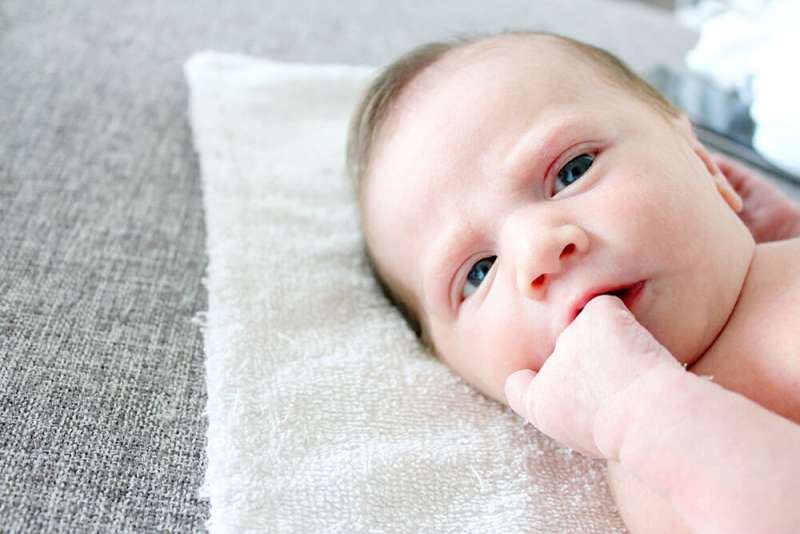 Physically
Most things resolved themselves over the course of this week. The SPD pain settled right down and didn't cause me any further issues. I also completely stopped having any afterbirth pains.
However, there were a couple of things that gave me a bit of grief. One was the back pain that I had during the pregnancy. While it isn't as bad as it was it is still causing me issues. It is intermittent, but I only have to turn the wrong way or sit in the wrong position for it to flare up.
I'm really hoping that with time it settles down, otherwise I might go and see an osteopath.
Apart from that, the other major issue I dealt with was an unsettled tummy. During the first week, my appetite was ravenous. I was very hungry all the time. However, in week two it settled right down. I'm not sure if that is because I wasn't nursing and my body realised the extra calories weren't needed. Whatever the reason, I just wasn't hungry.
I actually felt quite nauseous, especially after dinner. It is something that I'm going to bring up to my midwife because it really has me feeling yucky. One thing that I wonder might be causing it is the iron I'm still taking. I'll just have to wait and see.
Thankfully, the engorgement that I experienced during week one completely disappeared during the second week. I still feel letdowns when Charlotte cries or is taking a bottle, but other than that I feel basically normal in that department and no longer have any pain.
All About Charlotte
Charlotte did so well during her second week. She continued to be a dream baby and we all loved having the opportunity to snuggle with her throughout the day.
Feeding
By the end of her second week, Charlotte was taking around 70-100mls per feed. During the day she was feeding every 3 hours. Most of the time I would have to wake her for those feeds.
Overnight she would do anything from 2.5 hours – 4.5 hours. I did try her with the paci if it had been less than 3 hours though because otherwise she didn't feed very well at all and would be unsettled.
So, she was having 7-8 feeds in a 24 hour period.
With the older two children I used Infacol for gas, however, it appears that it was recalled back in June and hasn't been restocked yet.
With New Zealand being the tiny country that it is, we are very limited as to what else is available. I looked into Colic Calm but decided that the price was too much considering that I didn't know that it would help for sure.
I did find a brand of gas drops but it was shipped from overseas and would have taken a couple of weeks to arrive. Instead what I ended up buying was Rhuger. It was recommended by several mamas in a New Zealand mum's group on Facebook.
Charlotte hasn't had a terrible time with gas and we can usually get burps up without too much effort, but I wanted to be prepared just in case.
We've only been using the Rhuger for a few days and it says it takes time for it to build up in their system so the jury is still out as to whether or not it has helped much.
Weight
At the start of her second week we also had the midwife around again for a full check on how we were both doing. Charlotte weighed in at 2860g (6.3lbs), which means she put on 160g (5oz) since birth!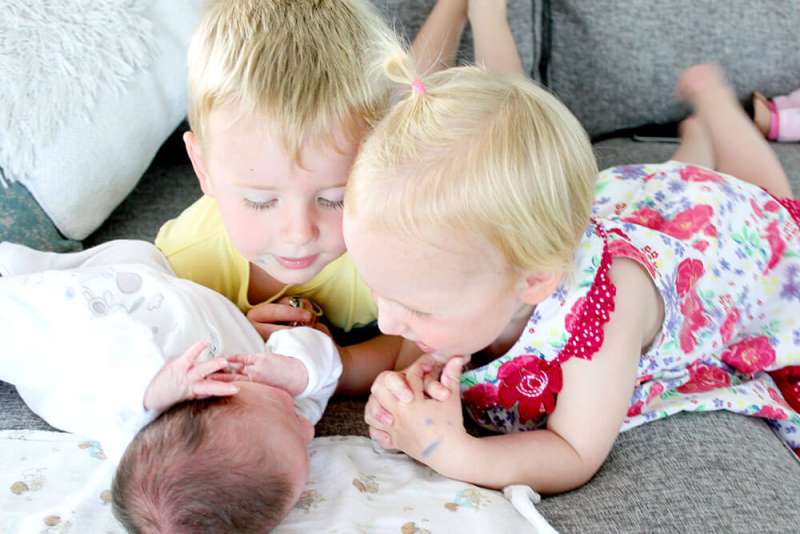 Routine
This week I was a little more strict with the schedule because I had to be. I was on my own with a 3.5-year old, a 2-year old, and a 2-week old. In order to cater to all of their needs, I needed to have some kind of predictability to the day.
Thankfully, Charlotte did really well and I didn't have to change things up much at all. We're following a routine that is suggested in the Moms on Call book. I just changed the times to suit us. Below is what our days typically looked like.
I've included wake times, but they were hit and miss because Charlotte was still in the super sleepy stage.
6:30 Desired wake time (Sometimes I fed at 6 am and other times I let her go till 7 am depending on when she woke in the night)
7:10 Nap
9:30 Feed
10:10 Nap
12:30 Feed
1:10 Nap
3:30 Feed
4:10 Nap
6:15 Bath
6:30 Feed
7 Nap
9:30 Bedtime Feed
In bed for the night somewhere around 10 pm.
I then let her wake me in the night and she either had 1 or 2 night feeds.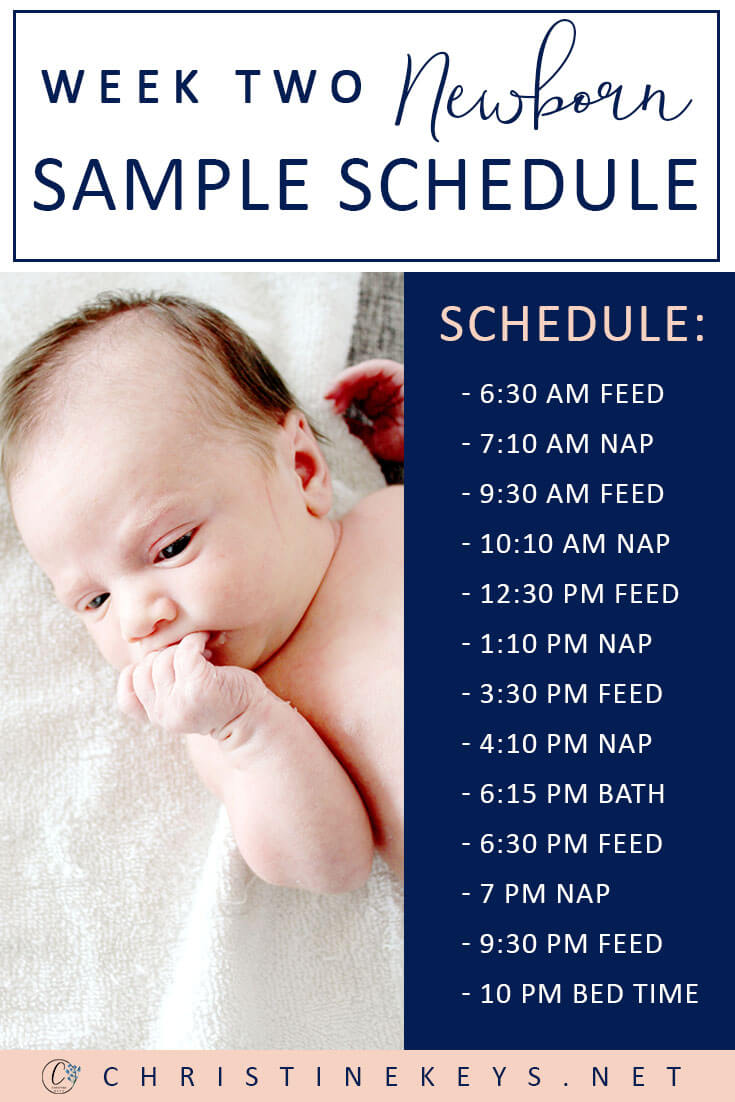 Wake Time
As I said above, wake times were hit and miss. Generally, I aimed for a 40-45 minute wake time. Sometimes she was very alert and other times she was drowsy through the entire feed and I just put her straight back to bed.
The two times of day that I could get her to wake up well were around her 9:30 am feed because I got her dressed for the day, and then again at her 6:30 feed because she had a bath.
If I couldn't get her to wake enough to drink her bottle I would strip her down to her nappy and for the most part that did the trick.
You'll see that we implemented bath time into the routine. Her cord fell off during the week so that is when we started bathing her. She didn't love her first bath but is learning to like them. We just use the bathroom sink at this stage as she's so super tiny and baths last all of 5-10 minutes.
Sleeping
This week I started making more of an effort to put Charlotte to sleep in her bassinet. During the first week, she took most of her naps in the rock n play in the living room. However, in week two she was struggling to settle to sleep because of the stimulation.
So, she started sleeping in her bedroom in her bassinet during the day. I have a video monitor on her as well as the AngelCare Movement monitor.
There were only a couple of naps where she woke early and needed to be held.
At night she slept swaddled in the rock n play in the living room. She was generally fairly settled although we did have a couple of nights where she needed to be held for a while.
Sleep Training
This week I let Charlotte fuss a little before going to sleep. I hadn't at all leading up to that, but I realised while I was attending to the older children that she put herself to sleep in under 5 minutes. Before that, I had been reinserting the pacifier and it had actually prolonged the whole process.
Read –> A Simple Explanation of What Sleep Training Actually Is
There was only one nap during the week where she was unable to put herself to sleep. It was during the older children's nap time so I just rocked her and kept her with me in the living room.
Besides the self-soothing, I also started implementing a simple routine before naps and bedtime. It isn't elaborate and only includes holding her while I draw the curtains and turn on the white noise.
Products We've Bought
This week I bought a couple of new items. One was for me and the other was for Charlotte.
I noticed that she slept really well when swaddled tightly with her arms to her side. However, I only had one stretchy swaddle wrap that was good at keeping her swaddled up. The rest of the time she was wriggling loose and it was causing her to wake early.
So, I bought a packet of stretchy swaddle wraps. We used the swaddling method suggested in the Moms on Call book and it worked really well.
The second item that I bought was a postpartum belly band. I'm not super self-conscious about the state of my tummy. I am only a couple of weeks postpartum so I totally knew what to expect. However, I wanted to get a support belt for two reasons.
Firstly, because of the back pain, I've had. I thought it might be helpful to have some extra support. And secondly, to just hold everything in when I want to wear something a little more fitting. It is so nice to have a waist again!
That is all for this week.
Until next time!