Week Three: Charlotte's Newborn Summary
This post may contain affiliate links. As an Amazon Associate I earn from qualifying purchases.
I went into week three bracing myself for a difficult time. Week two was a transition week for us and it went fairly well.
Typically, my babies have woken up somewhat during week three and become a bit fussier.
Plus, there's a growth spurt that can happen around this time which in the past meant that I was up quite a bit at night with them.
However, the week didn't turn out to be that way at all. Charlotte is basically an angel baby. At least so far anyway.
Keep reading to see what happened.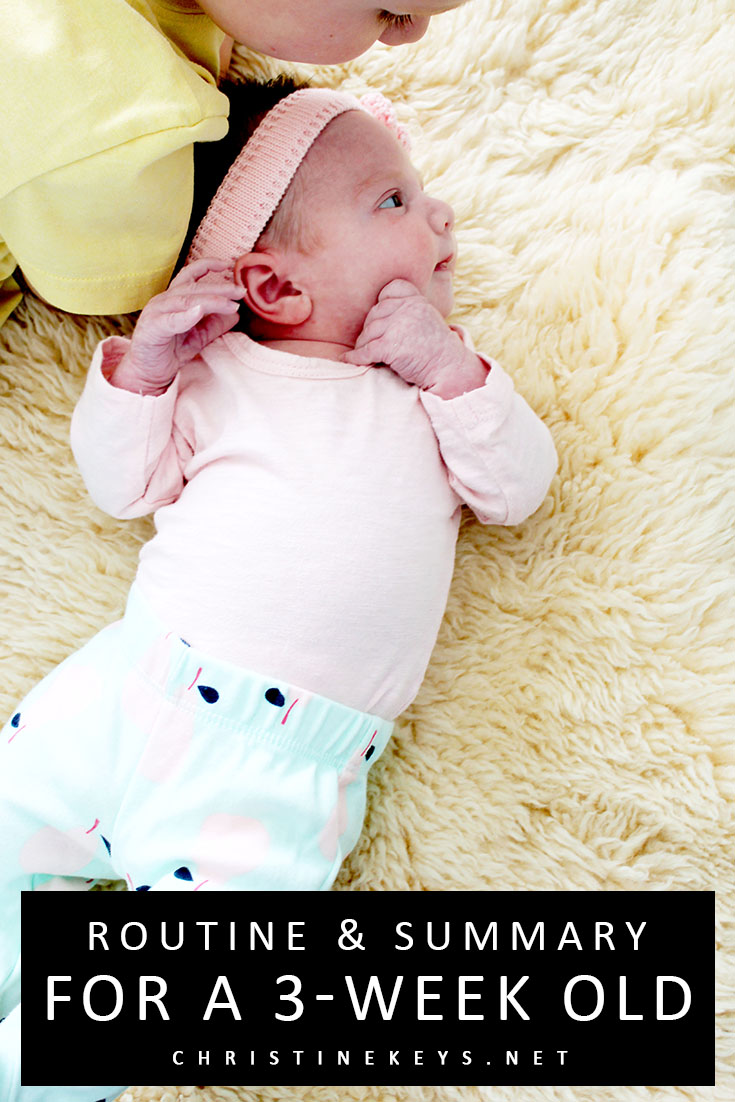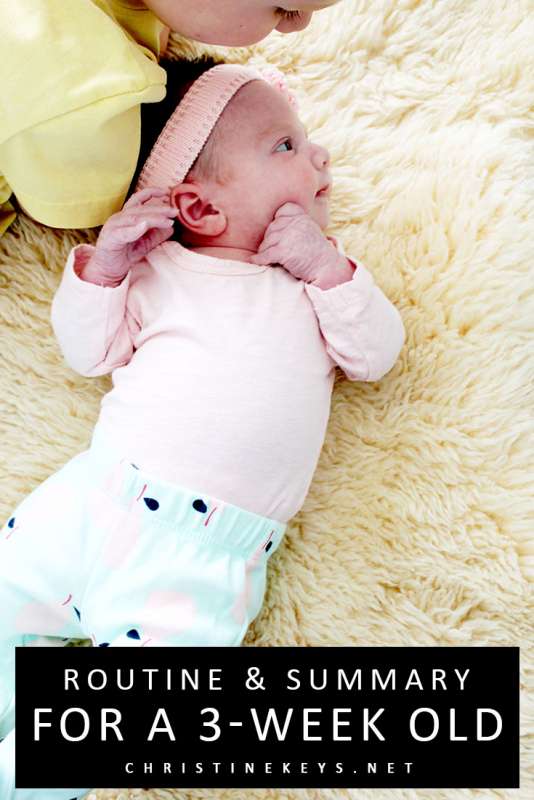 Newborn Baby Update: Week Three
How I'm Doing
You know how people respond to "how are you" with "fine"? Well, that's me, except it really is the truth.
I'm doing well and I'm just fine. Things are definitely challenging at times, but I'm coping.
Emotionally
As long as I can work in enough rest in a 24 hour period, I am coping just fine emotionally.
Honestly, the biggest challenge I'm facing is having the ability to extend patience to my older two children.
The baby is a dream and is super easy in comparison to dealing with the ever-changing moods and emotions of toddlers.
By the end of the day, I find it very difficult to not lose my temper. I need to re-read my own blog posts!
–> 3 Reasons You Shouldn't Let Your Toddler's Behaviour Dictate Your Emotions
I'm so relieved when they're tucked up in bed for the night but at the same time find myself wishing I could just stop and snuggle up with them.
Physically
I had such a difficult time with feeling nauseous and having an unsettled tummy. It was so frustrating because otherwise, I felt fine.
However, my appetite was almost non-existent and whenever I did eat I ended up not feeling well afterwards.
I decided to go ahead and halve my iron dose to see if it helped. I'm still not 100% sure that it solved the problem, but I did feel better by the end of the week.
My appetite has definitely dropped though, but it is more like what it was pre-pregnancy which is a good sign.
Besides that, all signs of SPD seem to have disappeared and the only pain I'm still dealing with is the back pain.
It comes and goes but definitely flares up if I twist in the wrong way. Besides doing gentle stretches, I'm not what else to do about it at this point.
I've used my pregnancy pillow all throughout the last two pregnancies and have continued to do so postpartum. (You can get one for $50 OFF! Use the coupon code: CK50. Get it HERE.).
It just gives the support that you need while everything continues to heal.
Posts You Need to Read
All About Charlotte
She's turning into a chunky monkey and definitely seems to be following in her big brother's footsteps as far as weight gain goes.
Feeding
Well, let's just say that neither of my older two children were spacing out their overnight feedings as much as Charlotte did this week.
During the day she mainly stuck to a straight 3-hour schedule. I did have to work to get her to wake up for them at certain times.
That meant stripping her down and changing her diaper. By the end of the week, she was having more regular awake times and I didn't have to work so hard.
She generally took 100-120ml (3-4oz) per bottle.
Overnight she regularly went 5 hours. However, she started stretching that to 6 hours and one night she even did 7!
In truth, 6 hours is ideal because it means I still get another couple hours of sleep. When she went 7 hours it meant I had to get up again pretty soon after that to start my day.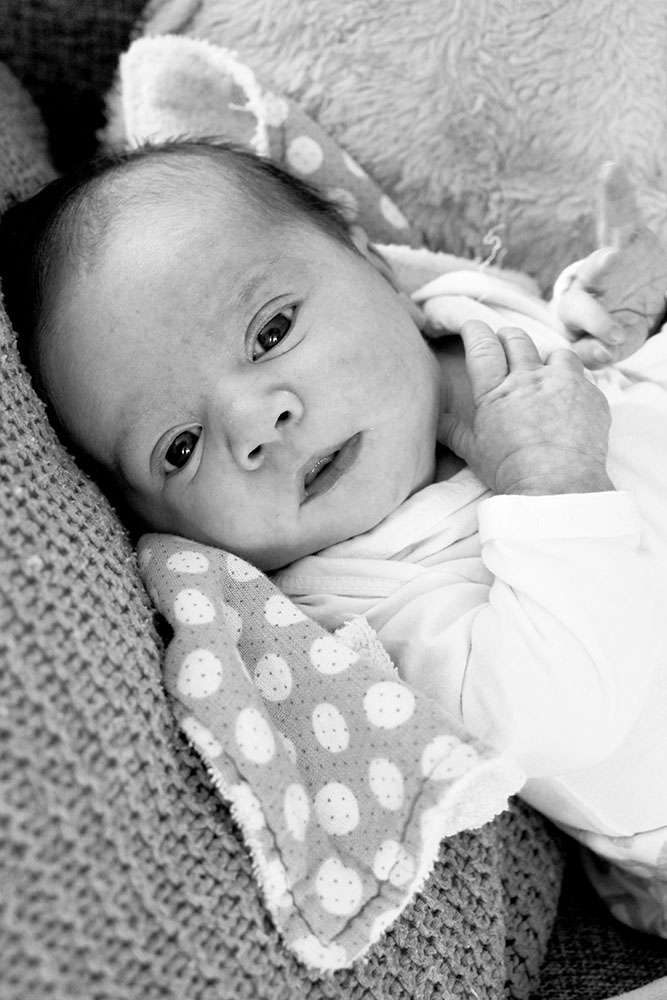 Weight
The amount of milk Charlotte consumed during her third week definitely made a difference when it came to her weight check.
Over a week she gained 360g (12.6oz). So, her total weight was 3220g (7lbs 1.5oz). She was 5lbs 15oz at birth so she's gaining weight fast!
Sleep & Feeding Routine for a 3 Week Old:
We continued with the routine we were aiming for last week and in all honesty, it went practically without a hitch.
Charlotte was able to get herself off to sleep all by herself for all of her sleep times.
I had to wake her for many of her feed times, but there was one day where she woke on her own every time.
She also struggled through the last two naps of the day. I'm not entirely sure why, but I do wonder if she was going through a bit of a growth spurt.
6:30 Desired wake time (Sometimes I fed at 6 am and other times I let her go till 7 am depending on when she woke in the night)
7:10 Nap
9:30 Feed
10:10 Nap
12:30 Feed
1:10 Nap
3:30 Feed
4:10 Nap
6:15 Bath
6:30 Feed
7 Nap
9:30 Bedtime Feed
In bed for the night somewhere around 10 pm.
She had 1 night feed somewhere around 2:30-4:30 am.
Wake Time
As I mentioned above, Charlotte did have more regular awake times during the day as the week progressed. The hardest part was getting her to wake up when she needed a bottle.
She hates having her diaper changed and it really wakes her up so that was often my go-to method for getting her nice and alert.
However, there were a few occasions where nothing I did would get the girl to open her eyes.
In those instances, I got her to take as much of her bottle as I could and then I put her back to bed.
Her wake time is still around 40-45 minutes. Usually, 30 minutes of that is taken up by feeding and burping her.
The last 10 minutes are often spent on my lap or in the rock n' play in the living room.
I did keep her up a little longer a few times and she struggled a lot more with getting herself off to sleep, so I reduced the time and she went back to falling asleep quickly.
She does struggle to fall asleep around a lot of noise and activity now, so I do need to put her in her own room for naps.
Sleeping
I've referred to her sleep quite a lot already, but to summarise she is taking 4 naps a day. Each nap lasts around 2hrs 15mins.
She then goes down to bed at 7 pm after her last bottle. I am waking her for a late evening feed at 9:30 pm, but she doesn't have much, if any awake time.
Once she's finished that feeding she'll usually sleep until around 2:30-4:30 am.
I used the soothing rounds from the Moms on Call book and by the end of the week, she was easily doing a 6-hour stretch.
At most, she fussed for a couple of minutes and required 2 paci inserts. She then continued to sleep for 1-2 hours before being really awake and ready for a feed.
Read –> What You Need to Know About Moms on Call
I also believe there were a couple of things that really helped extend her sleep. The first was using the bat-wing swaddle technique.
Despite our best efforts, she was wriggling free of her swaddle. Using this technique solved that issue and she slept soundly.
Secondly, we swaddled the Sleepytot that we bought her (see further down) inside the swaddle so that her paci was less likely to fall out.
Even when it did it made it much easier for us to reinsert it instead of having to go looking for it.
Products We've Bought
The two items that I purchased this week are things that I had considered buying many times when both of my older children were babies. Anyway, I finally decided to just go ahead and take the plunge.
Firstly, was the Hushh sound machine. Up until this point we have always just used old smartphones and an app for white noise. However, I was so tired of juggling chargers and then the sound also kept cutting out intermittently. So, after doing a bit of research I decided to splurge on this one.
So far, I love it. It is a great size, is portable, and the sounds it offers are very soothing.
I also went ahead and purchased a Sleepytot. They are readily available here in New Zealand and I could get it from the same place as the sound machine, so it made sense to get it all at once.
It has been so handy!
Until next time!