Week Thirteen (Three Months): Charlotte's Newborn Summary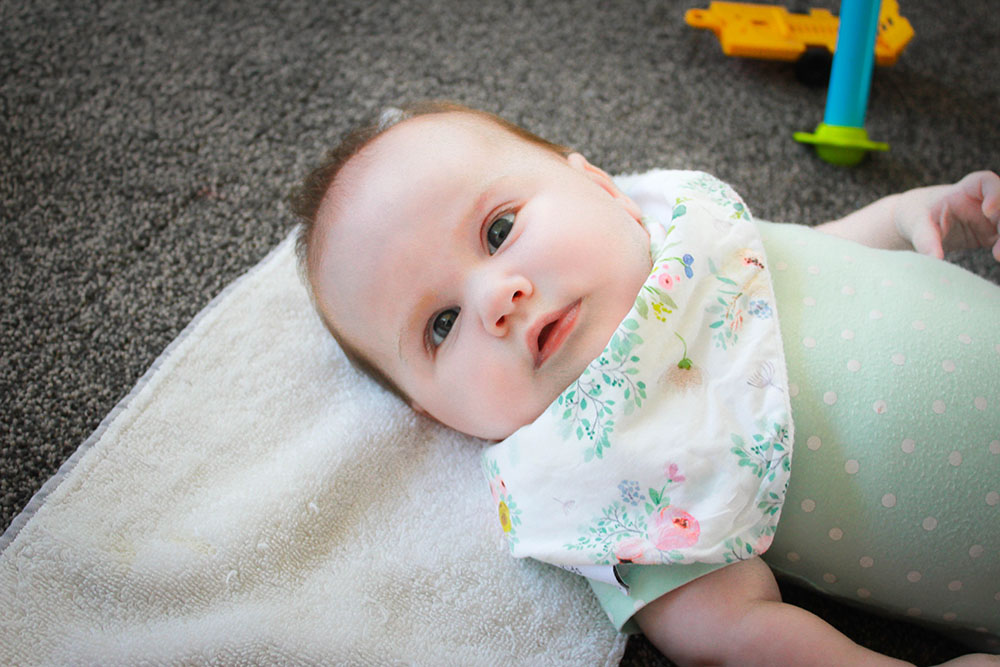 This post may contain affiliate links. As an Amazon Associate I earn from qualifying purchases.
Week thirteen held a lot of firsts for Charlotte.
She had her first cold, first laugh, attended her first wedding and was away from me overnight for the first time ever.
It wasn't an easy week (are they ever?), but it was a good one nonetheless.
Feeding
We had a bit of a setback this week in regard to feeding. The culprit was a head cold.
It came on very suddenly. I got her up one night for her dreamfeed and noticed she had a very stuffy nose.
It continued on for the rest of the week.
Thankfully, aside from the stuffy nose and some fussiness, there weren't really any other symptoms.
However, most people will know that babies struggle to feed when their noses are stuffy. And then it is also common for anyone with a stuffy nose to eat less.
This is often due to not being able to smell as well. Your appetite is suppressed.
Anyway, all of that resulted in Charlotte not being overly hungry. And then even when she was it took a lot longer to feed her because she needed lots of breaks to catch her breath.
It was a challenge for me not to try and pressure her to eat. We finally had made progress in overcoming her feeding aversion. I really didn't want to go backward.
Routine
We stuck with the same routine, but I have plans to change things up over the next two weeks. Stay tuned for that!
6:30 Desired wake time (I tried my best to feed as close to this time as possible)
7:30-40 Nap
9:30 Feed
10:30-40 Nap
12:30- Feed
1:30-40 Nap
3:30 Feed
4:30-40 Nap
5:50 Cuddle Time
6:15 Bath
6:30 Feed
7:00 Bedtime
10:00 Dreamfeed
Wake Time
A wonder week and a head cold meant that Charlotte was fairly fussy and unsettled for most of her wake times this week.
It was frustrating, but I've had enough children to know that it is only a phase.
The wake time before bed was the most challenging. She needed holding by someone during most of that time and even then she wasn't content.
That bottle was also the most difficult to get her to take.
She spent most of her wake times in my arms and maybe a few minutes in the bouncer or lying on her back under her play gym.
Sleeping
Aside from struggling to go down to sleep, the rest of Charlotte's sleep was as per normal.
She woke at the 45-minute mark for some naps, but always went back to sleep.
I did notice that her cry has gotten louder and more intense this week.
It is difficult to not rush in at the first sound she makes, but it's rare that she hasn't resettled in under 5 minutes.
And when I say 'wake' at the 45-minute mark, she actually isn't awake at all. It's just a sleep transition.
Development
Charlotte laughed for the first time this week!
It caught me by surprise and it was so lovely. Especially because she had been ill.
I was just playing with her when the two big kids were napping and she was smiling so big.
All of a sudden she let out a little giggle and it was so gorgeous!
The crazy thing is that she laughed for the first time at the exact (down to the day) age as Annie.
I have this 5-year mother's journal that I've been keeping since I was pregnant with Jack. I had recorded Annie's first laugh in there as well.



First Night Away
My sister's wedding was on Saturday and both Annie and I were in the bridal party.
I had known for a while that I would be leaving Jack and Charlotte with Shane the night before the wedding.
As the time approached I'll admit I was anxious to leave her. I had never been away from any of my babies overnight at that young of an age.
I knew she would be very well cared for by her daddy, but any mom will understand my hesitation at leaving her.
Anyway, she did absolutely fine. Shane is a brilliant father and took it all in his stride.
He brought both the children to the wedding the next day and we were reunited as a family after the ceremony took place.
Technically speaking, this was Charlotte's second wedding as I was 17-weeks pregnant with her at my brother's wedding in June.
Transitions
Going into the new week we'll be working on some transitions.
First up is dropping the dreamfeed.
I'm doing it slowly by dropping one ounce every two nights.
At the same time, I'm moving her desired wake time from 6:30 am to 7 am.
My next goal is to move to a 4-hour schedule so that all 3 children are napping/having quiet time for a couple of hours in the afternoon.
Wake times obviously need to be extended, so it'll be a slow process, but we'll get there!
Until next time!