Week Ten: Charlotte's Newborn Summary
This post may contain affiliate links. As an Amazon Associate I earn from qualifying purchases.
I thought that we had turned a corner at the end of week nine regarding Charlotte's feeding issues. However, week ten was the most challenging and stressful to date.
It was full of frustration and worry on my part, and eventually, a trip to the doctor.
Thankfully, there was some resolution and a plan.
Keep reading to find out how this week went and how Charlotte's routine is looking.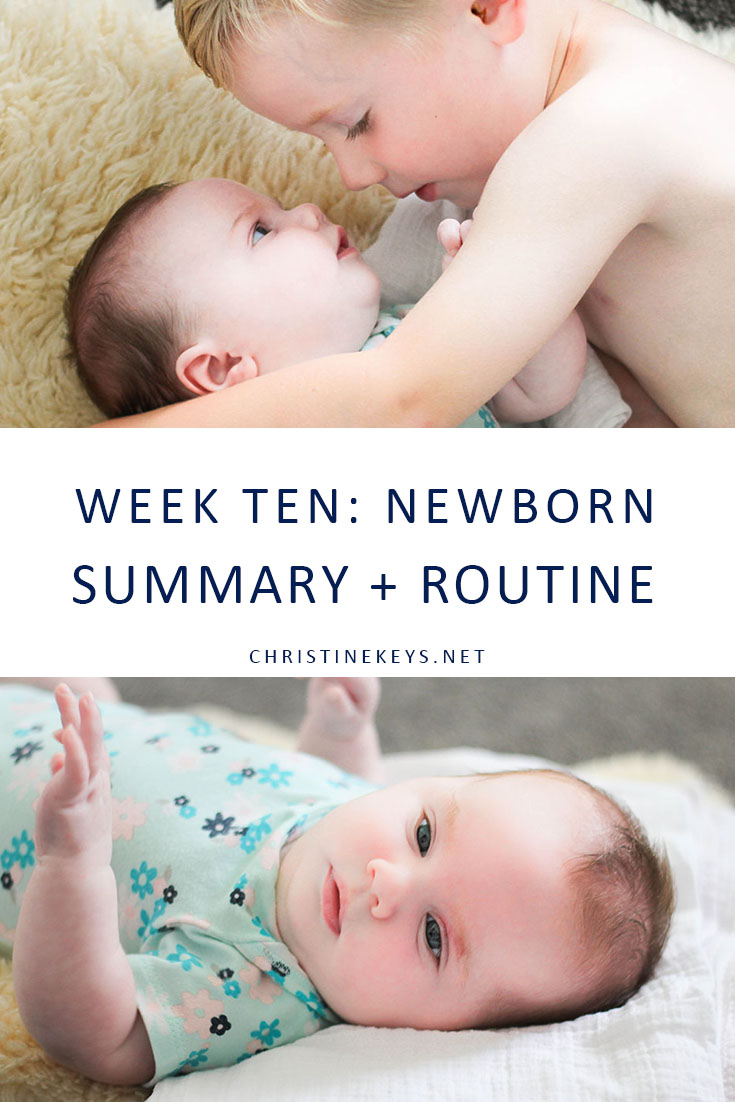 *this post contains affiliate links
Feeding
So, while I thought Charlotte's feeding had improved (and it did temporarily) in actual fact, things got worse and came to a head this week.
She was not feeding happily at all. I would offer the bottle and although she would act hungry, she would just start fussing and refusing to feed after just a few sucks.
Some feeds she practically refused entirely.
I was so stressed and frustrated about it all. On Friday morning I decided that it was time to head to the doctor, especially because Christmas was the following week.
So, that's what we did.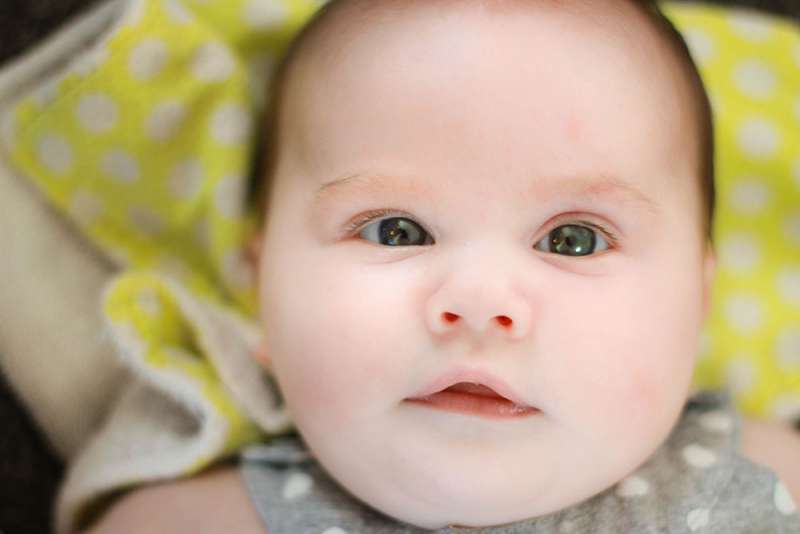 I'm not entirely sure how it was possible, but I managed to get all 3 children and myself dressed and to the doctor's office before 8:30 in the morning. I basically felt like supermom.
We switched doctors recently and I am so glad that we did! Our experience was 100x better than previously.
Basically, the doctor diagnosed her with reflux and prescribed infant Gaviscon.
She was going to prescribe Losec, but apparently, it is no longer recommended for use in infants. At least, not unless you've seen a specialist.
So, we went with the Gaviscon and the doctor recommended adding 5ml of prune juice to her bottle once a day to help combat inevitable constipation.
It took a solid 24 hours before I noticed a difference, but the Gaviscon did help a lot.
Her feedings still weren't close to perfect, but the screaming and total refusal to eat did consistently lessen.
We also switched her over to a sensitive formula. The one we went with was Aptamil Allerpro.
I'm not sure that it has made much of a difference, and it smells REALLY bad. For those reasons, we'll just use up the rest of the tin and then go back to the previous formula we were using.
Routine
The only thing that changed this week was wake time. She generally was able to do 60-70 minutes.
6:30 Desired wake time (I tried my best to feed as close to this time as possible)
7:30-35 Nap
9:30 Feed
10:30-35 Nap
12:30- Feed
1:30-35 Nap
3:30 Feed
4:30-35 Nap
5:50 Bath
6:30 Feed
7:00 Bedtime
10:00 Dreamfeed
Wake Time
I pushed Charlotte's wake times a bit this week because she was starting to cry out at the 45-minute mark.
It didn't make sense to cut back on her wake time, so I tried just adding an extra 5 minutes.
Thankfully, it seemed to do the trick and although she still occasionally cried out at some point in one of her naps, she did sleep better overall.
During her time awake she was a bit fussy.
I'm not entirely sure if it was wonder week behavior, or perhaps as a result of the reflux.
Read –> The Wonder Weeks: What You Need to Know About Them
Regardless, she was usually happy to be held and also enjoyed having her pacifier.
On Saturday I went out and bought her a bouncer.
The one I had with the other two children had broken so I needed a new one. I didn't even realize how useful it was until I didn't have it.
Anyway, I just got a very basic one and it works perfectly.
It is especially helpful to keep Charlotte upright for a while after her feeds.
Sleeping
By extending her late afternoon wake time, Charlotte seemed to do a lot better with that final nap of the day.
It is less than 1.5 hours now, so I can see it turning into a catnap in just a few weeks.
Overnight sleep was about the same.
Some mornings I would hear her fuss for a minute around 5-5:30 am but she went back to sleep until 6:30 am.
I did lessen the amount I gave her in her dreamfeed bottle because she was becoming increasingly difficult to rouse for that feeding.
Once her reflux is under control I think we'll look to drop that feed. That will likely be around 3-months.
Until next time!