Week Six: Charlotte's Newborn Summary
This post may contain affiliate links.
This was a milestone week for Charlotte. A lot of big things happened, all of which were fairly positive. Believe it or not, but sleep got even better than it already was in week five!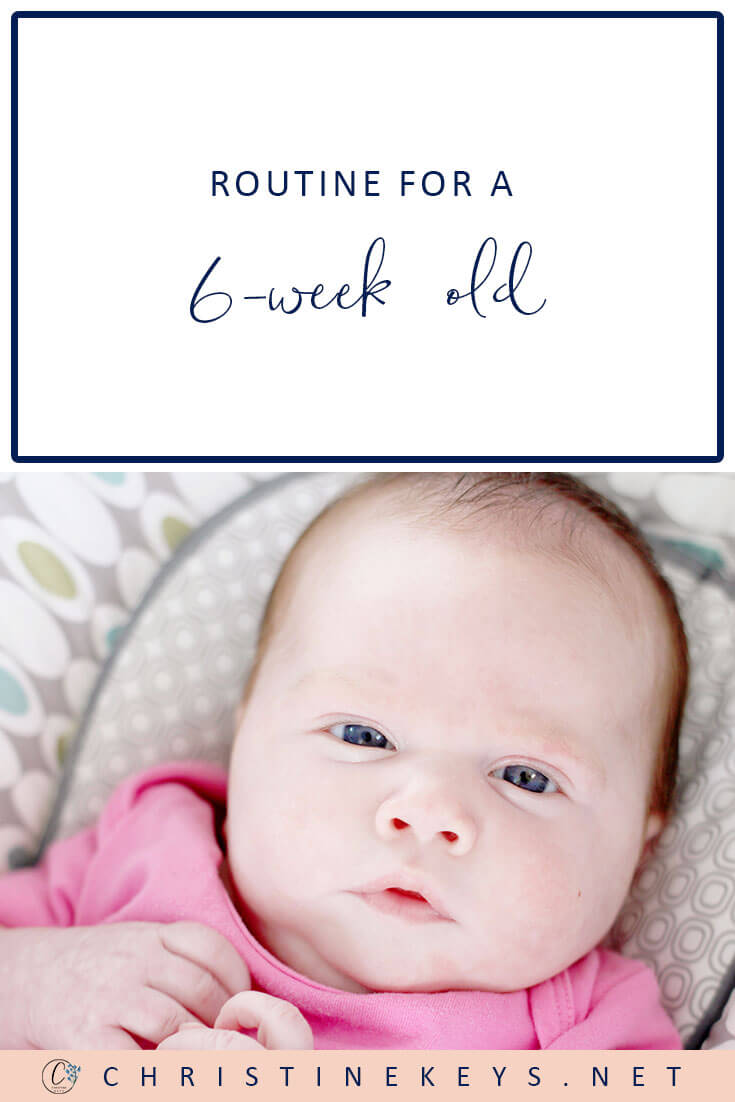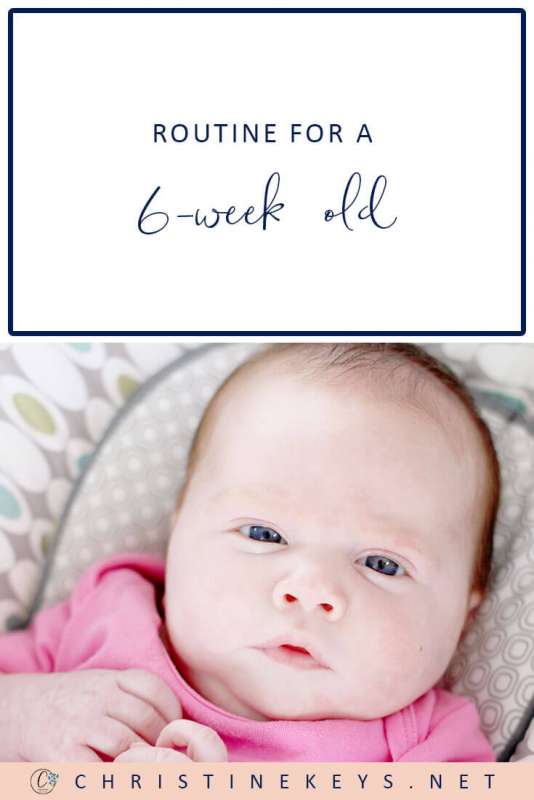 *this post contains affiliate links
Feeding
We changed the routine a bit this week, but I'll talk more about that below. However, her bottles usually contained 125-150ml (4.5-5.5oz). If I can get her to wake up well then she'll finish her bottle quickly. However, when she's super sleepy it can be a challenge to get her to finish.
On Sundays, she generally drinks less. She's often quite sleepy as we're out and about all day at church, etc. Her routine is also a bit all over the place so sometimes she isn't as hungry because it has been less than 3 hours. Regardless, it hasn't affected her sleep or temperament in any way, so I just go with the flow.
Read –> 3 Ways to Keep Your Baby Happy in Church
Weight
It was our last visit with the midwife this week and it was so bittersweet. She cared for us both so well and made the whole experience everything I had hoped for and more. I will forever be grateful for the positive and special memories I have of this time.
At her final weigh-in, Charlotte was 4320g (9lbs 5oz). She is short and very well-covered.
Read –> How to Make Sure You Get an Amazing Midwife: 5 Things to Check Off
Routine
I changed her routine this week. I was planning on doing it the following week, but she was making it so close to the morning that I decided to do it earlier. I'm glad we did because it served us all well.
This is the routine that we will follow for a good few months. I added a dreamfeed, which Moms on Call doesn't recommend in their routines, but they've always worked well for my babies.
Once Charlotte is consistently sleeping through the night I will start to drop that, but for now, it is working well.
6:30 Desired wake time (I tried my best to feed as close to this time as possible)
7:20 Nap
9:30 Feed
10:20 Nap
12:30- Feed
1:20 Nap
3:30 Feed
4:20 Nap
6:10 Bath
6:30 Feed
7:00 Bedtime
10:00 Dreamfeed
She had one early morning feeding around 5 am, but dropped that as the week progressed.
Wake Time
Charlotte was able to consistently do a wake time of 50 minutes all week. It was rare for her not to have at least a little bit of wake time. The only time we really struggled was at the 3:30 pm feed where she often would barely wake or not at all.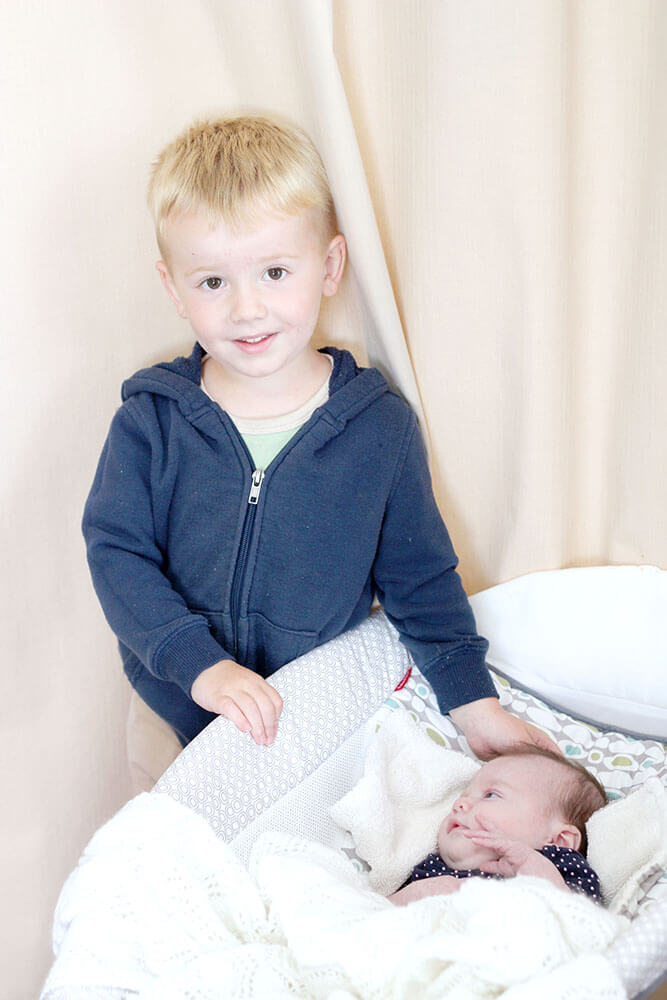 She was generally more alert and even gave her very first social smile to her big brother.
It was nice to have her be content to just lie on a blanket and watch everything around her.
Sleeping
Sleep only improved this week. Naps stayed fairly consistent and she only sometimes woke a bit early from her last nap of the day. It was never an issue as she was more than content to be held by either Shane or myself until it was time for her bath.
Night time sleep was great. She slept through the night and started doing so consistently. She was waking between 4:30-5 am and one morning I waited about 10 minutes before I went in to feed her. Lo and behold she went back to sleep and I had to wake her at 6:30 am for her morning feed.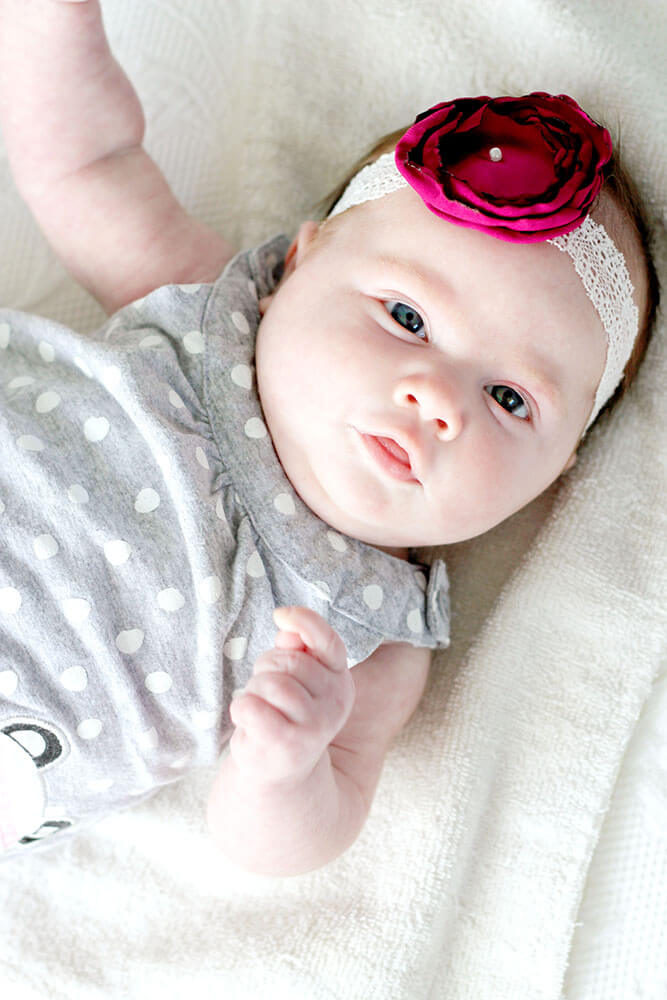 Nappies
I had been changing Charlotte's nappy when I did her late-evening feed. This week when we switched to the dreamfeed I continued to do so. However, I wanted to be able to just leave her in the same nappy all night. I tried out using a bigger size on her but it still wasn't enough to do the job.
For now, changing her nappy isn't stopping her from going back to sleep easily, so I'll continue to do it. Hopefully, once we start weaning from the dreamfeed her nappy won't get quite so full overnight.
Self-Soothing
I've seen it time and time again where people say that babies are not capable of self-soothing before the age of 4 months. I'm not entirely sure where this information originated from, or how founded it is in science.
All 3 of my babies have been capable of settling themselves to sleep well before 4 months of age. Some caught on quicker, but all could do it. Of course, I try my best to make sure all their needs are met and that they have an appropriate amount of wake time before attempting a nap.
Charlotte has been great at self-soothing this week. If she fusses before a nap it doesn't last longer than 5 minutes. She doesn't require a pacifier as she tends to suck on her fists.
She sleeps well in her bassinet in her own room but is still enough in the newborn stage where she'll nap fairly well on the go.
Her routine before naps is very short and sweet. About a minute or two before I know she needs to go down I'll pick her up and cradle her. I give her the pacifier. She doesn't need it, but it's a good cue for her to know that it's sleep time.
I then take her to her room where I draw the curtains and turn on the sound machine. I put her in her bassinet and wish her sweet dreams. Before I leave the room I switch on the movement monitor and then I leave.
Sometimes she fusses, other times not at all.
Until next time!
How useful was this post?
Click on a star to rate it!
Average rating / 5. Vote count:
We are sorry that this post was not useful for you!
Let us improve this post!
Thanks for your feedback!
Hi! I'm Christine. I am a former registered nurse, turned stay-at-home mom, turned work-at-home mom!
Motherhood has always been my passion and blogging has only added to that and given me a creative outlet to share about the things I love.
As my blog has grown, my desire to share the knowledge of what makes my life less stressful, simplified, and more fulfilled has become one of my driving forces.
I have a heart for mothers that feel as though they are just existing from day to day and are longing for more. You can find out more about me and my family over on my 'About Me' page.
As well as the abundance of posts you'll find on my blog, you can also find me over at Today Parenting.