Week Seven: Charlotte's Newborn Summary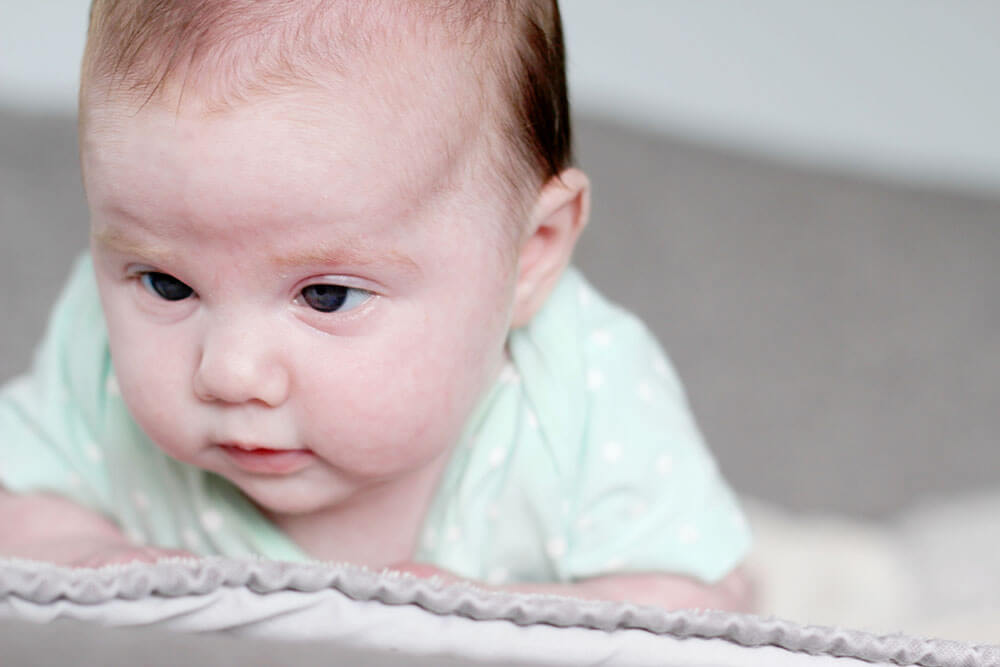 This post may contain affiliate links. As an Amazon Associate I earn from qualifying purchases.
Week seven was a challenging one for us as a whole. Charlotte was so good about just going with the flow. She had a day where she was really unsettled in the afternoon, but thankfully she continued the pattern of sleeping through the night that she had started in week six.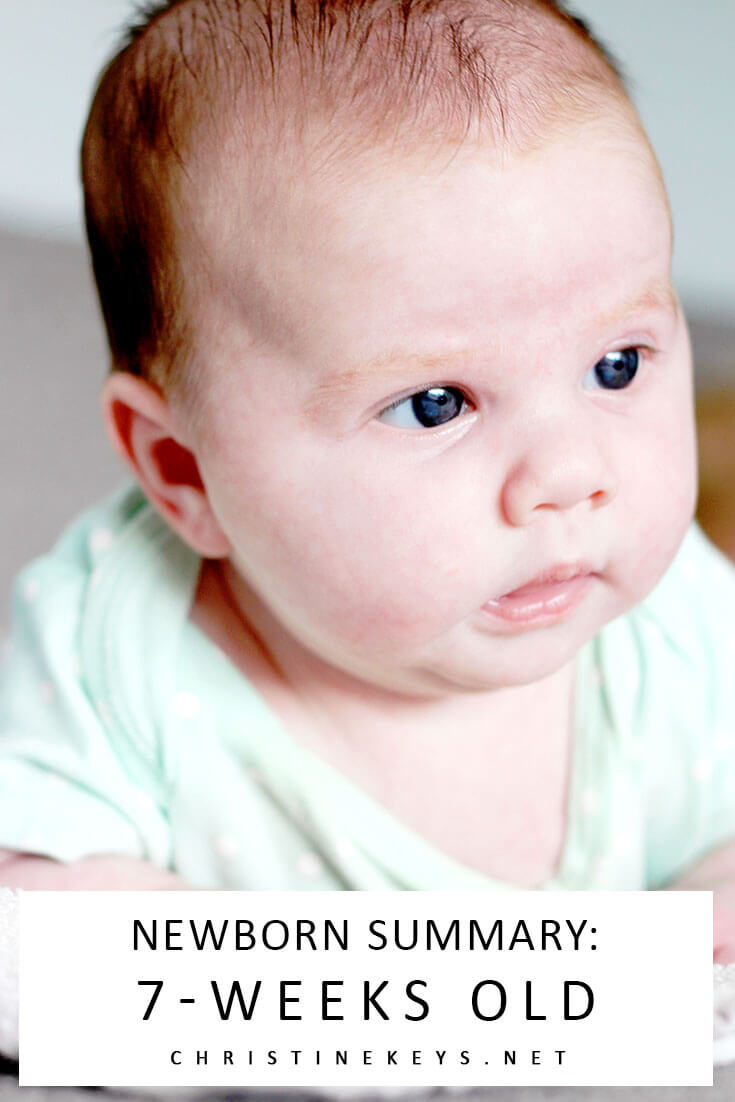 *this post contains affiliate links
Feeding
Everything basically stayed the same as far as feedings go. She takes about 125ml (4.5oz) in a bottle 3x a day and then 150ml (5.5oz) for the remaining 3 bottles. The 3 bottles that she takes 150mls in are her last two of the day (bedtime and dream feed) and then her first one in the morning.
She has had trouble with her bottles during the day. I've actually been a bit concerned that she might have a wee bit of reflux as Annie did. She's fussing through the bottle a lot and seeming unsettled afterward. She also was a lot more spilly than she has previously been.
I'm not 100% that it's the case though, as it could just be wind. She doesn't get unsettled with her dream feed or the first feed of the day. I give both of those to her in MAM bottles. They are specifically made to reduce gas, so perhaps that is why.
Weight
Charlotte had her first round of immunizations this week (more on that below) and was weighed at the doctor's office.
I'm not entirely sure how accurate the measurement was as it was a different set of scales and they weren't digital. They also left her fully clothed. Anyway, the scales there had her at 4500g (9lbs 14oz).
Routine
We continued with the same routine that we implemented last week and it worked really well. The only part of the day that is a bit tricky is around her 12:30 pm feed.
I have to get both older children down for their naps at 1 pm, so it can be hard to juggle it all if Charlotte takes a while to finish her bottle. However, it is getting better as the weeks go on.
6:30 Desired wake time (I tried my best to feed as close to this time as possible)
7:20 Nap
9:30 Feed
10:20 Nap
12:30- Feed
1:20 Nap
3:30 Feed
4:20 Nap
6:10 Bath
6:30 Feed
7:00 Bedtime
10:00 Dreamfeed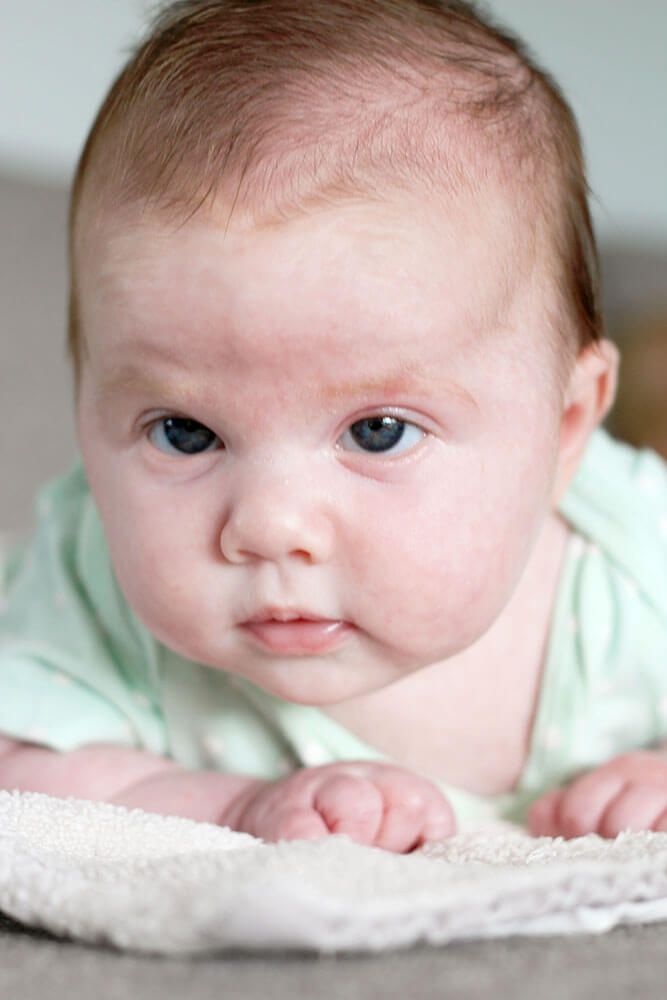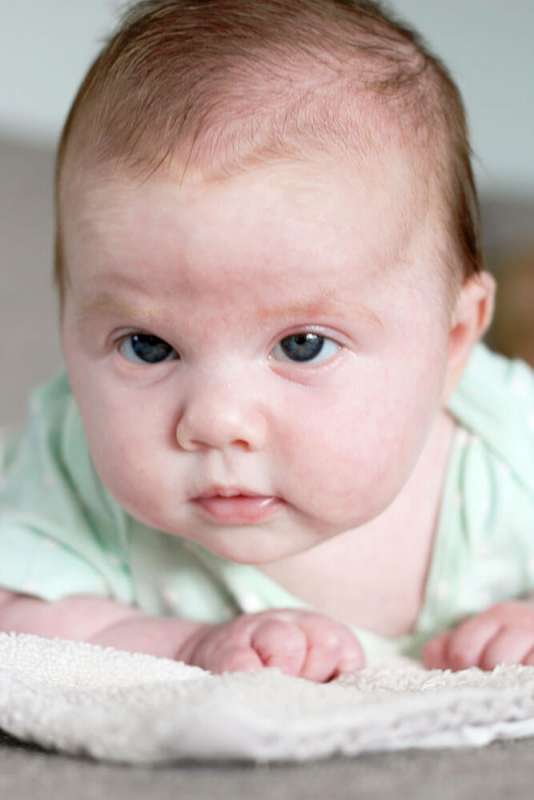 Wake Time
Wake times varied this week from 50-60 minutes. Although, it was usually around 50 minutes.
If she's content then I'll keep her up longer, but if she's fussy I put her down closer to 50 minutes.
She seemed more alert this week for the most part. It was fun to have her up and interacting with us a lot more. She finally started smiling, although they're few and far between. So far, it is Jack and Shane that have been the ones to get her to smile the most.
We were given a black and white cloth book by the Plunket nurse for Charlotte. It's all about contrast. She loves to look at it when she's awake.
I don't usually start formally implementing independent playtime with my children until they're closer to 9 months because I feel as though they nap so much before then. But I do still leave them to entertain themselves for 5 minutes here and there.
Sleeping
As I mentioned, Charlotte continued to sleep through the night this week. Some days she woke around 6 am and other days I had to wake her at 6:30.
There were a couple of nights where I heard her cry out around 4:30-5:30 am. She wasn't awake though, and it was literally a single cry. I would wait to see if she'd cry again, but she never did and made it right through until morning.
She's still napping really well during the day. The only nap that she has struggled with on occasion is her last one of the day that goes from around 4:30-6 pm. I'm not sure if I haven't got her wake time correct, or if she's just a bit unsettled at that time.
My older two also struggled to sleep then. In fact, that time was Jack's witching hour.
Read –> How to Approach + Survive the Witching Hour
It takes Charlotte longer to fall asleep and she fusses much more than she does for her other naps. She still sleeps some during that time, but I'll hear her fuss on and off. If she starts to get worked up I'll go in and give her the pacifier. That seems to soothe her immediately.
Bath Time & Nappy Changes
Two of Charlotte's favourite things are nappy changes and bath time.
If she's unsettled after having her bottle during the day, I'll often just lay her down and take her nappy off for a while. She loves it and calms down almost immediately.
It's also good for her to get some fresh air so that's another perk.
She also absolutely loves bath time. She would likely stay in there a whole lot longer, but generally, I keep it to 10 minutes or so.
I bathe Charlotte in the bathroom sink and because of the way it slopes, I don't have to support her. However, I don't think she'll last all that much longer in there as she's growing like a weed. Plus, she's starting to want to kick her little legs a bit, and there's not really much room to do that.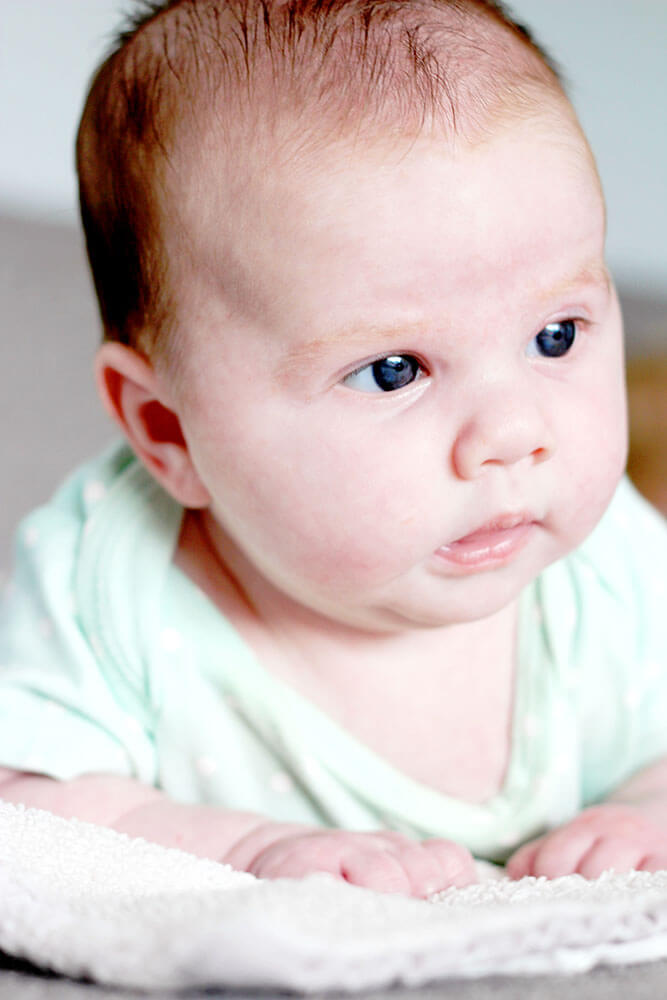 Vaccinations
As I mentioned above, Charlotte had her first round of vaccinations this week. Here in New Zealand, they have them at 6 weeks.
I was anxious about them and didn't look forward to the appointment. I always get that way before my kids have to get shots. It's awful seeing them in pain and my mama heart breaks a little.
Charlotte did really well though and only cried for a minute or two.
She had them in the morning and was totally fine until her late afternoon feed. She cried so much when I woke her for it. Charlotte barely cries at all so I knew it was as a result of the vaccinations.
That afternoon I wore her in the wrap for her last nap. She was pretty unsettled during that times as well, but it was nice to be able to have her close.
She went down to bed just fine and I had to wake her the following morning to feed her. The next day she was fine, and then the day after that she was super sleepy. She practically slept all day and I felt as though I was dream feeding her.
However, after that sleepy day, she was back to her normal self.
Until next time!