Week Nine: Charlotte's Newborn Summary
This post may contain affiliate links. As an Amazon Associate I earn from qualifying purchases.
Week eight ended on a stressful note and that's basically where week nine picked up.
Thankfully, the end of the week was not the same as the beginning and we were able to work through several challenges.
Keep reading to find out Charlotte's schedule and what took place during her ninth week.
*this post contains affiliate links
Feeding
Sunday was the most stressful feeding day in Charlotte's life to date.
As I mentioned in last week's update, Charlotte had been getting progressively fussy with her bottles. She was acting really upset and taking less and less at each feed.
It was a total fight and I was exhausted.
On Sunday night I walked around the house with her in my arms for 45 minutes and it took all of that time to get her to just take half of her bottle.
I knew I needed to do something so I decided to try her on infant Gaviscon. I had some leftover from when Annie was a baby and it was still good to use.
So, for the next several bottles I used that.
Here's the deal though, I also started exclusively using the MAM anti-colic bottles at the same time.
Her feedings improved almost immediately.
On Monday she had a checkup with the nurse. We made a plan to trial the Gaviscon for 72 hours, then try a faster-flow teat. If neither of those helped, then it would be time for a trip to the doctor.
Thankfully, she improved right away and feedings became a lot easier. However, after 2 days of her being on the Gaviscon, she got constipated.
It is a typical side effect so I wasn't unprepared. However, I had also given her a couple of bottles during that time without the Gaviscon and she took them just fine.
Long story short, we stopped the Gaviscon and I went out and bought more of the MAM bottles.
Over the course of the week, Charlotte got better and better at taking her bottles and was drinking just as much as she had been previously.
Routine
Charlotte's routine remained the same, except that we extended wake times to 60 minutes.
6:30 Desired wake time (I tried my best to feed as close to this time as possible)
7:30 Nap
9:30 Feed
10:30 Nap
12:30- Feed
1:30 Nap
3:30 Feed
4:30 Nap
6:00 Bath
6:30 Feed
7:00 Bedtime
10:00 Dreamfeed
Wake Time
Charlotte seemed to be able to handle an hour of wake time this week. Although, there were times where she couldn't and I would put her down a bit earlier.
One of her tired signs is getting red eyes. I'll notice them going a little red and then, sure enough, she'll yawn shortly afterward.
She has been pretty great at just lying on the floor during wake times and staring up at the tree.
There's not an awful lot you can do with a baby at this age, so other than sitting with her on my lap for a bit, her wake times are rather uneventful.
I have had to try and be more aware of her getting overstimulated. With two very active older siblings, it can be easy for Charlotte to get 'wired' and struggle.
In fact, in retrospect, I truly feel that part of the stressful feeding on Sunday night was Charlotte being completely overstimulated.
It was my sister's bridal shower and while Charlotte did cat nap all day, it was in people's arms and she never got a solid quiet nap in.
We're always out all day on a Sunday, but we do have a solid few hours at my parent's house. I'm going to try and make sure she gets at least one nap in a crib on that day so that she can handle all the chaos a bit better.
Sleeping
Charlotte struggled with the first nap some days this week. She would often cry at the 45-minute mark.
I'm not entirely sure why or whether or not to do much about it.
She stops crying and sleeps on until her next scheduled feeding. The only other nap she really struggles with is the last one which has always been an issue.
It is summer time here and by the afternoon the house is just hot and muggy, so that could be part of the issue.
I'm just staying consistent for now.
Her dreamfeeds were hit and miss. Although, she did start to take them better by the end of the week. She's currently taking 4.5oz.
And then the rest of her night sleep was about the same. Some mornings she was awake before 6:30 am and others I had to wake her.
She did cry out around the 5 am hour several mornings, but went back to sleep until I got her at 6:30 am. I'm not sure why, but it might have just been a sleep cycle transition considering she didn't actually wake up properly.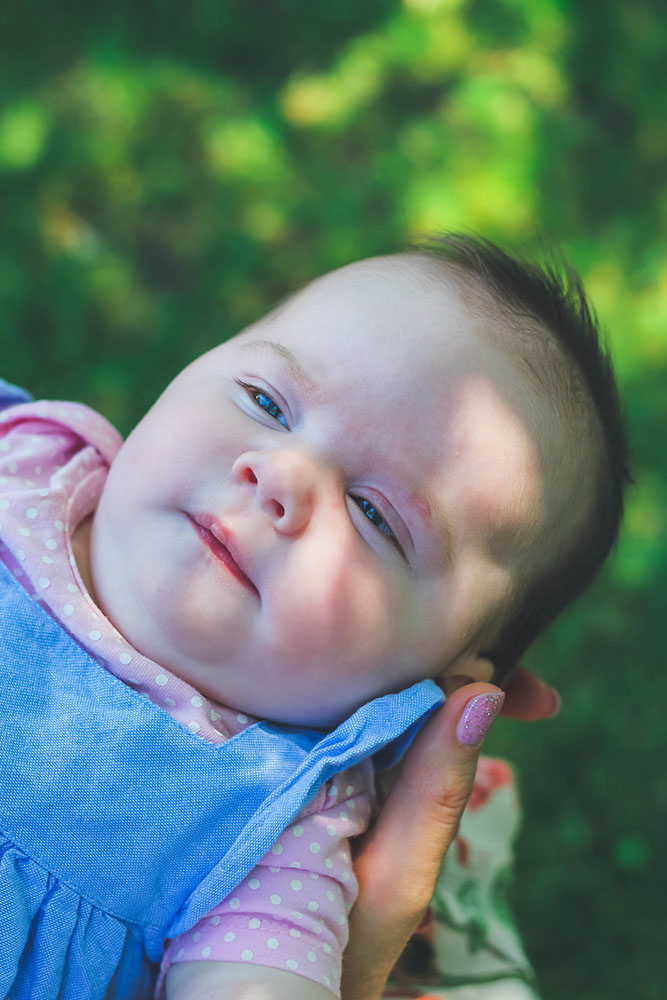 Checkup
Charlotte had a checkup on Monday as I mentioned above.
All her measurements were great and aside from the feeding struggles, the nurse was very happy with how she's doing.
Her weight at that check-up was 4850g (10lbs 11oz).