Week Four: Charlotte's Newborn Summary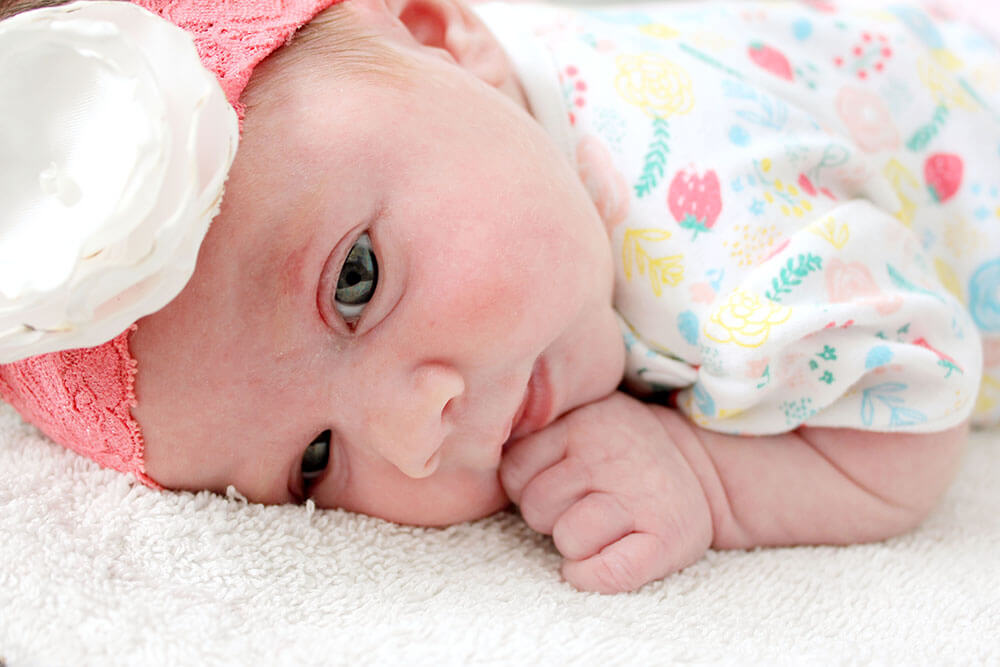 This post may contain affiliate links. As an Amazon Associate I earn from qualifying purchases.
She's a unicorn baby…for real. I mean, she isn't perfect, but she's pretty close! Week four was even better than week three which was pretty awesome as well.
*this post contains affiliate links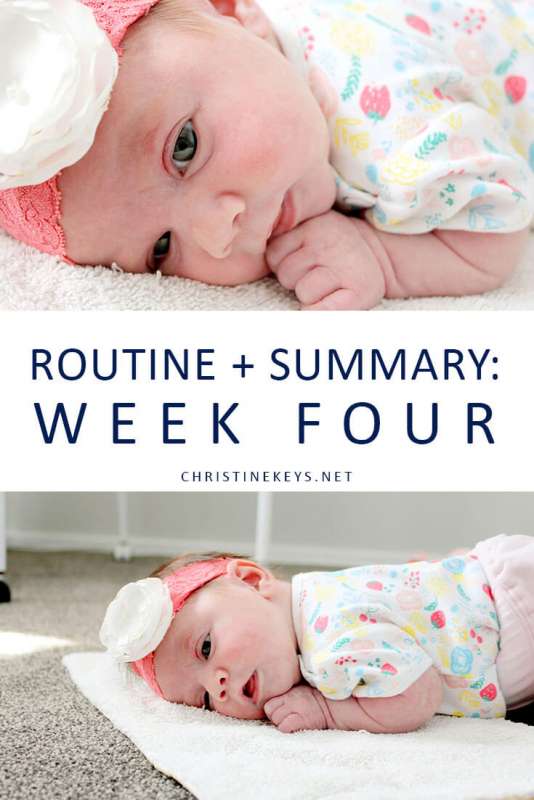 How I'm Doing
I think this is my last update on how I'm doing, mostly because things are basically settled. I wouldn't go as far as to say that things are back to normal, because what even is that? However, I'm feeling like myself again in pretty much every way.
Emotionally
I feel as though I'm doing really well emotionally and mentally. Honestly, I don't feel as though this transition has been that big of a deal. That might change once Charlotte is a bit older, but for right now, I don't feel any more stretched than I was when I was pregnant.
In truth, I'm coping better than when I was pregnant. I have more energy and I've been able to achieve things throughout the day.
However, I am definitely busier. Of course, that makes sense when you factor in just how much time is dedicated to making sure Charlotte is fed, burped, and clean.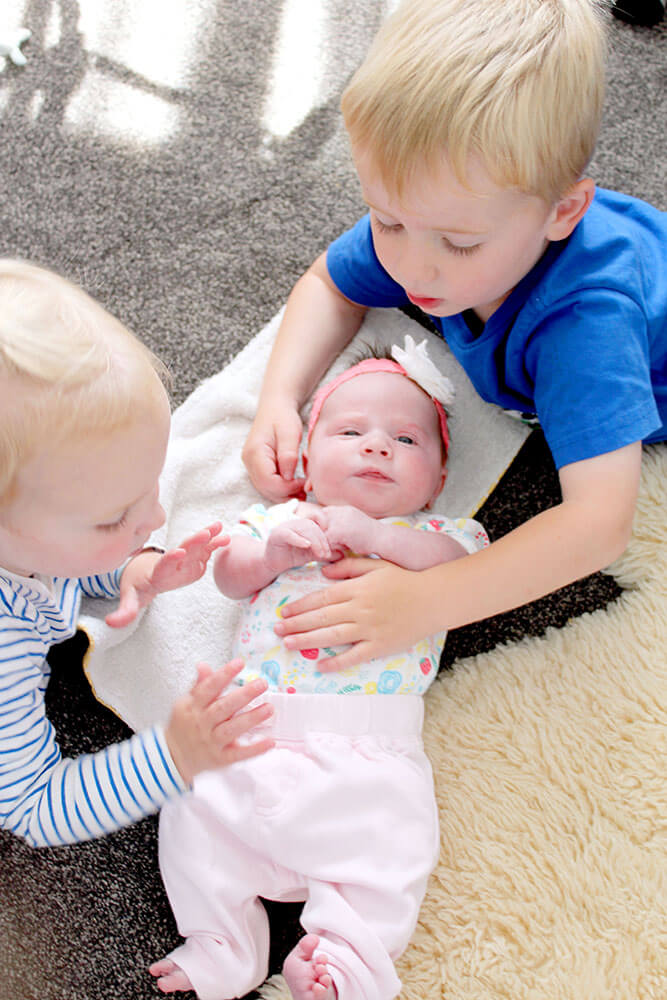 Physically
I'm feeling well. Most of the aches and pains have disappeared barring the irritating back pain that has carried on from the pregnancy.
My plan regarding that is to give it time and work on strengthening my core muscles first. Hopefully it will resolve on its own, otherwise, I'll likely go and see an osteopath.
In regards to strengthening my core, I have begun some gentle exercises to help heal my diastasis recti. If you're not sure what that is, then you can read more about it here –> Diastasis Recti
There are several really helpful workouts on Youtube that are geared towards healing abdominal muscle separation and I've picked out a couple that I like. They are only 5-8 minutes in length so I've found it easy to work into my days.
Read –> How to Have a Balanced + Productive Routine as a SAHM
I don't feel as though I have a ton of weight to lose, so my main focus is just on regaining some muscle tone.
All About Charlotte
Growing like a weed about sums up our little girl at this stage. She seemed to grow before our eyes as the week progressed. As a result, we made a couple of significant changes.
Feeding
Charlotte regularly took 125ml (4oz) in her bottle and on a couple of occasions she even took 150ml (5oz). Her feedings were every 3 hours during the day and then she took one feed through the night.
She was doing really well, however by the end of the week she was taking 30-45 minutes to finish a bottle and often times she would leave quite a bit. I thought she was too young to switch to the next size teat, but I decided to try it anyway.
It has definitely taken her a bit of getting used to, and I have to be vigilant about burping her, but she's taking a full feed in more like 20-30 minutes now, which is much better.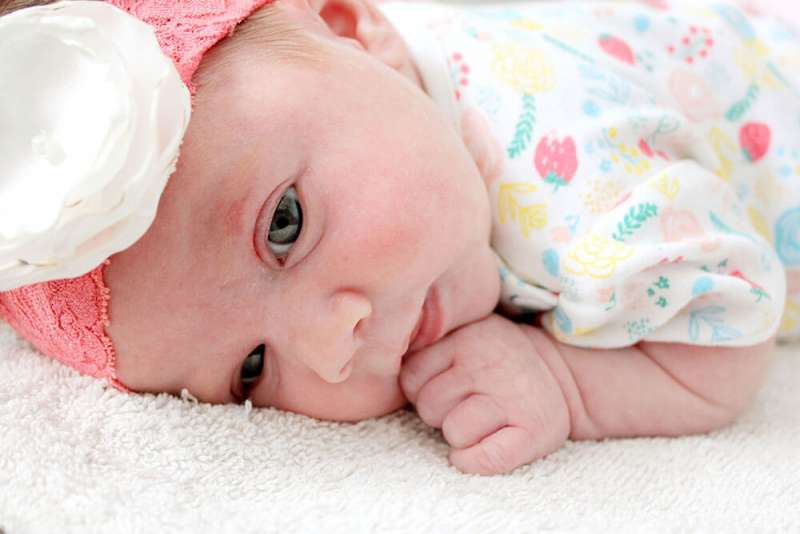 Weight
At her appointment this week, Charlotte weighed in at 3600g (7lbs 14.9oz) so she put on 420g (14.8oz) over the course of the week.
Considering she was 5lbs 15oz at birth, she's doing really well! In fact, she weighs more than either of my older kids did at the same age.
I ordered her the next size up in nappies as well. She still fits newborn size, but she is occasionally leaking through them now.
Routine
Along with changing up to the next size bottle teat, this week we also switched Charlotte's routine up a bit. Not by much but I brought her last feed up a bit sooner. The reason behind that was because she was doing 6-7 hour stretches consistently which often led to a feed very early in the morning.
On one occasion it really messed up the rest of the day because she just wasn't hungry for her morning feed. Based on the Moms on Call method she was due to change routines in a couple of days anyway so we just went ahead and did it.
I've included both schedules. The first is the one we used for the first part of the week and then the second is the one we switched over to.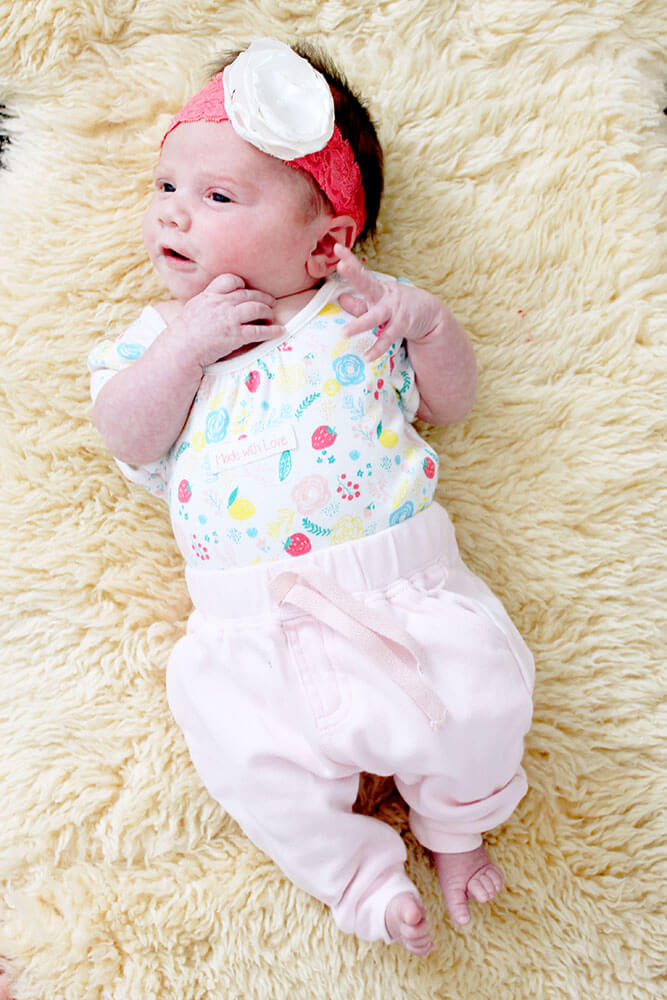 6:30 Desired wake time (I tried my best to feed as close to this time as possible)
7:10-15 Nap
9:30 Feed
10:10-15 Nap
12:30- Feed
1:10-15 Nap
3:30 Feed
4:10-15 Nap
6:15 Bath
6:30 Feed
7 Nap
9:30 Bedtime Feed
In bed for the night somewhere around 10 pm.
She had 1 night feed somewhere around 3:30-5 am.
New schedule:
6:30 Desired wake time (I tried my best to feed as close to this time as possible)
7:10-15 Nap
9:30 Feed
10:10-15 Nap
12:30- Feed
1:10-15 Nap
3:30 Feed
4:10-15 Nap
5:45 Bath
6:00 Feed
6:30 Nap
9:00 Bedtime Feed
She then woke to feed around 3:30 am.
Wake Time
Wake times became a little more consistent this week although there were still times when I couldn't get her to wake up properly or keep her up for more than 30 minutes. Generally speaking, those occasions were in the late afternoon.
The one night she didn't wake to feed until almost 5 am. I let her sleep until 7 am but no matter what I did (trust me, I tried ALL the tricks) she just wouldn't wake up to feed. I think she took all of 30mls and I eventually gave up and put her back to bed.
Her first wake time of the morning is usually short and sweet. The big kids get up at 7 am so they pretty much say 'hi and bye' to her as I put her down for her nap shortly after that.
The second wake time is when I get her dressed for the day. The big kids have their independent playtime during that feed so it's a nice time for the two of us to spend together.
The lunchtime feed and wake time are a little crazy as I have to feed her, then put all three kids down for their naps within around 15 minutes of each other. It is getting better, but it's a work in progress.
Once we switched bottle teat sizes and she started finishing her feeds faster we were able to have more 'chit chat' time with her and that has been really nice.
Sleeping
I really can't complain about her sleep at all. She's a dream baby and has been sleeping well for her naps and night. I've definitely noticed that there's a difference between her daytime and nighttime sleep now. She sleeps far more deeply at night.
I don't think she did less than a 6 hours stretch overnight and resettled really well after feeds. Her naps have been pretty good too. She does cry out during sleep transitions but is able to settle herself without any help usually.
During the day she sleeps on her belly with the AngelCare Movement Monitor. At night she is swaddled and on her back.
She did break out of her batwing swaddle two nights in a row so I pulled out the miracle blanket and that seemed to work well.
She's taking all her naps in the bassinet in her room now. The reason for that is because she struggles to settle otherwise. She gets overstimulated and can't wind down.
Appointments
I had to take Charlotte for her newborn hearing screening appointment this week. I wasn't looking forward to it as she had to be asleep during the procedure. I also had to arrange childcare for the two older children.
Anyway, it all went well, but I did have to sit and rock her for a good while before she was asleep enough to have the test done.
Thankfully, she passed with flying colours.
Products We've Bought
Aside from new teats for her bottles, I didn't buy anything else for Charlotte this week. We're using the Tommee Tippee original bottles and I just bought a couple of packs of the size 2 teats.

I still have four MAM Anti-Colic bottles that I used when Annie was a baby and they have size 2 teats on them, so I've also been using those.

Until next time!