Week Five (1 Month Old): Charlotte's Newborn Summary
This post may contain affiliate links. As an Amazon Associate I earn from qualifying purchases.
Week five was a busy one for our little Charlotte. She has continued to thrive and surprise us with how very cruisy and laid back she is.
We stuck to the same routine that we started in week four, although we did have to veer from it a bit on a couple of days that were a bit crazy.
Feeding
Charlotte took around 125ml (4oz) of formula in her bottles throughout the week. However, some feeds she took less. It didn't seem to affect her sleep or temperament so I just followed her lead.
She stuck to 7 feeds in a 24 hour period with just one in the middle of the night.
I do have to burp her frequently, otherwise, she slows right down and won't finish her bottle. Can I also say, for the record, that she belches like a fully grown man! It's hilarious and very amusing. I kind of wish I could get it on camera so I can have it for future reference.
Weight
4000g (8lbs 13.1oz) on the dot was what Charlotte weighed at this week's checkup. I was surprised that she put on so much weight even though she wasn't drinking quite as much as she had been.
She actually had a full check this week as she reached the 1-month mark.
Since birth, she has gone from 48cm to 52cm and her head circumference has gone from 33.5cm to 36cm.
It is safe to say that she is growing and developing beautifully. As a result, I'm pulling out more and more size 0-3 month clothing and putting away many of her newborn items.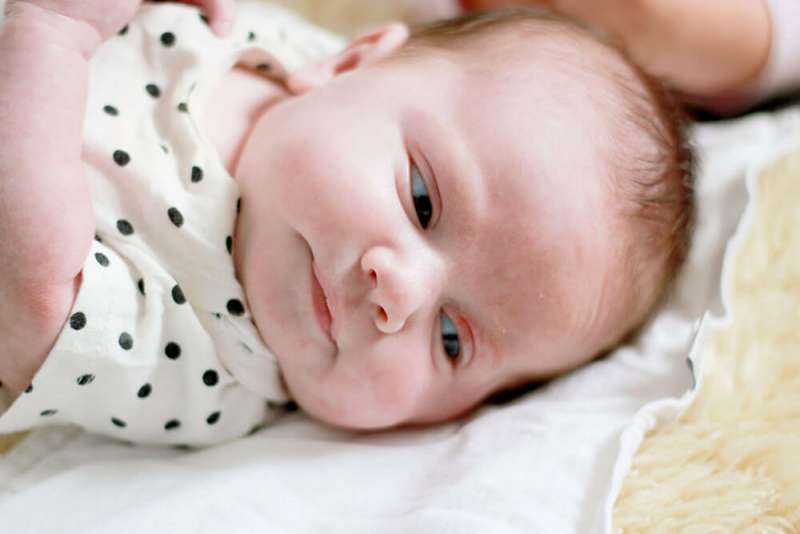 Routine
6:30 Desired wake time (I tried my best to feed as close to this time as possible)
7:20 Nap
9:30 Feed
10:20 Nap
12:30- Feed
1:20 Nap
3:30 Feed
4:20 Nap
5:45 Bath
6:00 Feed
6:30 Nap
9:00 Bedtime Feed
She then woke to feed around 3:30-4:30 am.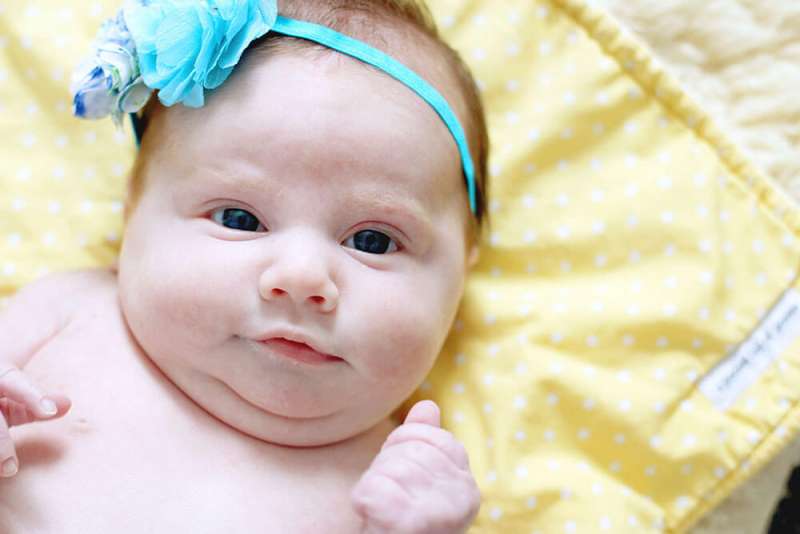 Wake Time
For the most part, Charlotte could handle 50 minutes of awake time this week. Sometimes she protested before then and I'd put her down 5 minutes earlier.
Other times, she'd fall back asleep before she even finished her bottle and no matter what I did I couldn't wake her again.
She does, however, seem to be moving away from the super sleepy newborn phase and is somewhat more alert. The key is to really get her to wake up. Usually, I can get that done by changing her nappy, but sometimes it takes more effort on my part.
Once awake and alert, she's usually content to just lie and look at her surroundings. She isn't smiling yet, but she seems to be just on the cusp of it. Oh, how I love those first gummy smiles!
Sleeping
This week we switched to belly sleeping completely. I know that's controversial. Aside from being on her belly, there is nothing else in her bassinet and she sleeps with the Angelcare Movement Monitor on.
She slept well all week. Honestly, I can't remember one night from the next most of the time, but nothing significant comes to mind. For the most part, she continued to do 6-7 hour stretches overnight and was easy to resettle after feeds.
If she's still awake after a middle of the night feed, I don't attempt to rock her or anything. I simply give her the pacifier and allow her to settle herself. So far she's done that with very little fuss.
Firsts
This week we took Charlotte on her first big road trip (well, not that big really).
We bought a new vehicle and needed to go and pick it up from the city. It was a 3.5-hour one-way trip. Thankfully, Shane's mum was happy to keep the two older children for us, so that made things a lot easier.
Shane and I set off around 7 am and the trip up actually took more like 4.5 hours because of traffic, roadworks, and having to stop to feed Charlotte. However, she travelled so well. I think she only cried 10 minutes total the entire day.
It was a very long day and we only arrived home around 6 pm that night. Shane and I were completely exhausted, but Charlotte was none the worse.
We also took all three children out to town for the first time. Of course, we had been out together to church and to family, but not to the shops.
I was somewhat stressed out by the end of it all because instead of sleeping, Charlotte fussed unless I was holding her. I didn't foresee that happening and so I foolishly didn't bring the baby carrier.
I pushed the pram while holding her in my other arm. Shane was occupied with the older two and it was busy, to say the least.
Lesson learnt and next time I'll bring the carrier.