Week Eight: Charlotte's Newborn Summary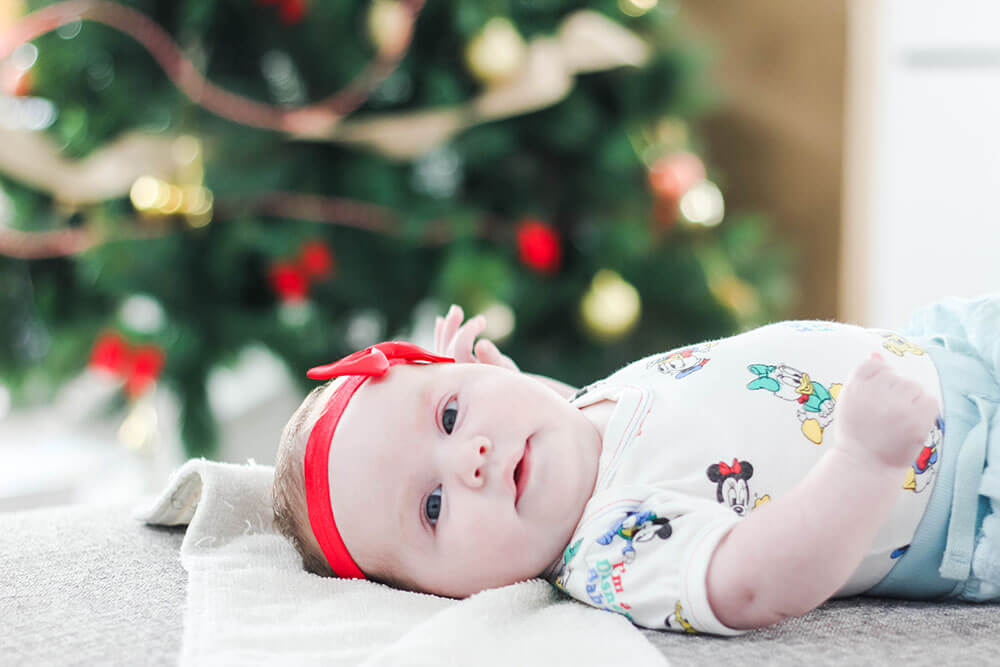 This post may contain affiliate links.
This week Charlotte seemed to change quite a bit. She was more interactive and started making cooing noises. Compared to week seven, week eight was about the same when it comes to challenges.
In particular, we struggled with feedings. Keep reading to see Charlotte's schedule and how the week went.
*this post contains affiliate links
Feeding
Last week I mentioned that I was concerned that she had a touch of reflux. Those concerns extended through this week as well.
Generally speaking, Charlotte was settled and happy as per usual, but getting her to take a bottle was a mission!
She would happily take the first 30mls (1oz) but after that, it was a fight. She would squirm and cry and fuss. It was so stressful and it only got worse as the week progressed.
Feedings took an age and she wasn't finishing her bottles anymore.
I'm not sure if it's reflux or if she needs to go up another teat size. I'm planning on speaking to the nurse on Monday when she comes to do Charlotte's checkup.
She is the same nurse I had with Annie and she was really helpful when I was dealing with similar issues.
We're currently using the Nuby bottles and also the MAM anti-colic bottles. She does seem to drink better from the MAM ones. I also went back and tried the Tommee Tippee ones we started out with but she didn't care for it at all.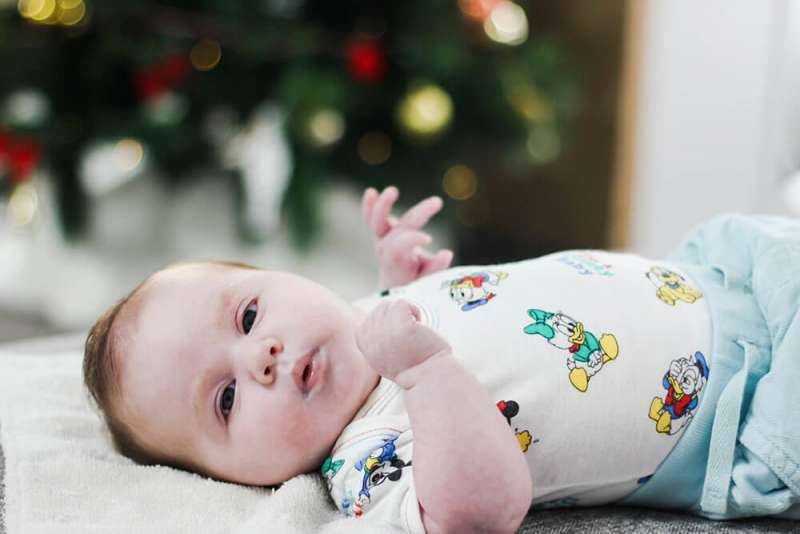 Routine
The only thing I changed was the time we would get her up before her bath in the evening. She was usually awake at 6 so I just started getting her up then. That's when she has cuddle time with Shane and then bath time afterward.
6:30 Desired wake time (I tried my best to feed as close to this time as possible)
7:20-30 Nap
9:30 Feed
10:20-30 Nap
12:30- Feed
1:20-30 Nap
3:30 Feed
4:20-30 Nap
6:00 Bath
6:30 Feed
7:00 Bedtime
10:00 Dreamfeed
Wake Time
We continued with about 50-60 minutes of wake time this week. She did really well with that except for Saturday when she was super sleepy all day long. I could barely rouse her long enough to feed.
It was an odd day.
However, during normal wake times, she likes to lie under the Christmas tree and look at the lights. Often times I'll try and snap a few pictures.
And then, of course, her older siblings love to talk to her and try to entertain her. I just have to monitor things to make sure they stay gentle. Jack asks to hold her every day, so usually, he will hold her snuggled up on the couch while he's watching something.
Sleeping
Sleep basically remained the same this week, although I feel like Charlotte fussed more before naps and bedtime.
On Saturday, she slept what felt like all day long. She was so sleepy! I really struggled to get her to take a full feed because she just wanted to go back to sleep that day.
Usually, she'll be happy if I take off her nappy and let her kick about for a bit. On Saturday, however, nothing I did made her happy except for putting her back to bed. I still don't really have any idea why she was so tired that day, but she went back to normal the day following.
Night time sleep has still been great and I don't hear from her until at least 6 am.
The only issue that has started to happen is with the dreamfeed. She's been in such a deep sleep that it is taking forever to get her to take at least 3oz.
Nothing I do will wake her up enough to drink more. However, it hasn't affected her sleep so I'm not entirely sure what I'm going to do about it.
Until next time!
How useful was this post?
Click on a star to rate it!
Average rating / 5. Vote count:
We are sorry that this post was not useful for you!
Let us improve this post!
Thanks for your feedback!
Hi! I'm Christine. I am a former registered nurse, turned stay-at-home mom, turned work-at-home mom!
Motherhood has always been my passion and blogging has only added to that and given me a creative outlet to share about the things I love.
As my blog has grown, my desire to share the knowledge of what makes my life less stressful, simplified, and more fulfilled has become one of my driving forces.
I have a heart for mothers that feel as though they are just existing from day to day and are longing for more. You can find out more about me and my family over on my 'About Me' page.
As well as the abundance of posts you'll find on my blog, you can also find me over at Today Parenting.