How I Discovered The Remarkable Gift of Babywise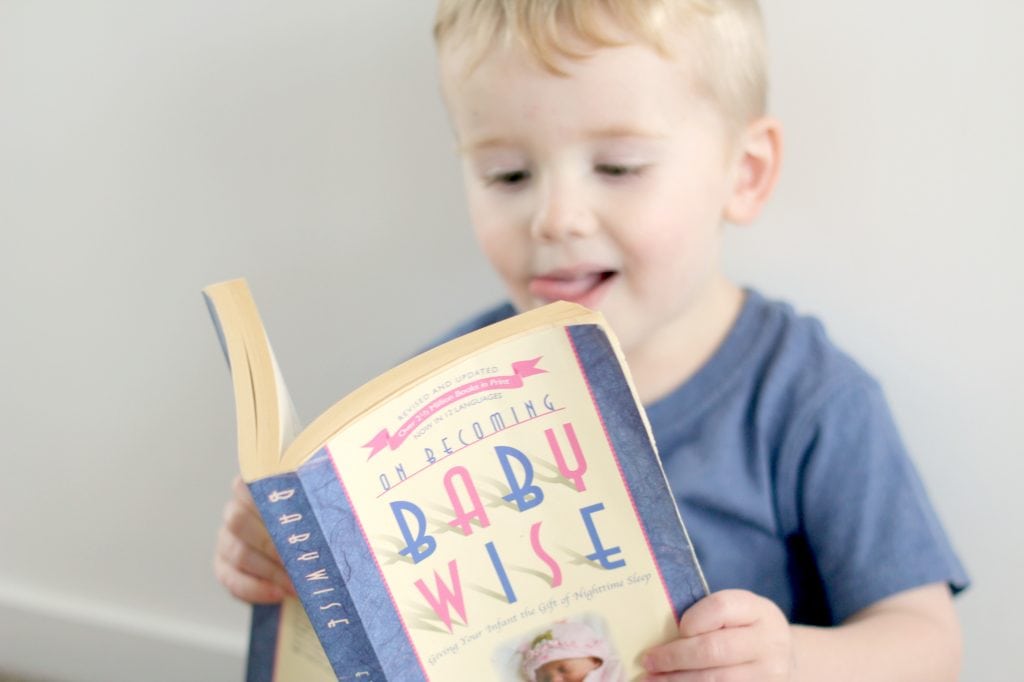 This post may contain affiliate links. As an Amazon Associate I earn from qualifying purchases.
Hey, mamas!
I'm teaming up with the BFBN today and we're all sharing our own experiences about how we came to know about Babywise.
I'll have the other ladies stories linked at the end of this post, but this is mine!
If you're new here or have never heard of Babywise, it is the first book in the '-wise' series.
There are a LOT of opinions about it out on the internet and among parents (several of which I discuss HERE), but for me personally, it has been a gift.
How did I hear about it?
Well…it was actually well before I had kids, well before I was married, even well before I was engaged.
The Beginning…
One of my best friends was pregnant with her first child and during a coffee date at her house, she mentioned the book and how the method had worked so well for her brother and sister-in-law.
Even then, she warned me that if I looked it up online I would likely be bombarded with criticism for its methods.
Read –> What You Need to Know About Babywise
Read –> The Myths of Babywise
She reassured me, however, that those who held such opinions had either not read the book, or were not following its guidelines incorrectly.
She went on to have her first baby and they used the Babywise method with great results!
I went on to get engaged, married, and not long after…fell pregnant with our son.
My friend lent me her copy of Babywise and I spent those last (long) weeks of pregnancy reading it cover to cover.
Why It Works For Me
For those of you who don't know much about me…I have a type A personality. I thrive on instructions, guidelines, and routine.
Read –> How to Have a Balanced + Productive Routine As a SAHM
Honestly, I couldn't even imagine not having some sort of guidance when it comes to child raising.
I admire and respect women who can go with the flow like that, but it just isn't for me.
I went on to purchase my own copy of Babywise.
Over the past 3 years, I have read it through several times. I've since implemented the methods with my second child, our daughter, Annie.
Read –> A Natural and Wonderful Water Birth | Annie's Birth Story
I have no regrets and would recommend the book in a heartbeat to anyone who is looking for a great parenting guide.
For those that love Babywise, the great news is that there are a bunch of other books in the series that you can read as your child grows and develops.
While Babywise focuses a lot on feeding and sleeping, there are many other aspects that the rest of the series delves into that are tremendously beneficial.
One of my all time favourites is that of Independent Playtime.
Read more about how to establish independent playtime here –> How to Get Your Child to Play Independently
Being able to have my children in a predictable routine allows me to have a predictable routine.
In turn, this makes life so much more simple for all of us.
It also allows me to be a lot more intentional about my time and what I do with it. For instance, working self-care into my day and giving myself the opportunity to rest and recharge.
Why It Could Be What You're Looking For
I'm so glad that I had a friend who was happy to recommend the book to me.
It has meant sanity for me and healthy sleep habits for our family. 🙂
You might be wondering if it can help your situation as well.
While I'm not going to claim that Babywise is successful for everyone in every circumstance, it has indeed been proven to work for many babies in all kinds of families in all kinds of circumstances.
Why?
Because the principles are basic and simple to implement.
Read –> 5 Powerful Reasons Babywise Is Effective for all Kinds of Babies
If you look at it as a manual book to follow then you'll likely get frustrated and give up. However, if you view it as a tool in your parenting toolbox then I believe you'll find much use from it.
Like anything worthwhile, it takes dedication, hard work, and consistency.
In my experience, nothing truly worthwhile comes without some kind of effort on your part.
For me, that effort has been entirely worth it. My children sleep well, I sleep well.
They have boundaries and structure which gives them the security that they desperately need as they grow and change.
And best of all, it gives me a better chance of being the kind of mother that I long to be. One that isn't mentally and physically worn out 24/7, but one that can be joyful and loving without resentment.
If you're curious, you can check out the book HERE and view a few of the others below.
The Babywise Series
Mama's Organized Chaos – Discovering Babywise
Katrina is mama to three babies (one earthside, one in heaven, and one growing). She blogs about routines, babywise, scheduling, and other parenting topics.
The Journey of Parenthood – How I Discovered Babywise
Emily has four kids. As well as being a fellow Babywise mom, she is a huge fan of Disney.
On her blog, you'll find a beautiful recording of their family's adventures as well as helpful tips for parenting and travelling as a family.
Chronicles of A Babywise Mom – How The Babywise Mom Discovered Babywise
The founder of the Babywise Blogging Network, Val has the ultimate resource to all things Babywise on her blog.
Seriously.
It is utterly comprehensive and amazing!
Rogers Party of 5 – How I Discovered Babywise And Why I Followed It Despite The Controversy
Caitlin has three children. Her younger two are twin girls.
She loves to blog about parenting, babywise, health, fitness, and healthy eating.
Team Cartwright – Why I Quit Babywise
Kim is the scientist of the group. If you're looking for some great, simple, and affordable STEM activities to do with your kids then her blog is the place to visit.
As with all of us, you'll also find her take on Babywise and posts that offer her personal experience.
Let's Be Brave – How I Discovered Babywise
Natasha's blog is a beautiful account of her family and it's journey. She has four children with twin boys on the way.
Natasha loves Babywise and has used it a lot as her family has expanded.
She blogs specifically on the topic of fostering and adoption and her family's experience with that.