Pregnancy Announcement & Q+A!
This post may contain affiliate links.
We've been keeping a little something (or someone) a secret from you…yes, baby #3 is on its way!
As of the time this is being published, I will be 12.5 weeks, so just about to enter the second trimester (praise the Lord!).
When I thought about announcing this pregnancy to you guys, I thought it would be fun to go ahead and answer some general questions that you might be wondering about.
P.S Keep scrolling to see how we announced our other two pregnancies as well. 🙂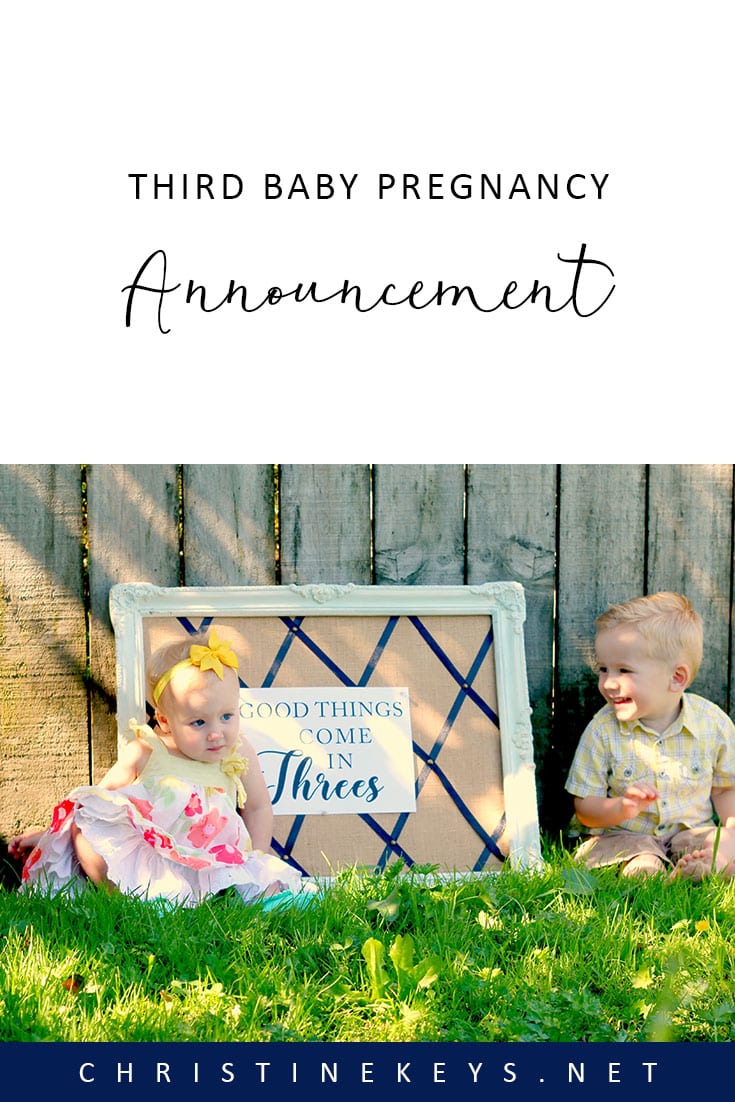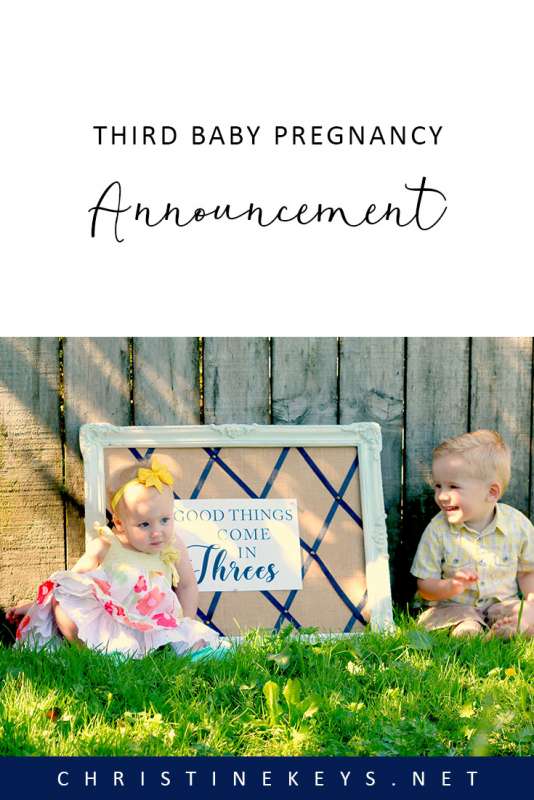 When Are You Due?
From the measurements of my dating scan, my due date is Nov 1st. However, I'm giving myself 3 weeks before that date and 2 weeks after.
My firstborn was 3 days late, and my daughter came 2.5 weeks early, so I really have no clue.
You can read Annie's birth story in this post –> A Natural and Wonderful Water Birth | Annie's Birth Story
Also (TMI) I've never fitted into the box of a perfect 28-day cycle, so the regular way women track their EDD doesn't really work for me. At this point, Nov 1st matches baby's measurements and my estimation.
Are You Finding Out The Gender?
Yes. Yes, yes, yes, yes. I can't wait!
Find out what we're having in this post –> 20 Week Pregnancy Update & Gender Reveal!
We kept Jack's gender a surprise until birth. It was a great way of saving money because we bought a lot of gender neutral items that could be used for all of our children. Below is the image that we used to announce that we were expecting him.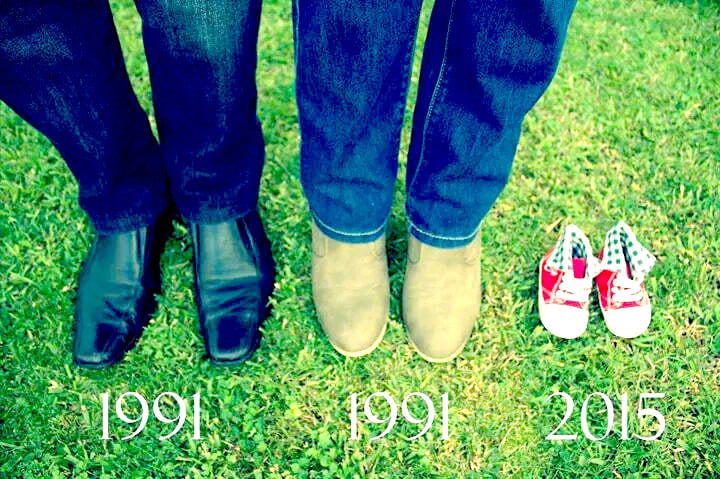 Was This Planned?
I've had a few people ask me this (mostly family). I know some people get offended by this question, but my firstborn was NOT planned, so I get where people are coming from. The answer is, yes, this baby was very much planned. 🙂
Some people look at me like I'm crazy (and maybe I am) when I tell them that because we already have a 3-year old and 18-month old. My response is that I'm happy to get these challenging and rewarding years of having little ones done while I am youthful and have the energy I need.
Which Gender Would You Prefer?
I honestly, honestly don't have a preference. I'm am so excited to see exactly what God has decided is best for our family.
I've had the privilege of having both a son and daughter, so I know the benefits and challenges that arise from each!
Has This Pregnancy Been Different From Your Others?
Yes. I've been so sick. Much more ill than I was with either of the other two. The word 'twins' has been thrown around quite a lot.
I had a lot more morning sickness with Annie than I did with Jack, so perhaps I'm carrying a girl? This is how we announced our pregnancy with Annie. Jack was still such a baby! They're only 18.5 months apart.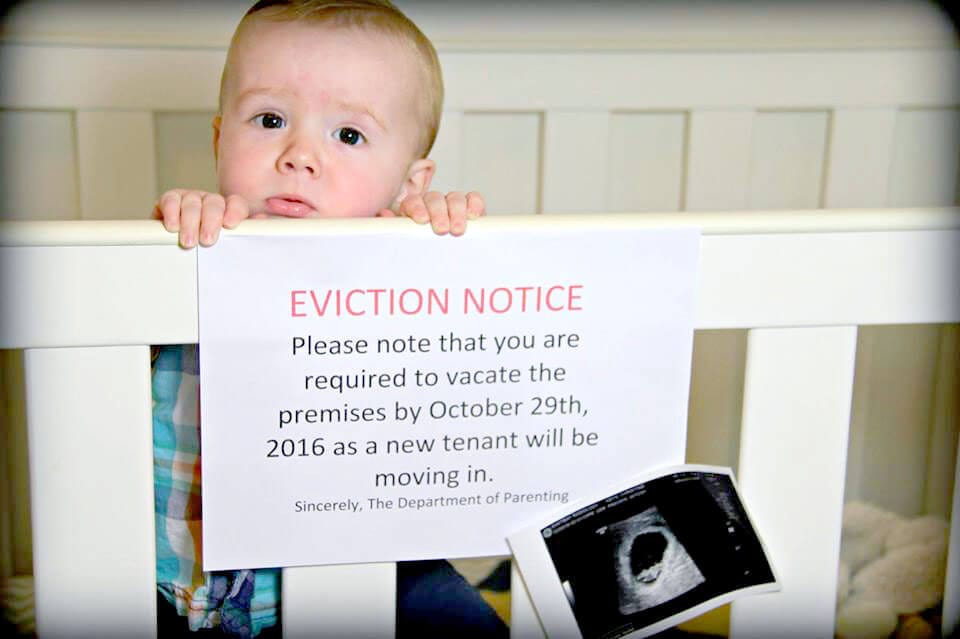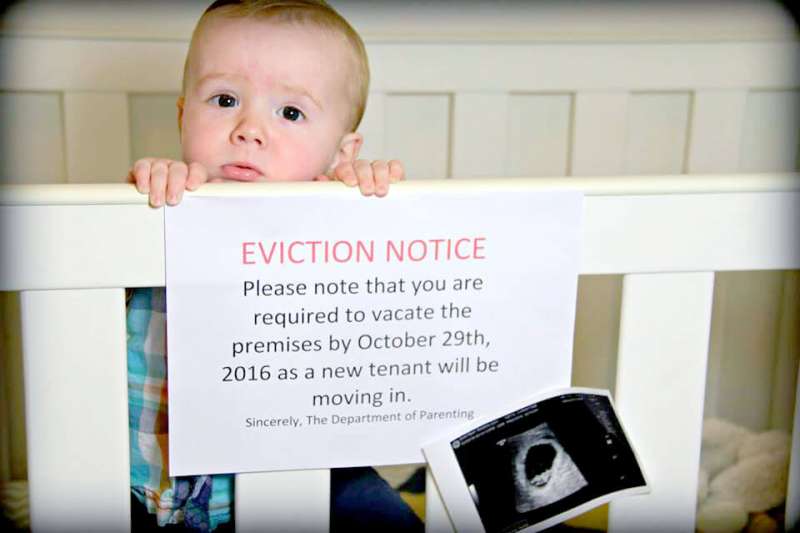 Are You Having Any More Kids After This?
My answer right now. No – and that's a resounding no. However, I'm only 26 and I don't like to put limitations on things.
As of this point in our lives, Shane and I strongly feel as though this baby is our last and will complete our family.
You can read more about my feelings on the subject in this post –> How to Know When Your Family is Complete
---
I'm going to leave it there, but if you have any more questions for me, just leave them in the comments below!
I'm so excited to finally have the news out for all to know. We are SO excited to meet this precious little one in just a few months! I'll also be adding pregnancy updates to the blog, so be sure to check back frequently if you'd like to see those.
Until next time!

How useful was this post?
Click on a star to rate it!
Average rating / 5. Vote count:
We are sorry that this post was not useful for you!
Let us improve this post!
Thanks for your feedback!
Hi! I'm Christine. I am a former registered nurse, turned stay-at-home mom, turned work-at-home mom!
Motherhood has always been my passion and blogging has only added to that and given me a creative outlet to share about the things I love.
As my blog has grown, my desire to share the knowledge of what makes my life less stressful, simplified, and more fulfilled has become one of my driving forces.
I have a heart for mothers that feel as though they are just existing from day to day and are longing for more. You can find out more about me and my family over on my 'About Me' page.
As well as the abundance of posts you'll find on my blog, you can also find me over at Today Parenting.