How To Keep The Magic of Christmas Without Lying To Your Kids
This post may contain affiliate links. As an Amazon Associate I earn from qualifying purchases.
This post originally appeared on Mama's Organized Choas.
Feel uncomfortable about leading your children to believe in something that isn't real?
You're not alone.
However, I know there are a lot of parents that are stuck. They don't want to lie to their children about the existence of Santa but still want to keep the magic of Christmas alive.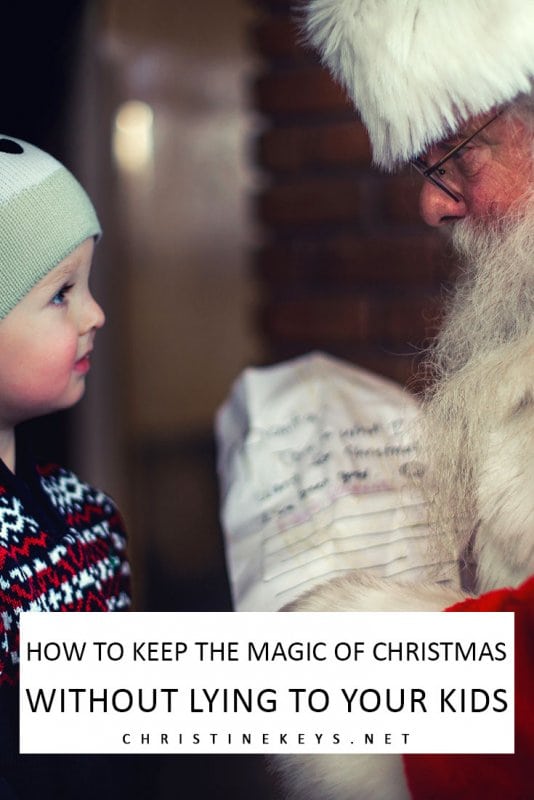 Well, it isn't as difficult as you might think. I should know.
We were never brought up to think that Santa was real, but Christmas was (and still is!) the most magical time of the year for me.
So, here are some ways to help you get started:
1) Set Fun Traditions
Whether it's driving around to view Christmas lights, or piling on the couch to watch festive movies, it doesn't really matter.
Make some special family traditions and enjoy them (Here's a list of ideas!).
Half of the magic of Christmas is being able to do things that you don't do for the rest of the 364 days of the year.
Kids love it – I know I did!
If you're looking for some great ideas specific to celebrating with toddlers, then check out this post –> Christmas Strategies with a Toddler
2) Make It A Big Deal
Christmas comes but once a year so live it up!
Get out all the decorations, put on the Christmas carols, bake some Christmas treats, and make sure that all the family is together.
Children are amazingly in tune with our attitudes and emotions.
Related: How to Keep the Christmas Magic Alive for Older Kids
If you're not exuding the Christmas spirit, then chances are they won't either.
As a family, we always set aside a specific afternoon to put the tree up together. The Christmas season truly starts for us then. We pull out all the stops and have a great time together.
3) Create Anticipation
Create anticipation with advent calendars and get the children involved with festive crafts and activities.
Another way to make it really fun is to draw out opening presents.
Growing up, we never got to open any presents before Christmas morning and even then it was spaced out.
So, we were allowed to open our stocking first thing. Usually, we took them to our parent's bedroom and all piled on the bed to open them there.
However, we then had to wait until after we had breakfast to start on the ones under the tree.
And let me tell you, breakfast was never a quick event. Nope, it was a big deal and it took time for everything to be cooked.
Once breakfast was over we all gathered in the living room and started opening presents.
Tradition in our family was for the youngest to choose the first gift. But, you can't pick a gift for yourself.
Instead, you take the gift to whomever it is labelled to and we all watch them open it.
That person then goes and picks another one for someone else, and so on and so forth. All that continues until there aren't any presents left.
The whole process was such fun and I still appreciate that we all get to acknowledge what everyone has given and received.
4) Play Into The Magic
Now while I don't advocate teaching your children that Santa is real, it doesn't mean that you can't still have fun with the idea of it. Kids have big imaginations.
I remember as a child lying in bed at the end of the day and dreaming up crazy imaginary worlds that were full of all the most exciting things.
As children, my siblings and I knew Santa was just a character in a delightful story, but we still put out cookies and milk on Christmas Eve, and my father still joked about Santa coming down the chimney.
We knew he didn't exist, but as children, it was fun to pretend that he did.
Children are very gifted at getting lost in their imaginations.
We don't need to lie to them in order for them to have a part in a magical fantasy. Set the scene and they will be able to do the rest.
5) Make Giving Fun
It was always so much fun dreaming about what I might get at Christmas time.
My parents weren't wealthy by any means, but my mother always outdid herself when it came to really spoiling us that time of year.
However, equally as exciting as receiving gifts was giving them, and more specifically, picking them out.
When we were young, my parents would give us each enough money so that we could afford a gift for each family member. We always visited the $2 store.
Each parent took a child one at a time so that they could choose the gifts for each person.
The gifts obviously weren't worth much, but the experience of choosing them, wrapping them up, and then gifting them was priceless!
There were also many times when we spent hours making gifts for each other at home. My mother still has some of the (rather hideous) gifts we made for her. The sentiment is very special.
So, try to make gift-giving as fun as the receiving. Not only will it add to the magic of Christmas, but you'll be teaching your children what really matters as well.
---
If you feel wrong about letting your children believe Santa is real then you really don't have to worry about stealing away the magic.
Kids are brilliant little creatures that often surpass our expectations.
And then you also might have a child like my youngest sister who was plumb terrified of the idea of some strange guy coming into our home in the middle of the night.
My parents couldn't even joke about it and had to be totally upfront or she wouldn't go to sleep.
Make Christmas time special and meaningful by doing things together and with love. Your children will be thrilled!