Jack's August 2018 Summary (3 Years, 5 Months)
This post may contain affiliate links. As an Amazon Associate I earn from qualifying purchases.
Sometime during the month of August, I realised that Jack had worked his way through the challenging phase he was previously going through.
As each week is passing, he is becoming less 'toddler' and more 'little boy'. Part of that is lovely and exciting, while another part of it is sad. I guess that's just life though. You have to let go in order to move forward.
*this post contains affiliate links
Routine
7 DWT (Desired wake time)
7:30/8 Breakfast
9-10:15 Independent Playtime
10:30 Snack
11:30/12 Lunch
12:30-1 Time with Mum
1-3 Rest time (Read more about this below)
3 Snack
5:30 Dinner
7 Bed
Rest Time or Nap Time?
Let's just say that age 3 has been a time of compromising, reevaluating, and constantly adjusting to suit different needs.
In last month's update, I talked about how we had officially made the transition from nap time to rest time. In fact, I even got around to writing a full 'how to' post on the subject.
Find that here –> How to Transition Your Child from Nap Time to Rest Time
And then, of course, things changed again. Jack started napping. He went from maybe taking one nap a week to napping at least 5/7 days. It was crazy!
What's more is that it didn't affect his nighttime sleep at all. He fell asleep at his usual time and kept sleeping right on through. No early waking or anything.
I'm not sure why he is requiring more sleep, but my gut says it is a growth spurt as all his trousers are looking a little short now.
Behaviour
It's not often that both of my children are going through challenging things at the same time. I feel as though that's got something to do with the grace of God.
Annie has been particularly full on at present, and so I'm so glad that Jack has been relatively easy. He's been particularly attentive to my needs.
My pregnancy has been so difficult, and these last few weeks I have been a shell of the person I usually am. Taking care of myself has been really hard let alone caring for my two rambunctious toddlers.
Jack has been very sweet and understanding. I have felt a lot of guilt over essentially not being present for him over the past few weeks.
Motherhood is so much about balance and seasons. I'm just thankful that this season is when he is young and won't remember a lot of it.
Read –> How to Navigate the Seasons of Motherhood
I've also noticed a lot more thoughtfulness from him towards his sister. That makes my heart so happy! He actually adores her and whenever they're apart he asks for her. The feeling is not always mutual, but she'll get there eventually.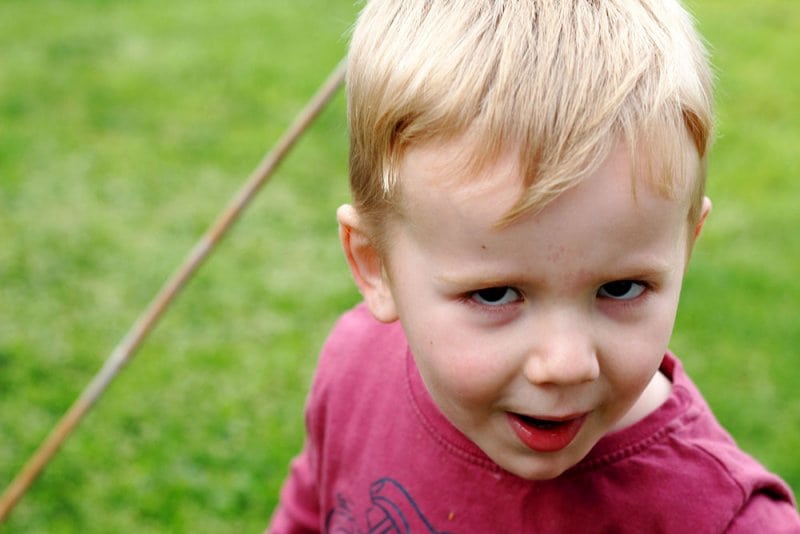 Learning
I'm not even sure that I've mentioned this subject much on my blog. We're planning to homeschool our children. We're also NOT planning on starting any formal education until age 6.
Of course, life might dictate otherwise and I completely understand working with the individual needs of each child, but that is our plan for now.
Read –> 5 Thought Provoking Reasons to Boycott Preschool
We have never sent Jack to any sort of daycare or kindergarten. Preschool isn't something that we're considering at all.
Why?
Well, it has been shown that there is no benefit to beginning academics early. Instead, the best form of education for young children is simply through play. And play is something that we greatly encourage in our home.
Despite knowing that we're doing what we feel is best, I think it's normal to sometimes question yourself as a parent. However, Jack is constantly proving to me just how much he's learning through daily living.
I've never done any sit-down lessons with him to teach him numbers, letter, shapes, or clours. Yet, he counts well, knows all his shapes and colours, and can pick out letters when I ask what they are.
I'm constantly amazed at how capable children are if we would only give them credit.
I don't think preschool is wrong, but I do think there is far too much emphasis on it' supposed benefits. In fact, another mom shared this article recently and it really does get you thinking!
Read –> If We Taught Walking in School
Work Ethic
I've talked before about why I feel working in front of your children is important. Read –> 3 Important Reasons to Work When Your Kids are Awake
Jack has been showing the results of that in recent times. I know that part of it is just his age, but I can't help but be pleased with the examples that he's trying to emulate.
He asks to help out constantly. He loves 'doing his jobs' and almost always takes his plate to the kitchen without even being asked.
However, the thing that I've really noticed is seeing his work ethic in his play. I would say that 80% of his play is made up of him being like dad or grandad, or papa. Whether he's mowing the lawns, working on his 'computer, or clearing the garden. Whatever it is, he's following the great examples that have been set for him.
Things Jack's Been Loving This Month
Jack has been going like a wild thing on his balance bike. He finally got enough confidence to use it and has been getting better and better ever since. I'm so glad that we made the purchase for his 3rd birthday.
He's also been enjoying 'working' in the yard with his tools. My parents bought him a garden set for Christmas last year and it has been well used.
I actually said to my husband the other day that our children play with their outdoor toys far more than their indoor ones, even during winter. It's nice because it means we can keep toys to a minimum inside while also encouraging outdoor play.


Jack only has a couple more months before he becomes a big brother once again. I'm so excited to see him with his newest little sister. When Annie was born he was practically still a baby himself, so this really will be a new experience for all of us.
Until next time!