How to Grocery Shop with a Newborn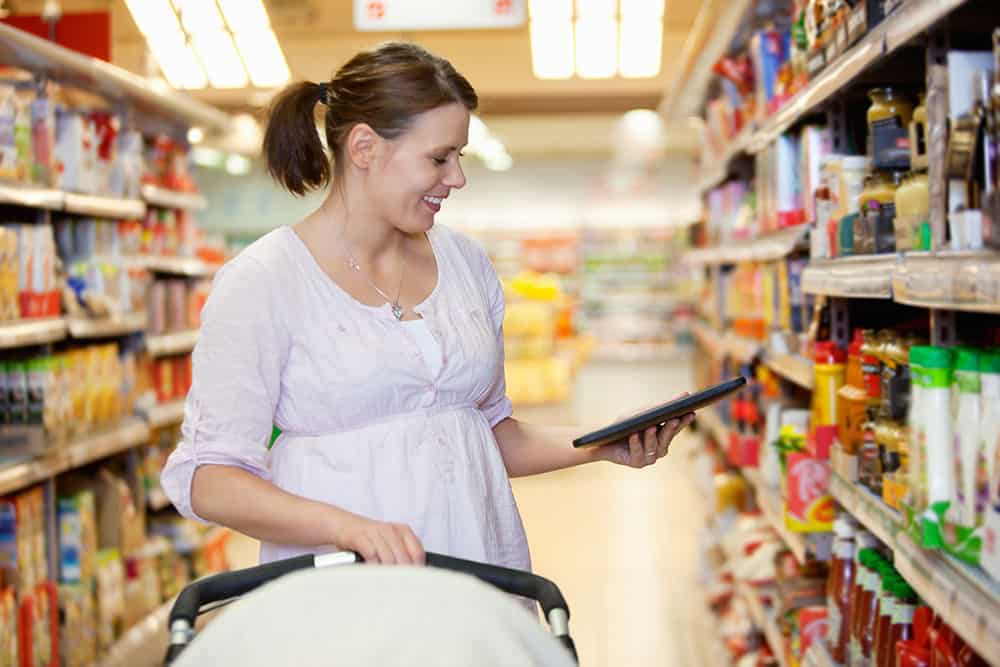 This post may contain affiliate links. As an Amazon Associate I earn from qualifying purchases.
How to grocery shop with a newborn is not something that I even think about now that I have 3 kids.
However, when I was a brand new mom, the thought of taking my tiny squishy baby with me to the grocery store was entirely daunting.
And I bet I'm not alone in that.
There's something about becoming a mom for the first time that just turns your world on its head.
Things that were mundane and barely thought about before now are a BIG DEAL and you're just not quite sure how to tackle them.
So that's what this post is for. I'm gonna share with you the very best tips for grocery shopping with your baby so that it can be as stress-free as possible.
Can I take my newborn to the grocery store?
This is a valid question because taking a brand new baby out into the world of bugs and germs is a bit scary.
Your instinct is to protect them and keep them safe from all harm.
However, you definitely can take them to the grocery store and you can keep them all safe and free from germs at the same time.
I'll share more about how to do that further down in the post, but for now just know that yes, it is possible and you are capable.
And remember, it is totally okay if your baby cries and makes a fuss while you're there. I know it seems stressful and you feel as though the WHOLE WORLD has their eyes on you, but it is going to be okay.
You're not doing anything wrong and you will get more and more comfortable going out with your baby.
So now let's get onto the tips.
Other Helpful Posts…
#1 Figure Out How You're Going to Carry Your Baby
This is the part that is quite important because it will impact both the practicality of your trip as well as the protection of your baby.
I've included several different options for carrying your baby in, but there are two main ones that I love and recommend.
Babywear
This is the option I chose a lot of the time because it meant that I had use of the full cart space but my hands were mostly free.
I'm not big into babywearing except for when it is practical and this is definitely one of those times.
Below are some of the babywearing options that I recommend.
I've personally loved using soft carriers for my newborns such as the Moby Wrap.
Babywearing is also helpful because your baby will likely sleep well being close to you and they'll be protected from nasty germs and bugs.
People are far less likely to touch your baby when they are so close up to you.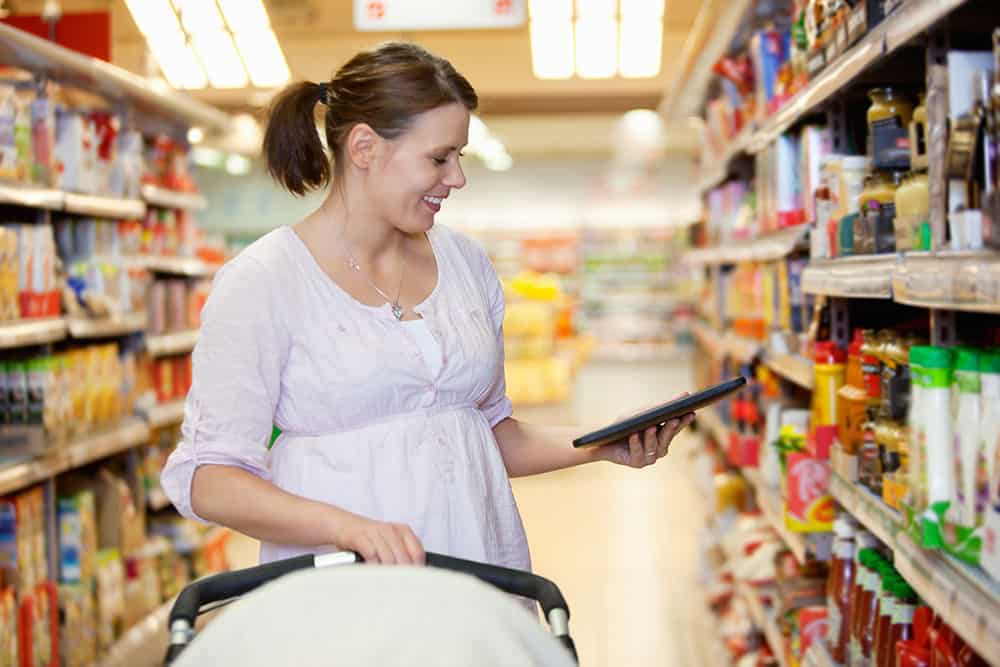 Newborn Shopping Cart Hammock
I kinda wish I had known about this product a lot sooner because it seems fairly genius!
You attach the hammock to the cart and lay your baby in it.
The benefits are that it is super light and easy to bring with you, plus you don't have the infant capsule taking up most of your cart space.
However, there is no way to cover your baby (like you would with a capsule) and you'd have to just check that the angle your baby is at is safe for sleeping (i.e chin OFF chest).
You can find them on Amazon HERE. Like I said, I WISH I had known about them!
Infant Capsule
One of the easiest ways to keep your baby safe and secure during your grocery shopping experience is to have them stay in their infant capsule.
That way if they're sleeping they are less likely to be disturbed.
The one downside is that if you can't get a cart with a designated space for an infant capsule to sit, it is going to impede on your cart space a lot.
The other thing to keep in mind is the angle of the seat. Make sure that it is adjusted to the correct position for the age and weight of your baby.
Capsule Cover
The one thing that I have LOVED and USED over and over again with all of my babies is an infant capsule cover.
They are perfect for keeping them protected from the elements and allowing them the opportunity to sleep.
They're also really good for keeping nosey parkers at bay.
You can get the kind I like right HERE for FREE. Seriously, just enter the coupon code CK50OFF at check out and it is yours. 🙂
Grocery Shopping with a Stroller
Some moms like to bundle their newborns into a stroller and do their groceries that way.
Can I just say that I DON'T KNOW HOW THEY DO IT!
How on earth they manage to wrangle both a stroller AND a cart is beyond my comprehension.
What I'm essentially saying is to just forego the stroller this time. It is going to be really tricky to use unless you are just grabbing a couple of things.
Although, if you need to walk to the grocery store then a nifty hack would be to take a baby carrier with you.
Once at the store, you could put the baby in the carrier and use the stroller as a cart.
#2 Pack a Light Diaper Bag
You do not want to be hefting around a massive diaper bag while you're doing your groceries, but there are a few essentials you should pack.
List of Items
#3 Time it Right
The very first thing that you want to consider is the timing of your trip to the grocery store.
Aside from trying to avoid rush hour there are a few other things that can help so that your baby is settled and happy during your trip.
Go During Naptime
I only recommend this for when your baby is super small and is happy to sleep basically anywhere.
If you know they're about to settle in for some sleep, make the most of it and do your shopping.
You might be concerned that all the noise and activity will wake them up, but in my experience, it all actually seems to lull them into a nice sleep.
After a Feed
Always feed before you go. There is nothing worse than a hungry screaming baby that you can't feed right away.
It'll send your stress levels through the roof!
Feed your baby, burp them well and then head off to the store.
Have a Routine
I know that there's a certain school of thought out there that you can't (and shouldn't) put a newborn on a routine.
I've already proved that wrong with three children, so I don't feel the need to argue the point.
What I will say is that it is helpful to start working on a flexible routine from the get-go so that you can plan your day around your baby's schedule.
Of course, there are going to be disruptions, but it'll still be a lot more helpful than if you have absolutely no idea as to when your baby is going to need to eat or sleep next.
#4 Make a List
Always be prepared with a list.
Mom brain is a real thing and I find that mine is far worse when I'm sleep deprived as well.
If you have a newborn you are almost certainly going to have some level of sleep deprivation. Take my advice and write down a list!
If I'm just making a short trip then I will usually have it in the notes folder in my phone, otherwise I use regular paper.
I actually have an amazing shopping system that I've been using over 3 years now and it saves me so much time!
You can find that HERE.
#5 Park Near a Cart Return
Once you actually get to the supermarket, be sure to try and get a parking close to a cart return.
That way you can get your baby settled in the car and not have to walk far to return the cart at all.
Personally, I think it is a lot safer for children to remain in the vehicle while you return the cart (provided it isn't far) than it is for you to be trying to hold onto them while also returning the cart.
I often park right next to one if I can.
#6 Make Use of Parent's Parking
I know that this option isn't available everywhere, but if you can then take advantage of it!
Often these parking spaces are wider and so it is easier to get your baby in and out of the car. Otherwise it can be a bit of a mission.
Also, they're often closer to the door which makes them safer as well.
Like I said, I know not all places have them, but if you come across them then take full advantage.
#7 Use Online Shopping
My last tip is to online shop!
I started doing this almost a year ago and it has changed my world.
Shopping with just one child (or even two) isn't all that much of a challenge.
However, once we welcomed our third baby I was just done…and online shopping became my knight in shining armour.
Using my quick and simple meal planning/shopping system, I do all of my shopping online ONCE a month and have my husband pick it up on his way home from work.
We did use the delivery option when grocery day fell in the very early postpartum days.
Now my shopping takes me all of 15-20 minutes once a month and that includes meal planning, stock take AND the actual placing of the order.