Best Toys & Books For 18-24 Months | Jack's 2 Year Update
This post may contain affiliate links. As an Amazon Associate I earn from qualifying purchases.
Okay, I'll be honest.
I never quite got around to posting much around Jack's 2nd birthday. It was a Sunday, and Sunday's are always busy.
Like crazy busy.
So, please excuse me for taking this opportunity to get soppy about my baby turning two. I promise there's something in it for you.
I'm also going to share with you what I think are the best books for 18-24 months as well as some awesome toys that are worth having.
Posts You Also Need to Read…
2 Year Old Toddler Update:
Babyhood Is Over
I'm not sure when or how this happened exactly, but Jack went from a baby to a toddler.
Of course, he was a toddler before he turned two, but now that he actually is two, I can't deny the fact that babyhood is over.
Perhaps the arrival of his little sister hurried that process along a bit, I'm not sure.
He does still come to me for 'baby love' on the odd occasion, so that keeps me placated for the moment.
I found myself close to tears in the week leading up to his 2nd birthday. I'm not one to cry easily, but since having kids I'm a sook.
Jack is my firstborn. He made me a mama. He will never be this little again. Ahhhhhh! All the feels!
2 Year Old: Daily Schedule
7:00 AM Wake for the day
7:30 AM Breakfast
8 AM Get dressed
8:30-9:30 AM Independent Playtime
10 AM Snack
12:00 PM Lunch
12:30-2:30 PM Nap
3 PM Snack
5:30 PM Dinner
6:00 PM Bath
7:00 PM Bed
All The Noise
From the moment this kid wakes up to the moment, he falls asleep…there is noise.
I haven't had a girl toddler yet, so I'm not sure if it's the same for girls, but my goodness there is just all the noise, all the time.
Sometimes it drives me near to insanity, but a lot of the time it's cute.
Can I say how much I LOVE watching/listening to my kid as he plays with his toys? The imaginary play is just THE BEST!
More on that when I share about all the toys and books he loves. 🙂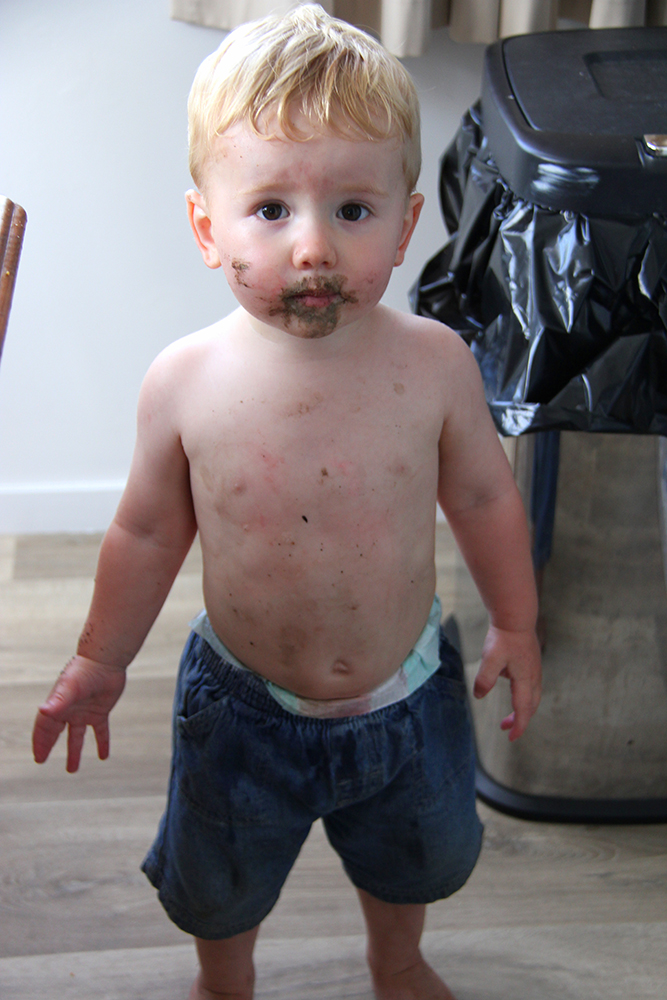 It's Harder Than Having A Baby
Okay, so this is kind of subjective, but oi! Having a toddler is HARD!
When Annie came along, I remember making a remark to my husband about how we used to think having a baby was hard.
Toddlers make babyhood look like a walk in the park.
Don't get me wrong, having a newborn is very challenging, but we grow as they grow.
What once seemed really difficult is no longer as challenging, because we've faced harder battles. And yes, I use the word battles, because…toddler.
Best Books for 18-24 Months:
Ok, onto the fun stuff! Jack has been abundantly blessed with family and friends who love and adore him.
We're so thankful that he receives thoughtful and wonderful gifts when his birthday and Christmas come around.
All of the products I'm sharing are ones that he LOVES. He has lots more (cue an upcoming toy purge!) but these are his faaaaaavourites! 🙂
What I love most about them, is that they all encourage his ever-growing imagination. I love seeing my boy put his mind to good use. 🙂
Books:
Oh, how we love books! Oh, how Jack loves books!
We especially love board books in this house, because they're less likely to be ruined by curious little hands.
I always buy my kids books for Christmas/birthdays.
#1 Sesame Street – My First Library
This year, I got Jack this little Sesame Street Book Collection. He's currently loving Elmo, and these were just too cute to pass up.
They didn't break the bank, and they're nice and small so he can have them in his bed if he wants without them taking up too much room.
If you could see how many stuffed toys he sleeps with, you'd totally get why this is important.
#2 Farmer John's Tractor
Does your child love machinery? Then this is a great option for them.
Not only is Farmer John's Tractor full of vehicles but it has a beautiful storyline.
It is Jack's all-time favourite at the moment. This book was a brilliant pick by his Nana!
It has both animals AND vehicles of many a description, so it's a win-win for my kid.
It's also a win for me because it isn't a million years long, but there's a decent storyline to it. 🙂
#3 Little Blue Truck
Another book about trucks/machinery. Surprise, surprise!
My dad is a mechanic and lives on a farm, so Jack is obsessed with this kind of stuff.
Seriously though, this is another beautiful book filled with sweet illustrations and a thoughtful storyline.
The Little Blue Truck is both funny and sweet. Not so different from 2-year olds themselves.
#4 The Peter Rabbit Classic Collection
If you want to provide your toddler with some classic reading then you can't pass up Peter Rabbit!
I remember my mom reading these to me as a child and I absolutely loved them.
There is something so very beautiful and simple about the illustrations.
#5 Winnie the Pooh
Speaking of classics, we can't forget to include Winne the Pooh!
Something that is really great to find in a book for toddlers are flaps and slides and other things that make it very interactive.
Often times they do love to be read to but struggle to sit still.
Having something for them to do while you read to them is brilliant!
This book provides exactly that and is just darling.
#6 Dr Suess's ABC
Toddler's don't need to have sit-down lessons in order to learn things.
Play is absolutely the best form of learning for them and should be heavily encouraged.
Reading to your child is also a wonderful way of both having some time to bond as well as it being educational.
This precious book is a fun way of introducing the ABC's without formally teaching anything.
#7 The Rainbow Fish
I mean, what toddler doesn't love sparkly things?!
This classic children's book is very much worthwhile having in your collection. Plus, it'll last them years if it is treated well.
The storyline is something that applies to most ages so your toddler won't outgrow it too fast.
#8 Guess How Much I Love You
We actually don't own this book but we get it out from the library regularly.
The fact that it comes as a board book only adds to its value.
We all know how *cough* gentle toddlers can be.
Anyway, it is a beautiful book with a precious storyline that is built to withstand rough-handling.
#9 Down by the Station
If you have a toddler that loves trains and loves to sing then this book is a winner!
They can sing along as you read through the book and have a ton of fun.
It has beautiful illustrations and a very sweet storyline.
#10 I'd Know You Anywhere
Last but not least this is actually my favourite children's book that we have ever read or owned.
If you want to convey how much you love your child through reading to them, then this book will really help you with that.
The storyline is designed to show that a mother will know her child anywhere and it is simply beautiful.
The illustrations are lovely and the book is made well.
Toys:
Sandpit
This was the main birthday present we got for Jack.
He loves digging in my garden, and while that's fun and all, I really would like my plants to actually remain in the garden.
We bought two of these shells and filled one with sand and used the other as a cover. The cover will also double as a paddling pool during the summer time. They are impressively cheap and he has been loving the sandpit.
Excavator
Did I mention that my son is obsessed…OBSESSED with anything that has wheels?!
I think this is a fairly typical boy thing, but the fact that his grandpa fixes tractors for a living kind of adds fuel to the fire.
This CAT digger was gifted to him by his grandparents and he loves it so much. It's perfect for the sandpit because it's made out of sturdy plastic and therefore won't rust if it gets wet.
Did I mention that he loves it? Like, he actually took it to bed with him the first night.
We got this for Jack for his Christmas present.
He's had an indoor firetruck that he's been riding around since his first birthday.
However, he has almost outgrown it. I wanted something that was specifically for outdoor use, and this bike is perfect.
It won't cost you millions, and it is sturdy enough to withstand toddler rambunctiousness.
This was actually a gift for Jack's first birthday, but he didn't really grow into it until around 18 months.
While the bike is perfect for independent play, this tricycle is the ideal thing for family walks due to the ability to steer it.
It's also awesome in the fact that it can be modified depending on the ability of the child.
I don't plan on doing another update on this little guy until he turns 3…which he is obviously not allowed to do. 😉
For real, though, I hope you found something interesting in what I've shared with you. Feel free to ask questions down below.