The Best Sleep Schedule for a 6 Month Old Baby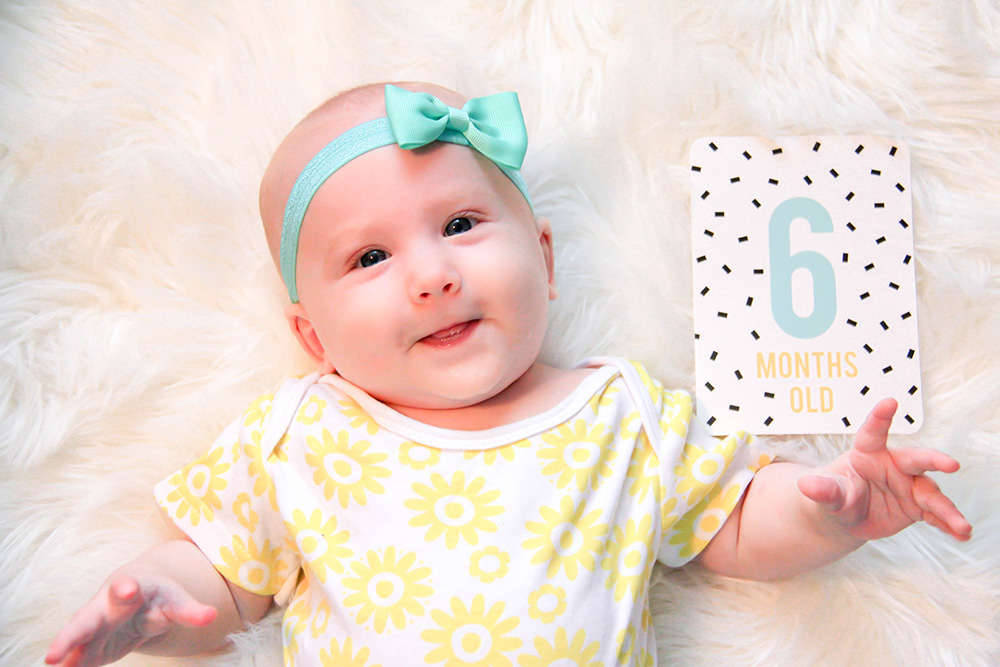 This post may contain affiliate links. As an Amazon Associate I earn from qualifying purchases.
This update includes a feeding and sleep schedule for 6 month old. I'm also sharing the best products for this age and the milestones that I've seen my baby reach.
Can we just pause for a moment and really take in the fact that the past 6 months FLEW by?!
My tiny newborn has grown into an active little infant that is FULL of personality and spunk. I feel like I blinked and here we are.
As well as a video for an update on Annie's feeding/sleeping routine, I'm going to share down below what products we're currently loving, which are in my opinion some of the best products for 6-month-olds.
Related: What is the Right Age to Sleep Train Your Baby?
Infant Update: Feeding & Sleep Schedule for a 6 Month Old
From the beginning, we have used Babywise and Moms on Call to help establish healthy sleep habits and a consistent routine.
You can find those books in my favorite baby sleep products list HERE.
It has really helped Annie to thrive!
You'll see two routines below and a feeding routine for a 6 month old formula fed baby.
She is taking 4-5 bottles a day and they contain about 200ml (7oz) each, except for the late afternoon one which is about half of that.
Feeding & Sleep Schedule for a 6 Month Old:
This month we transitioned from 3 naps to 2. It actually went better than expected.
I have included the old schedule and the new one as a point of reference.
Old Routine:
6:45 DWT
8:15/8:30 Nap
10:45 Bottle
12:15 Nap
2:30 Wake
2:45 Bottle
4:15 Nap
5 Wake
5:15 Solids
6:10 Bath
6:30 Bottle
6:45 Bed
New Routine:
6:45 AM DWT
8:30/8:45 AM Nap
10:30 AM Wake
10:45 AM Feed
1:00 PM Nap
3/3:30 PM Wake
3:45 PM Feed
5:15 Bottle or Solids
6:15/6:45 PM Bedtime
Milestones & Developments at 6 Months Old
This month Annie really got better at rolling both ways. The downside is that she's rolling onto her back at night and getting very upset.
I've avoided letting her just cry and get used to it, but it has been going on for a while now, so I think I'm just gonna have to bite the bullet and leave her to it.
Her little personality has also really started to shine through and we're loving getting to 'know her' as she shows us more.
The Best Products for 6 Month Olds:
I don't invest in a ton of things for my babies. I just feel as though a lot of it is unnecessary, not to mention, expensive!
However, there are certain products that are just really helpful, so those are what I've listed below.
Sleep Sack
I LOVE sleep sacks. I really, really do.
They give me the security that my baby is snug and warm. There are so many options available.
If you've got a little extra room in the budget I would highly suggest going with a merino option, as it is known to regulate the body's temperature very well.
Teething Rings
Annie is teething. She's been teething for what feels like forever.
However, her ability to grab and hold onto things has greatly increased and so teething rings have been one of her favourite things lately. They're little and light enough for her to keep hold of yet hard enough to appease her need to chew down. 🙂

Taggie Toys
Again, this toy is awesome as far as agility goes.
Annie loves anything that crinkles. In actual fact, she's been really enjoying grabbing the packet of wipes every time I go to change her.
I also love all toys that have a ring on them so they can be attached to her pram or car seat. It really helps to keep her entertained when we're travelling and she might not be asleep.

Jolly Jumper
This is my all time favourite product!
That statement actually goes for both my kids, as they both loved it. I had to replace the one I had for Jack as it was a hand-me-down and was practically falling apart.
I love that it works to ease their frustration when they're not quite at the mobile stage yet. It also helps burn off some of that seemingly endless energy.
I have ours in the doorway between the living room and the kitchen. It means she can see me everywhere, and with separation anxiety starting to set in, that is super helpful.
She loves being able to see the goings-on of the household from somewhere other than the floor. 🙂

Bouncer
I'm fairly sure I mentioned this product in her 5-month update, but it's still a hot favourite in our house.
I can move it (and her) around the house to where I am. I'm also currently using it to feed her when she has her solids. We do have a highchair, but I'm all about saving space so this is working wonderfully for now.

And just like that, we've entered the second half of her first year. I hope this update was helpful and interesting to you!