Babywise with 3 Kids: How it Makes Life Easier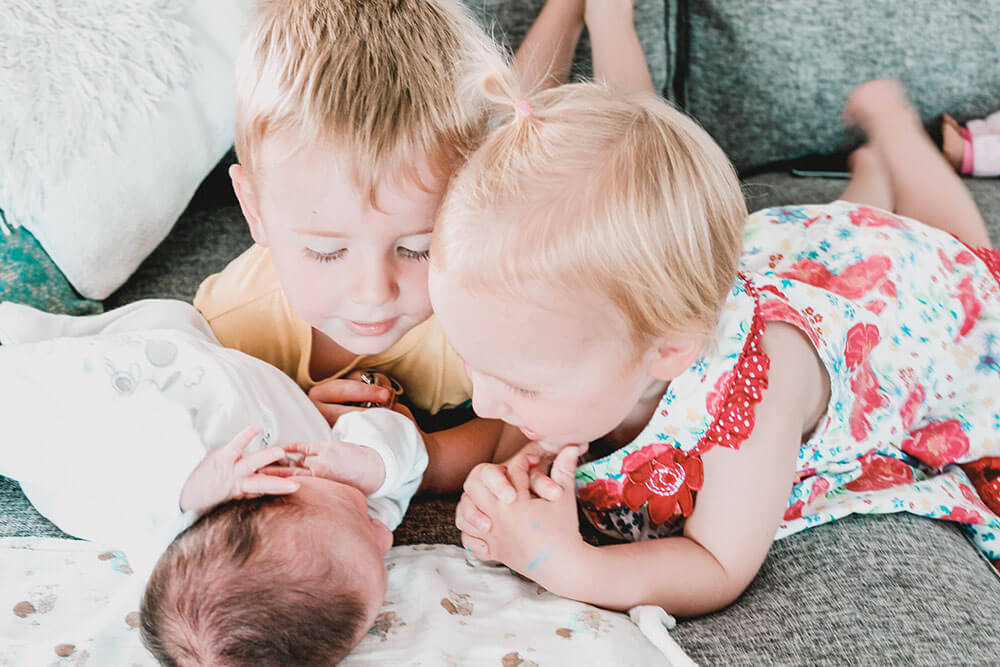 This post may contain affiliate links. As an Amazon Associate I earn from qualifying purchases.
I recently read, once again, that moms with three kids are the most stressed out of any number of children.
There are times when I totally get that. (Hello, having 2 two-year-olds and a preK kid.) But overall, it doesn't have to be that bad. You can feel more in control and have days that run smoothly, even with three kids.
How do we do this? Easy. Babywise. It's how I got my son on a schedule, and it is the way I learned to get twins on a schedule.
There are a lot of parenting theories and methods out there. But Babywise is the one that confirmed my parenting instincts.
There are some myths floating around about it. I know I quit Babywise once myself. But now that I have three kids I know that some specific Babywise points are key to life with babies.
My favorite part of Babywise is actually the flexibility. You control your schedule, the schedule doesn't control you. And having a schedule that you create makes it easier to meet the needs of three tiny humans.
There are more benefits to utilizing this method. Here are three of my favorite ways Babywise helps with three kids.
Babywise Favorites for Three Kids
Independent Playtime
Getting kids to play by themselves is an important life skill. In life, we need to know how to entertain ourselves and solve problems on our own. Independent playtime gives children the chance to practice these very skills. (Learn the benefits—> Independent Playtime)
But there are more benefits to this activity. Having your older children able to play on their own frees you up to take care of your children one on one. Specifically, it gives you periods of time to care for a new baby.
It was lovely to have a period of time every day where I could feed my twins while my son happily played in his room. This took away a lot of stress!
As your children get older, the habit of playing independently is still helpful. It is the perfect opportunity to get one on one time in.
Your children are used to playing on their own, so you can take turns spending time with one of your three.
Independent playtime can give you more mom time during the day. This isn't selfish, this is important for survival if you have newborns.
My oldest did independent playtime while my youngest had their morning nap.
This extra time with everyone happy and safe let me take care of everything moms need to do to keep the house running. It also gave me a chance to breathe and make sure I was my best to take care of my children.
Dream Feed
Having babies is exhausting. Oh, it is wonderful and fulfilling. But I have three kids and I'm tired.
When you add a baby to a family you know you are going to have sleepless nights, and with older children that is tough. So there is nothing wrong with trying to maximize your sleep as a mother.
Enter the dream feed. I had the thought to feed my babies one more time before I went to bed myself so I could maximize my sleep. Babywise agrees! (You can even do a dream feed with twins!)
Without going into too much detail, feed your baby between 9 and 11 pm, then go to sleep yourself. You are lining up your baby's sleep with yours so you can get the most sleep possible.
With more than one child there is no sleep when the baby sleeps. So being strategic and taking care of my sleep needs was super important.
The dream feed is a great tool to take care of mama while meeting the needs of your baby.
The Pause
The pause is one of my favorite Babywise tools. It is another one that just makes sense when you think about it, and I think a lot of moms do it naturally. But it is helpful to have a name for it and to have reinforcement that it is a good idea.
The pause is just that, you pause. You pause before rushing in to 'save' your children.
This is useful for sleep training. It is not the same as cry it out. You aren't just letting your child cry, you are taking a moment to see if they will settle themselves. (You can sleep train without cry it out. Click here to learn how!)
The pause is helpful in independent playtime. Children can become frustrated, but instead of rushing to them when you hear them struggling, you take a moment to see if they can solve the problem on their own.
And as siblings grow and play together, the pause lets them work on valuable social skills.
Kids argue over toys, what to play, and well, everything. Siblings are their first peer group. It is important to let children learn how to interact and solve their own problems. The pause allows for that.
Overall, the pause reminds me to stop and take in the whole situation before rushing in to fix things. I can take a second to really understand what is happening and come up with an appropriate response.
Babywise Helps
Having three kids can be stressful. But hey, having any number of kids is stressful. These Babywise tools help make meeting the needs of all three children and you as a mother easier. They encourage growth in your children. And they just make good parenting sense.