Annie's Toddler Summary: 2.25 Years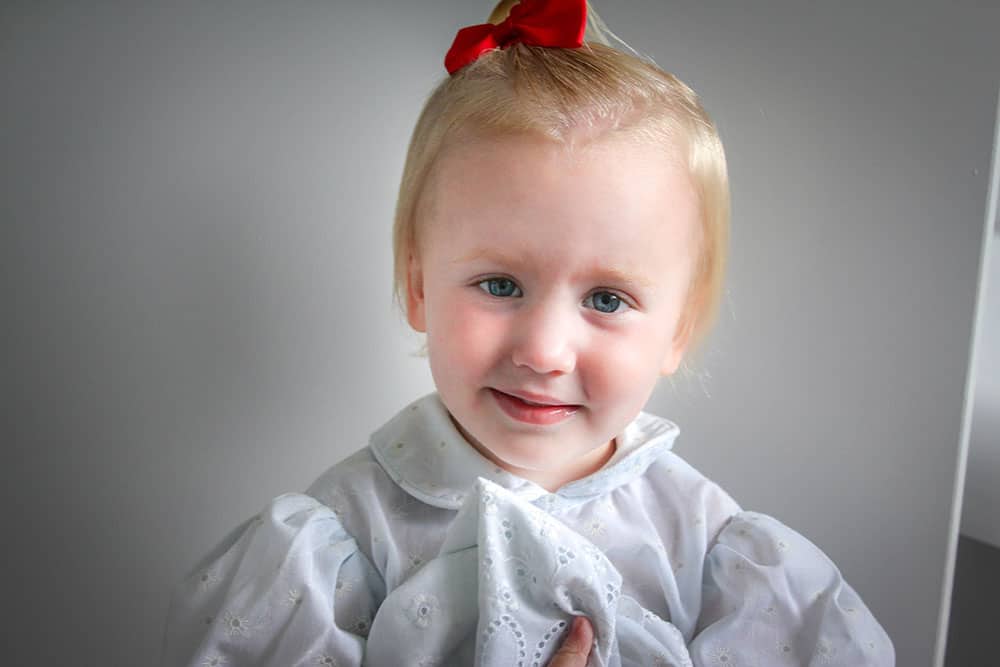 This post may contain affiliate links. As an Amazon Associate I earn from qualifying purchases.
The first quarter of Annie being two was packed full of living! We celebrated Christmas, birthdays, and a wedding.
It was wonderful and busy…so busy.
Our little girl grew up so much over that time. I forget how little she still is now that Charlotte is here to compare her to.
Keep reading to see what changed and what didn't.
*this post contains affiliate links
Toddler Routine
We've continued with the same routine for Annie. Nothing has really changed. She does take quite a while to fall asleep at night, but she's happy to just sing or read quietly until she does.
7 DWT
7:30/8 Breakfast
8:45-10 Independent Playtime
10:30 Snack
11:30 Lunch
1-3 Nap
3 Snack
5/5:30 Dinner
7 Bed
Big Sister Role
For a while, Annie really wasn't all that interested in Charlotte.
She was always gentle and kind to her and didn't really show any jealousy.
The closest she came to that was the one afternoon where I was feeding Charlotte and Annie requested firmly that I put Charlotte in her bed.
Otherwise, the 'big kids' generally adore their baby sister and constantly dote on her.
Annie is Jack's parrot. What he does, she does.
It can be both adorable and infuriating.
It is adorable when it comes to Charlotte. Annie asks to hold her. She sings to her and chats to her.
I sometimes find her trying her best to get a bottle into Charlie's mouth. In which case, I obviously intervene.
Sleep
I can't think of any major issues that took place with sleep. She did skip a few naps during the busy holiday time. Never consecutive days though.
She was definitely notably grumpy the following day so I often brought her nap forward a bit.
She doesn't usually fall asleep until 8-8:30 pm and then wakes between 6-6:30 am.
Annie still naps solidly from 1-3 pm although some days I put her down at 12:30 if she's extra tired.
Eating
Like I said above, Annie is Jack's parrot. This had lead to a few issues with food.
She'll often refuse it if Jack is doing so. Especially if it is something new.
Generally speaking, she eats well.
She's just entering the phase of asking for snacks and not be pleased if I say no.
Annie does not have a sweet tooth. She'll eat sweet things but always in moderation. She much prefers savory food.
Milestones
Annie's vocabulary is fairly extensive now and her annunciation gets better all the time.
A lot of her sentences are stilted and makeup of words without "and", "or's", etc. We can make out what she's asking for or saying most of the time, but if you've had a toddler then you understand the difficulty that often comes with 'toddler language'.
She also started doing the most hilarious thing when you ask her to smile. See the picture below for a stellar example.
Potty Training
So, we're still taking a very casual approach to potty training.
It is summer here so Annie is often in a sundress. So, while we're at home I just let her go commando. When she has nothing on she'll run to the potty when she needs to go.
However, if she's wearing a pull-up or undies, she will wet them.
Jack was exactly the same and just learned over time to use the potty instead.
At this point, I'm happy to just continue with where we are at. I'm sure the closer she gets to three the better she'll become.
Play
Singing, dancing, role-play, and coloring. Those are Annie's absolute favorite things.
We've had issues with the coloring and limiting it to coloring books, but she's actually gotten much better about that.
I've been amused at the difference between her and Jack.
He still has very little interest in drawing or coloring in. When he does it really is just scribble (which is totally normal for an almost 4-year old boy!).
Annie, on the other hand, spends hours drawing and hers are much more precise.
She's always drawing little circles which she calls 'people'.
Because she plays with her big brother a lot, even when she's on her own she'll often pretend she's a tiger or some other fierce animal. It's cute seeing a little blonde toddler with a dimple in her cheek trying to pull off the role of fierce-anything.
Learning
At the beginning of the year, I started teaching the children our 'house rules'. They include things like being kind, being thankful, and obeying.
Each month we focus on one rule and the Scripture that goes along with it.
January's rule was "In our home we obey" and the verse was Ephesians 6:1.
I mainly focused on teaching Jack to memorize the verse but low and behold, my 2-year old daughter has it down pat!
I was amazed and encouraged by her ability to memorize.
Behavior
In her last update, I talked about how I was trying to be better at keeping consistent with discipline.
Thankfully, with Charlotte's pregnancy being over and my energy levels being back to normal I've been much better in this area.
As a result, Annie is doing better in regards to tantrums and disobedience.
Of course, discipline is always a work in progress, but for the most part, she does really well.
Wedding
Annie took part in another wedding. She was the flower girl for my brother back in June 2018 and in January 2019 she was the flower girl for my sister.
She did so very well both times, but it is amazing what just a few months difference can make.
Annie soaked all of it in and absolutely loved getting ready with all the girls.
At the reception, she spent almost the entire time dancing. Honestly, she didn't stop. It was so gorgeous!
Until next time!