Annie's October 2018 Summary (2 Years)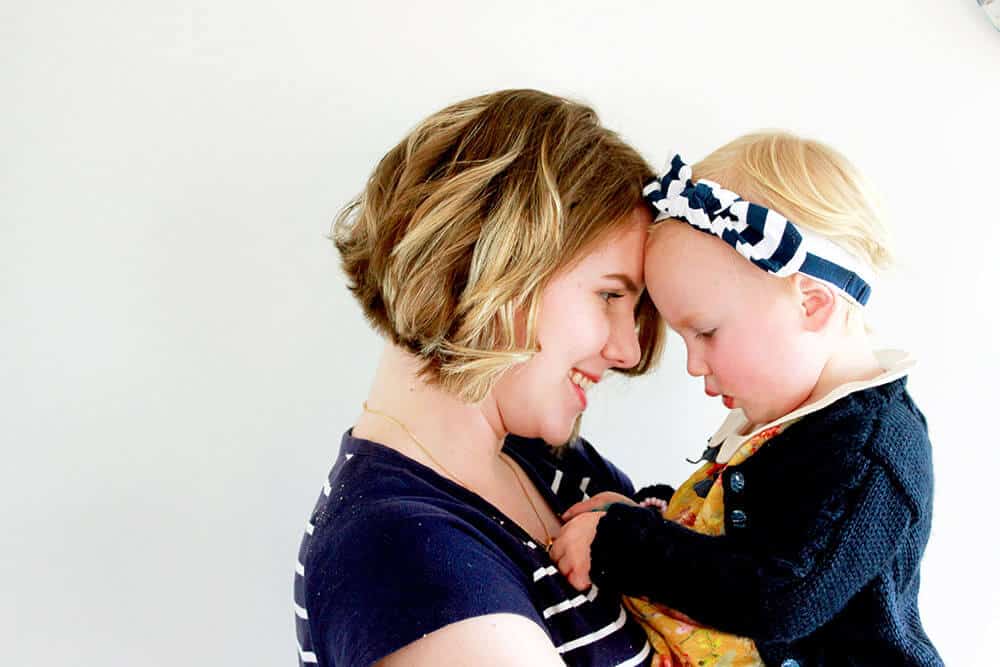 This post may contain affiliate links. As an Amazon Associate I earn from qualifying purchases.
She's two! October was a big month for Annie. Not only did she celebrate her second birthday, but she also welcomed her little sister the day after.
*this post contains affiliate links
Toddler Routine
7 DWT
7:30/8 Breakfast
8:45-10 Independent Playtime
10:30 Snack
11:30 Lunch
1-3 Nap
3 Snack
5/5:30 Dinner
6:30/7 Bed
Becoming a Big Sister
You can read all about Charlotte's birth story here –> When Things Happen Quickly | Charlotte's Birth Story
Annie is obsessed with babies and I never worried about her at all when I thought about bringing home a new baby. I knew she would love the whole experience. I wasn't wrong.
The children both went to my in-laws while I was having Charlotte, but they came and met her the evening after she was born.
Annie was enthralled. She asked to hold her and threw a whopping great protest when she finally had to be taken away. As far as she is concerned, Charlotte is her baby.
Birthday
We didn't plan any fancy parties or anything like that for Annie's second birthday. However, she had a wonderful day regardless.
To begin with, she didn't really understand what was going on, but as the day progressed, she became more and more excited everytime someone gave her a gift.
The main gift that we got her was a doll. Other things we bought her included books, some play jewellery and some new pyjamas.
We had a quiet day where we focused all our attention on her and making her feel like a little princess. We even took her shopping so she could spend the birthday money that her great-grandfather had given her.
Somehow, even on her second birthday she still looked tiny. And then the next day when she was holding her baby sister she was all of a sudden so big!
Sleep
There weren't any major interruptions or changes to sleep this month. The only thing that did change was that I pushed her afternoon nap from 12:30 to 1 pm. It now lines up exactly with Jack's quiet time which is from 1-3 pm.
Eating
We've had to start keeping an eye on Annie because she tends to say that she's finished whenever Jack is. In truth, she isn't and just doesn't want to miss out on any fun that might be had.
She takes an age to finish her meals and would graze for hours if we let her. So, I'm just trying my best to make sure she sits and finishes a meal in one session.
Milestones
Besides becoming a big sister, Annie just grew in general over the month of October. In fact, the past 6 months have been impressive as far as development goes.
Our baby girl is no longer a baby and is quite the chatterbox. She's getting better and better about stringing sentences together and her annunciation is becoming clearer every day.
Potty Training
I'll be honest, we kind of took a backwards step in regards to potty training. For half of October I was heavily pregnant and barely mobile, so chasing after a potty-training toddler just wasn't feasible. Then, her little sister arrived and I have been quite preoccupied as you can well understand.
We haven't stopped potty training altogether, but I haven't been very good at being consistent in any way. Sometimes she'll beg us to put her on the toilet and so we will, but she'll also play happily for hours without telling us she needs to go.
Once Charlotte is a bit older and I'm getting more sleep we'll make more of a dedicated effort.
Play
Thank heavens! Annie is finally doing independent playtime with no protests. She is happily playing in her room from 8:45-10 am every day.
Read –> How to Get Your Child to Play Independently
It means I can get dressed, do some chores, and feed the baby all without having to try and juggle the two older children as well.
Jack and Annie have spent loads of time outside every day because the weather is so nice here now. Annie loves hurtling down the driveway at epic speed (for a 2-year old). I'm constantly having to remind the two of them to keep their squealing down.
And then there's colouring in…everything. I have to really keep an eye on her. Thankfully, we only have washable crayons/markers in our home otherwise we would have had several disasters.
She was also given some 'mess free' colouring sets and they've been wonderful!

Tantrums & Discipline
As much as I've loved watching Annie grow and develop this is an area that has come along with the territory. I'll be honest and say that the pregnancy really distracted me from the discipline that should have been taking place.
Thankfully, I'm able to give a lot more attention to this area now. Our sweet Annie-girl has a strong character full of courage and stubbornness. Both traits will work well for her in the future, but in the meantime, we are focusing on teaching her how to use those traits to do good…and not just to get her own way.
Obedience is also another area that we're really working on at present. It is so vital that our children learn to obey, especially in this season when it's often for their own safety. I've yet to take all 3 children out on my own. I'm working on teaching Annie to come to me immediately when called so that when we do I can know she'll be safe.
Read –> How to Stop Your Toddler from Running Off
Life continues at a rapid pace for our little family. Annie is doing so well as a big sister and I'm doing my best to include her in the care of the baby wherever I can. I'm so excited to see the relationship between the two of them grow.
Until next time!