6 Month Old Baby Sleep Schedule | Charlotte's Infant Summary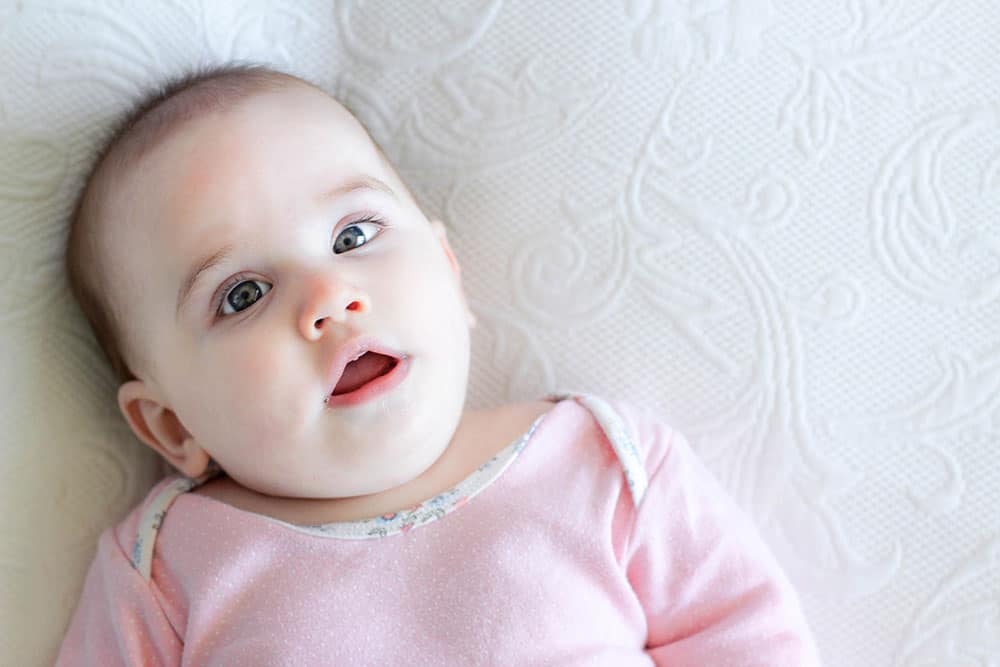 This post may contain affiliate links. As an Amazon Associate I earn from qualifying purchases.
The 6 month old baby sleep schedule that I'm sharing today is not what I thought it was going to be when I did Charlotte's last update.
Her sixth month was a bit up and down as far as sleep goes and there was a bit of inconsistency as a result.
I guess the lesson to share is that you can try things and if they don't work out you can always go back to what you were doing before.
That is, after all, what we ended up doing.
Keep reading to find out what took place during Charlotte's sixth month and what a 6 month old routine with solids looks like.
6 Month Old Baby Sleep Schedule
This month we tried out a 2 nap schedule for a 6 month old and unfortunately, it just didn't pan out.
She got overtired and started waking at night, so we reverted back to what we were doing before.
Attempted 2-Nap Schedule:
7:00 AM Desired wake time
9:00 AM Nap
11:00 AM Feed
12:00 PM Solids
1:00 PM Nap
3:30 PM Feed
4:00 PM Solids
6:15 PM Bath
6:30 PM Bottle
6:45/7:00 PM Bedtime
3-Nap Schedule
7:00 AM Desired wake time
8:00 AM Breakfast
9:00 AM Nap
11:00 AM Feed
12:00 PM Lunch
1:00 PM Nap
3:00 PM Feed
5:00 PM Nap
5:30 PM Family time
6:45 PM Bath
7:00 PM Feed
7:30 PM Bed
When trying a new routine, it is always a good idea to give it at least 3-5 days to settle in.
We did that with Charlotte, but unfortunately she just wasn't ready to drop down to two naps.
Before we attempted to make the transition, she was waking up around 5 AM and talking to herself.
She wasn't upset and she would go back to sleep, but it was waking ME up!
Anyway, after dropping the 3rd nap she did okay for a couple of days and didn't wake up at 5 AM. However, after that things went south.
She cried a lot of the evenings and started waking up crying at night.
I knew she was overtired and just wasn't handling the transition, so we brought back the third nap.
It is common for babies to wake and talk around this age, so it is something we'll just have to wait out.
I also don't love the later bed time because my older two are in bed by 7 PM.
I'm looking forward to the day when all three are out for the night at the same time.
Feeding
6 Month Old Schedule with Solids
This month was funky as far as solids go.
Because the schedule was moved around a bit, it was difficult to give solids with any consistency.
Plus, Charlotte started refusing her bottles for some unknown reason, and so I cut back on solid food until we had that under control.
Basically, solids are happening consistently at breakfast time and lunch, but otherwise it is up in the air.
She's gotten a lot better at feeding herself, so we have moved more towards finger foods as opposed to spoon-feeding.
Feeding Schedule for a 6 Month Old Formula Fed Baby
As far as bottles go, Charlotte continued to take 4 feeds a day.
However, when she was refusing her bottles, it was more like 3 plus two half feeds.
Bottle aversion is something that Charlotte struggled with as a newborn and I feel as though a little of it came back.
The best way to deal with it is to just only offer what they want, even if they only drink a really small amount.
Pressing the issue doesn't help at all. In fact, it only makes it worse.
The bottle refusal could also have had to do with the Wonder Weeks.
Related: The Wonder Weeks: What You Need to Know About Them
I've found that all of my babies have had odd feeding habits when they're going through big developmental periods.
Posts Worth Reading
Our Favorite Products for 6 Month Olds:
I feel as though Charlotte developed a lot over the course of this month and so we've added a few new things into her "product list".
First up is a highchair.
For our other two children, we used a wooden highchair that can convert into a regular chair. However, I just never really loved it.
It was heavy and hard to clean.
So, I went out and bought a cheap plastic highchair for Charlotte and I am so happy with it!
It isn't too big and is super easy to clean down. I love that the tray can come off so I can take it to the sink and give it a thorough cleaning.
Ha! I even read that one mom has been known to put the entire highchair in the shower with her baby still in it!
Anyway, you can find it HERE at a really affordable price.
The other things that we've been loving for Charlotte are toys. She is that much more mobile and so much better at being able to pick things up.
These are some of her favorite things to play with:
Next month we're planning to transition Charlotte from her infant car seat capsule into the Britax Boulevard Clicktight.
We're big fans of the Clicktight series and have Frontiers for our older two.
Wake Time
Wake times were all over the show this past month.
We had days where every single minute she was awake she was fussing about something and nothing seemed to make her happy.
However, there were also days where she would be happy to just play on the floor amongst the chaos of her older siblings for close to three hours!
You can find out what to do with your baby during their awake times in this post.
I think she's becoming more content in her own company as she's becoming more mobile.
Typically, I haven't started to implement Independent Playtime with my children until around 9 months of age.
Related: How to Get Your Child to Play Independently
However, because of how busy and LOUD our house is, I'm thinking Charlotte may actually take well to it.
Also, because she basically has constant entertainment in the form of her two older siblings, it'll do her some good to be able to just play on her own for a little.
I say all that with no concrete plan to stay doing Independent Playtime with her just yet, but it has been on my mind.
Sleeping
Sleeping was so-so this month.
It wasn't amazing but it also wasn't terrible.
Her ability to move around more meant for some sleep disruptions and as I mentioned above, she has been regularly waking and talking around 5 AM.
In saying all of that, she does sleep really well and is completely independent when it comes to initially falling asleep.
6 month old sleep training hasn't been something we've had to even broach thanks to starting healthy habits from a young age.
I think it also has to do with the fact that I literally could not just sit and rock her even if I had wanted to.
My older children would be up to all sorts of mischief!
I know that we'll need to drop the 3rd nap in the next month or so, but for now we're hanging onto it.
Development
Despite the fact that Charlotte isn't officially crawling, she manages to make her way around the entire room.
She is forever up on all fours, rocking back and forth and often ending up on her nose.
She can coordinate her legs and one arm, but then just falls over.
You'll see her rolling everywhere though and she's gotten really adept at reaching for things and bringing them to her mouth when she really wants to.
Sitting is another skill that she isn't too far off mastering. She can sit independently for a second or two and I know she'd improve if I got her to practice more.
She babbles constantly and is currently obsessed with blowing raspberries.
One of my favorite things is that when you blow gently on her face, she tries to copy you back. It is the cutest!