5 Of The Best Products For 8 Month Olds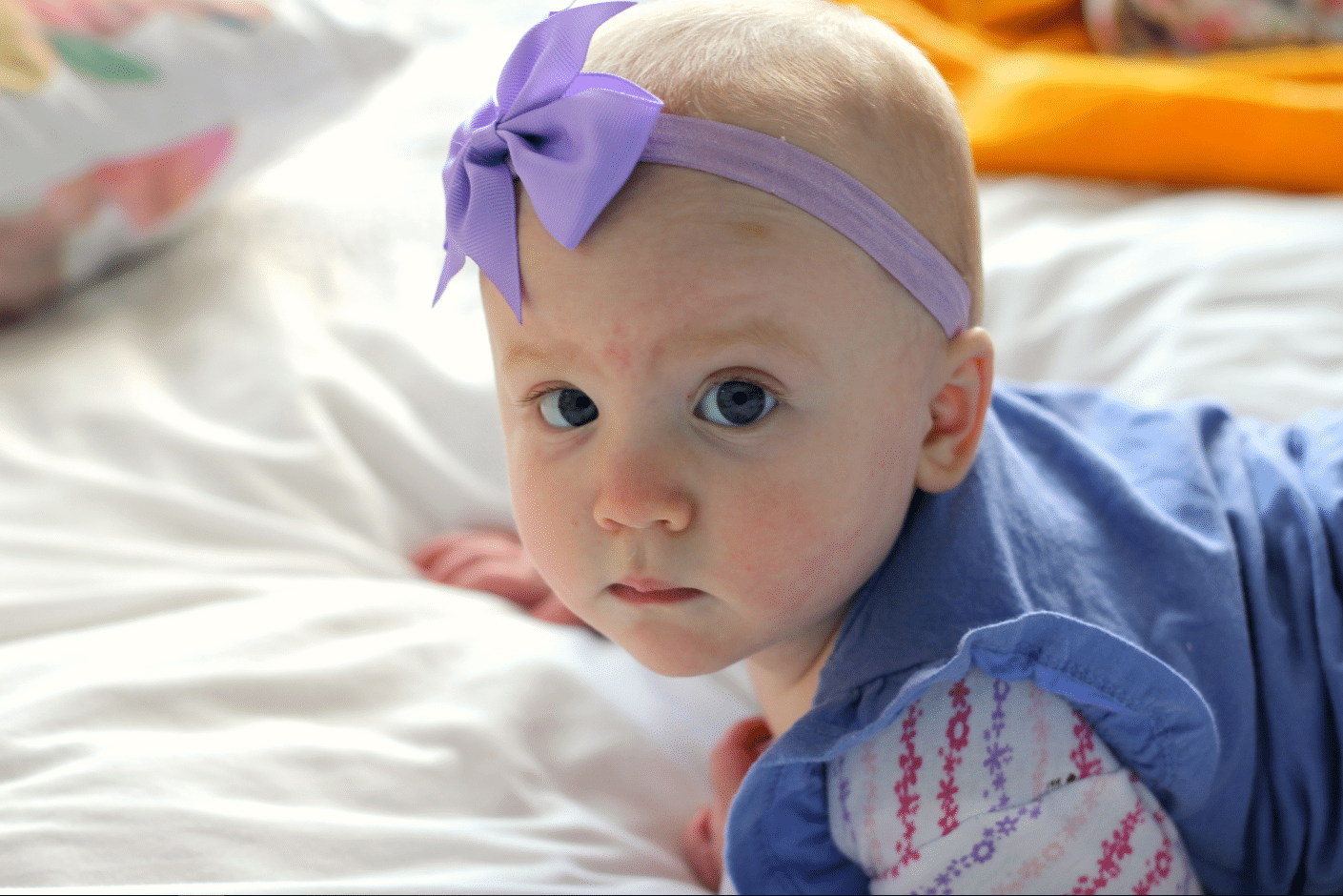 This post may contain affiliate links. As an Amazon Associate I earn from qualifying purchases.
Oh, my word! Having my kids nap at the same time is seriously the best thing ever!
There is this beautiful stillness that comes over my home around 1 pm every day, and it is glorious!
Having two so close together has really meant that having a routine is key. If you have or are expecting to have two babies close in age, then check out my tips on how to survive. 🙂
In today's post, I'm sharing with you 5 of the best products for 8 month olds, as well as Annie's current daily routine. If you'd like to see last month's update, you can find it HERE.
Below I have listed times for feeding and sleeping. Please be aware that this is our general routine. Some days were a little off, but this is usually what our day looks like.
If Annie wakes early from her second nap, then we bring bedtime forward about 30mins and she still sleeps through until morning. 🙂
Annie's current routine:
6:45 am Wake + Bottle (200ml)
8 am Breakfast
8:45 am – 10:15 am Nap #1
11 am Bottle (200ml)
12 pm Lunch
12:45 pm Bottle (100ml)
1 pm – 3:15 pm Nap #2
3:30 pm Bottle (200ml)
5 pm Dinner
6:10 pm Bottle (200ml)
6:30 pm Bath
6:45 pm Bed
5 Of The Best Products For 8 Month Olds
*this post contains affiliate links
1) Tommee Tippee Straw Cup
I was never completely happy with the straw cups I had for Jack, so I was determined to find the right one for Annie.
I like to introduce a straw cup around 6 months but to be honest I was slack with Annie so it didn't happen until a bit later.
I find that my babies have been able to work out straw cups very quickly and it completely negates the need to wean them from a sippy cup to a straw cup in the long term.
Generally speaking, straw cups are better for your child in regard to both dental care and speech development. 🙂
I love this cup because it is small enough for Annie to hold, has a cover for the straw, and has handles so she can easily hold onto it. It is the only one like this that I could find that didn't cost a small fortune. 🙂

2) The Boppy Pillow
I thought that because I wasn't breastfeeding Annie that I wouldn't have much use for this pillow, but it has proven very handy over the last month.
I've been trying to encourage Annie to sit better and this pillow is perfect for allowing her to practice without the risk of her toppling over and hurting herself.
Also, in the last couple weeks, she has also been able to hold her own bottle. I usually like to feed her myself, but if I'm ever in a position where I need to help Jack or attend to something else, I can lie her down in the boppy and she happily feeds herself.
3) Sleep Sack
We're in the dead of winter here in New Zealand so warm clothes are key!
In truth, I use sleep sacks for my babies all year round because I can be assured they are at a comfortable temperature for sleeping.
Right now Annie is in winter warmth sleep sacks and it gives me such peace of mind to know that she isn't cold at night. Not to mention that her keeping warm means she has one less reason to wake at night.
I'm very thankful for a baby that sleeps 11-12 hours every night and wakes up happy in the morning!
4) Double Stoller
I don't know if I'm in the minority here or not, but by around this age I just find it really difficult to wear my babies in a wrap.
One reason is that they're getting pretty heavy by this point and the other is that they want to see OUT and the wraps I have don't allow for that adequately.
So, I am very thankful that I made the investment in a double stroller. The kids both enjoy it and it means that on fine days we've been able to go for walks and during shopping trips, both children are contained!
5) Teddy And Friends Musical Caterpillar
This caterpillar was actually Jack's when he was a baby, but he never really cared for it. During the last month, Annie has adopted it as her lovey.
It plays a sweet little nursery rhyme when you pull on the cord. I usually give it to her with the music playing when I lay her down for a sleep. She almost always falls asleep holding onto it.
Yes…it is completely adorable!
Since updating this post, this particular caterpillar is no longer available, but the one below is an awesome alternative!

If you have any questions for me, please leave them in the comments! Do you have an 8-month-old? What is your current favourite thing about your baby? 🙂
Until next time!