5 Newborn Essentials That Will Save Your Sanity
This post may contain affiliate links. As an Amazon Associate I earn from qualifying purchases.
Those first few weeks of having a newborn are filled with all manner of feelings and emotions.
Parents are often pushed to the brink mentally, physically, and emotionally.
Anything to make that time easier is well appreciated and so that is why I have put together my 5 newborn essentials that will save your sanity: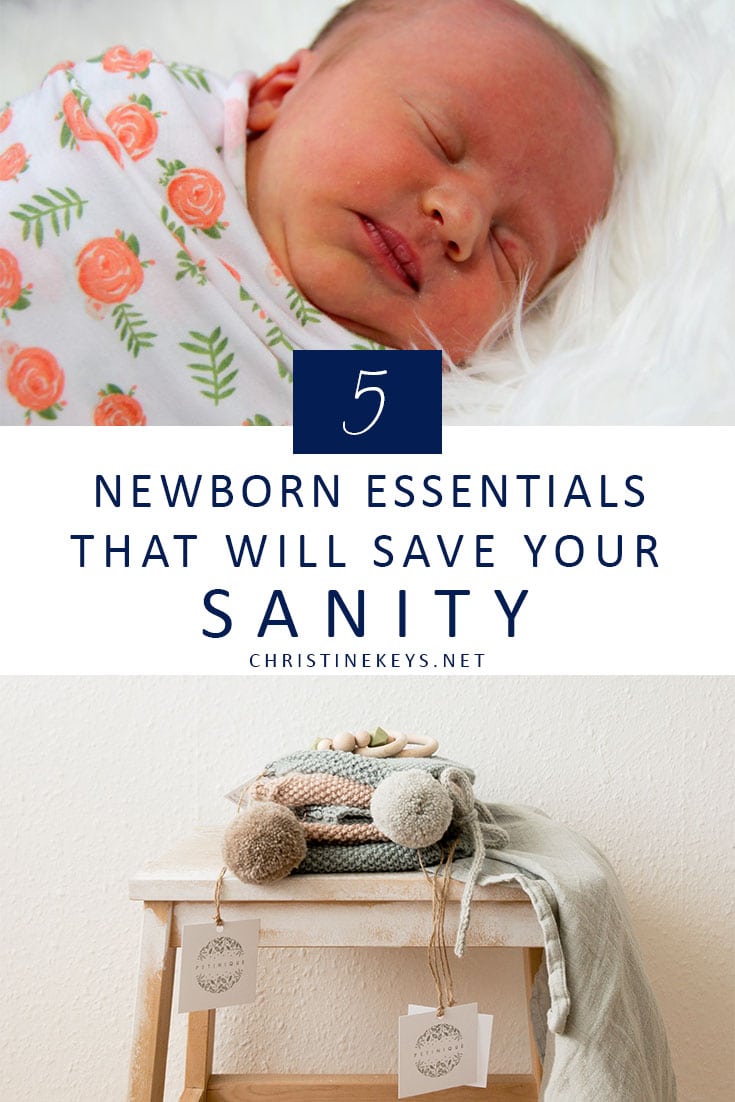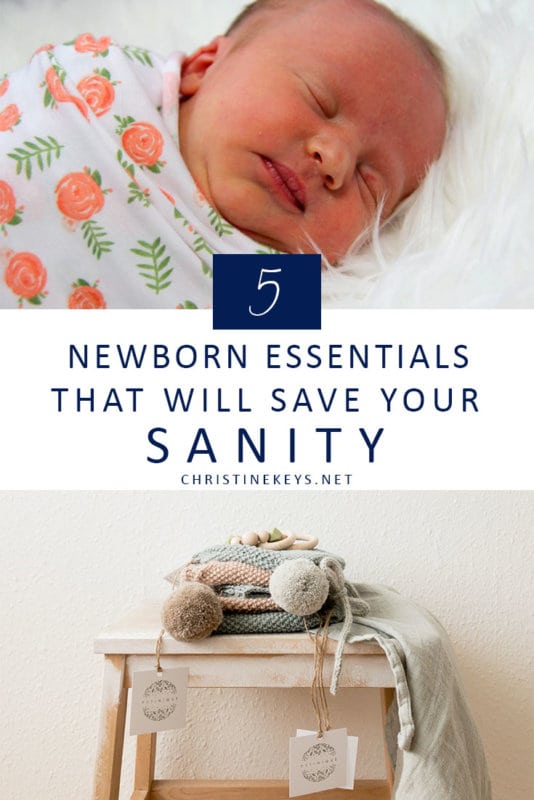 #1 A Portable Sleeping Area
Having the option to move your newborn around to wherever is convenient is SO helpful!
We had a portable bassinet for both children and I used that thing so much.
It was also very handy for if we needed to visit friends and I needed to put the baby down for a nap because we could just bring it with us. 🙂
I've also used the Rock n Play for naps during the day.
We're now expecting baby #3 and since I gave away the bassinet that we previously used I bought a wicker bassinet from a local lady.
See –> Pregnancy Announcement & Q+A
The mattress is 100% wool and I'm so excited to use it for our sweet baby girl!
#2 Burp Cloths
Whether you have a spilly baby or not, you will love having lots of burp cloths.
Take the number of burp cloths that you think you'll need and then times that by two.
They come in handy for a myriad of things and you won't ever regret having a decent stash.
You can find my favourites HERE.
I like having quite a number of thick towel burp clothes, but I've also made good use of muslin blankets.
Plus, muslin blankets are so multi-functional!
They can be used as swaddles, changing pads, burp cloths, sun shades, nursing covers…and I'm sure there's more!
#3 Pacifier/Dummy/Soother
I know people are dead against them, and I get it…I used to be one of those people.
However, I've actually used pacifiers for both of my children and both of them lost interest around the 4-5 month mark.
I loved having them for the witching hour and any other time they were unsettled. Also, if they woke mid-nap I could often get my newborns back to sleep with just a simple paci insert.
See –> How To Approach and Survive The Witching Hour
Set your standards as to when and how often you'll use the pacifier and then go from there.
If you're wondering which ones to pick (because there are SO MANY) then I can recommend these ones and these ones because they were the ones my kids used a lot. 🙂
#4 Swaddles
Babies can often be difficult to settle in those early days-weeks.
Learning how to wrap them up firmly in a nice swaddle can help immensely.
You can either go with the traditional swaddle or use fitted ones.
In the beginning, when my babies are really tiny I can get away with using a traditional swaddle.
I especially liked using muslin squares for Annie as she was born at a very warm time of year.
It meant that I could swaddle her but not be concerned about her overheating.
However, once my kids get a bit bigger, I really like using the Miracle swaddle blanket. It's very simple to use and keeps them wrapped up tight!
#5 Onesies/Sleepers
No matter what time of year your baby is born, you're gonna want a BUNCH of onesies and sleepers.
Depending on your climate you can decide if you want long-sleeve or short sleeve, but trust me when I say these will be your best friend.
They're simple to put on and affordable to buy in bulk. Plus, it only takes a cute pair of leggings to dress them up and make a complete outfit.
Having a good stash means that even if you get a little behind on washing, you'll still have some on hand.
Read –> How To Consistently Keep on Top of the Laundry
---
Those are my top 5 essentials. For a full and comprehensive list of everything, you might need for pre + post-baby check out my collection of comprehensive checklists!
Share with me what your newborn essentials are down in the comments below. 🙂