37 Week Pregnancy Update: Finally at Term!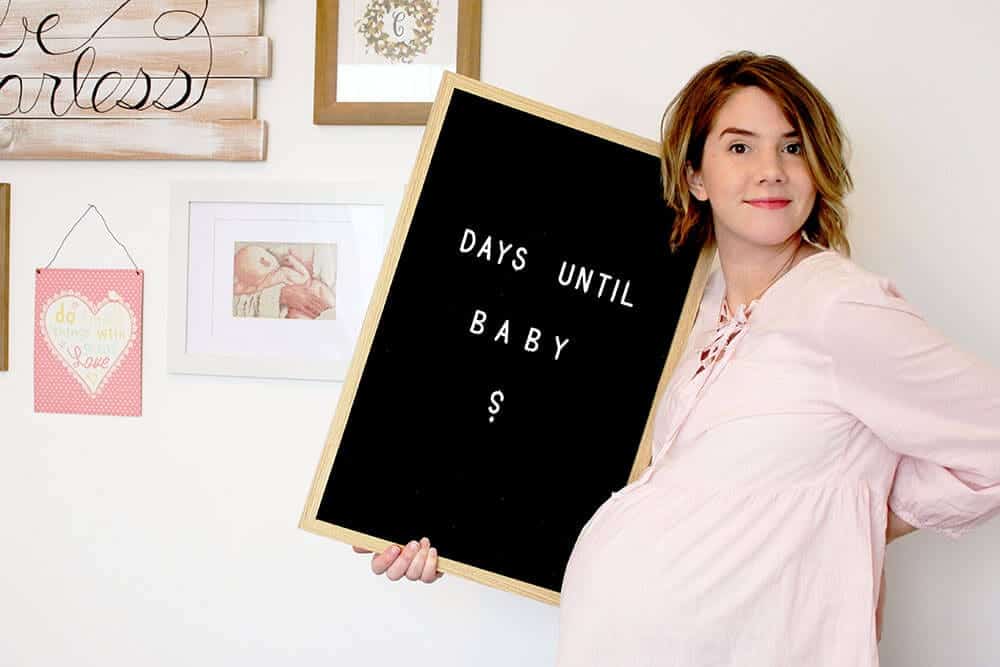 This post may contain affiliate links. As an Amazon Associate I earn from qualifying purchases.


I almost can't believe I'm typing out my 37 week pregnancy update. It has been a distant date for so long that it doesn't feel entirely real that it's here.
You can find last week's update here –> 36 Week Pregnancy Update: Signs of Early Labour
I think it is also because Annie's birthday is this weekend and we've had a busy week in general. So, having a baby hasn't exactly been the only thing I've been thinking about. I will admit though that I'm looking forward to the forced 'pause' it will cause our family to take.
Life has just been so busy!
*this post contains affiliate links
Sickness
Can I just emphasise how much of a relief it is that everyone is well again? Like, a HUGE relief!
Jack spent Saturday at his grandparent's house and when we went to pick him up I could tell he really wasn't himself. He was off his food and anyone that knows Jack knows that he has to be unwell in order for that to happen.
Of course, I was anxious that he was sick again with something. He did have a mild fever, but after a solid night of sleep he was back to his normal self the next day and I breathed a big sigh of relief.
It must have been an odd tummy bug though because both Shane and myself felt off for one day during the week.
Back Pain
Meh, I've just dealt with it. I've definitely resigned myself to just having to put up with it until the baby is born. My hope is that it doesn't impact labour at all.
I have found a few things that help though. If I can convince Shane to give me a massage using some Deep Heat ointment it really does make a difference.
Also, a bath or hot shower will give me some relief. However, one of the biggest factors is just rest. If I can allow myself to lie down in a comfortable position for even 30 minutes it'll often be enough to allow me to carry on with the day.
However, the pain was at its peak last night and continues to be an issue today. So much so that I've got my support belt on. It was slightly self-inflicted though, which I'll talk about next.
Nesting & Energy
Besides the physical signs that this baby is getting ready to come soon, the other signs that I've had are nesting and an unusual amount of energy.
The hospital bag is packed, the blog is basically set up to function on its own until the end of November, and so I've just been finding projects everywhere else.
When I was sterilizing the baby's bottles I couldn't stand the state of the cupboard under the kitchen sink. So, I decluttered, cleaned, and reorganised it.
Then yesterday I made a spur of the moment decision to refinish the baby doll's cot that was mine as a child. As I mentioned before, it's Annie's birthday coming up. I had wanted to refinish the cot and gift it to her at some stage, but it my crazy pregnancy nesting mind I thought it would be a good idea to do it just 3 days before her 2nd birthday.
The good news is that I got it done. I sanded and whitewashed it and I also recovered the mattress. During the process, I also hemmed two bassinet sheets.
The bad news is that I was in a world of pain by the end of the day. I've never had back pain like that before and despite all my attempts at relieving it, it is still continuing to give me grief today.
So, I'm doing my best to take things easy and treat myself kindly…even though I want the house to be spick and span 'just in case' this baby comes soon.
Labour Signs
There were several nights this week when I thought that labour might be about to start. And yes, it has always been at night. With both of my other kids, labour has mostly taken place in the small hours of the morning so I guess that's just what I'm used to. I would love to have a daytime labour and delivery this time around but I doubt that will happen.
So, my body seems to have several contractions from mid-afternoon until the early hours of the morning. Sometimes they wake me up at night, but they're not terrible.
I've also just been really sore and uncomfortable. There's so much pressure now and it makes it difficult to walk much at all.
I feel dumb predicting when she'll arrive because no one truly knows, but going off of what I've been feeling I would say we'll see her in the next 1-2 weeks.
Midwife Appointment
My midwife popped by this morning to check on me and the baby. Thankfully, all looks well. Apart from my painful back, I'm not feeling terrible.
She did confirm what I had been suspecting and that was that the baby has definitely dropped. There was one day this week where I woke up and felt really sore and a lot of pressure. I wondered if perhaps she had engaged, especially because my acid reflux hasn't been nearly so much of an issue for the past week or so.
If you've had more than one baby then you'll know that the baby dropping is a positive sign, but it doesn't mean that labour is imminent. In fact, with subsequent pregnancies babies can often pop back up because the pelvis is a lot more spacious.
This Weekend
By the time you read this, the weekend would have already passed, but my prayer is that I do not go into labour until next week. There are three reasons for this.
The first is that it is Annie's birthday. I know it isn't the end of the world to have two children born on the same day (hello…twins!) but I would love for each of our children to have their own day to celebrate.
Secondly, our childcare for when I go into labour is out of town until Saturday afternoon. It's not really that big of an issue as my dad will be able to watch the kids, but it would be simpler if our original option was available.
The last reason is that it is my midwife's weekend off. Of course, there is cover, but I'd still obviously love for her to be the one to deliver the baby.
So, I've asked the Lord to keep this baby safely tucked in until Monday at the earliest. He knows best so we shall see what happens.
Until next time!