Swaddle Transition: The Best Strategies for Dropping the Swaddle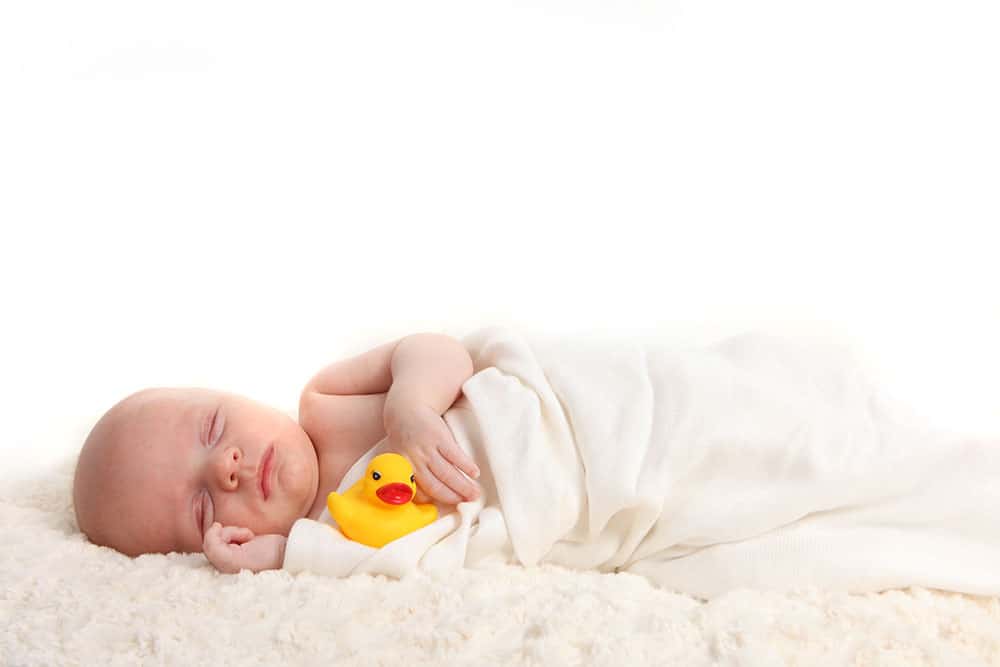 This post may contain affiliate links. As an Amazon Associate I earn from qualifying purchases.
The swaddle transition was never a transition that I loved or enjoyed overly much.
I don't like change myself but there comes a time both developmentally and for safety reasons, that your baby needs to drop the swaddle.
I'm betting you're in that awkward phase where your baby is ready to leave the swaddle behind but you're not entirely sure how to go about it.
I hear ya!
When it comes to my baby's sleep I treat it with the utmost respect and protection because when my baby sleeps well…so do I!
That's why making changes can seem a challenge but it doesn't have to be as terrible as you might think.
I'll walk you through several different methods of how to drop the swaddle and that way you have options.
The reality is that every baby is different and so it is incredibly helpful to have different strategies to try in order to see what works best.
While dropping the swaddle may seem daunting, before you know it your baby will be sleeping well again and you'll forget all about swaddling.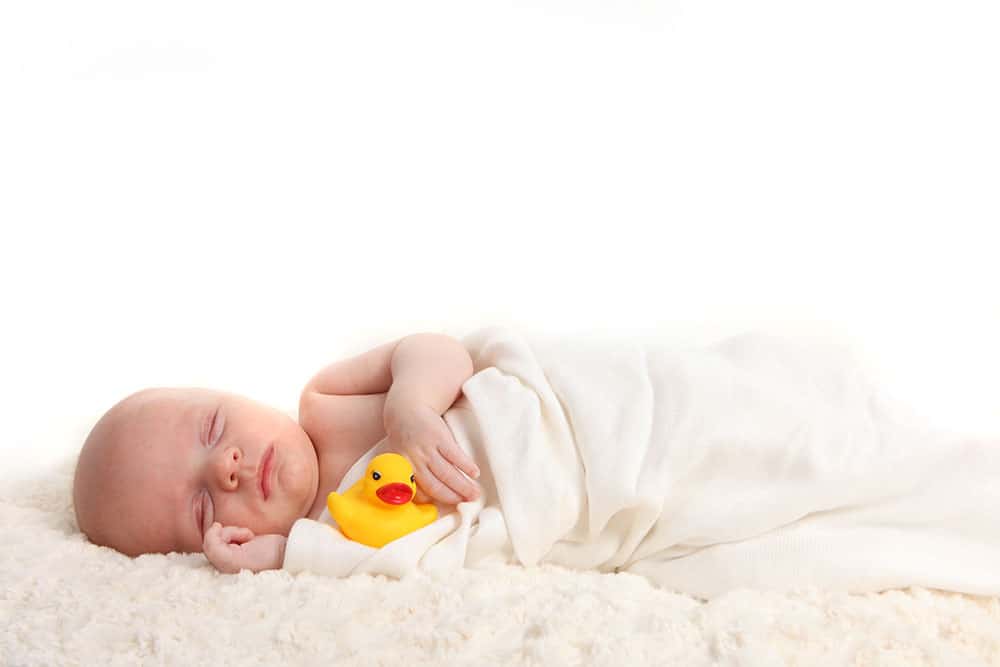 Why Do You Need to Drop the Swaddle
#1 Your Baby Has Started to Roll
If your baby knows how to roll over it is without doubt time to drop the swaddle.
It simply is not safe to continue to have their arms restricted. There is a very real danger that they could get themselves into a position where their airway is obstructed and they aren't able to reposition themselves.
That is obviously every mom's worst nightmare, so if your baby can roll, you're going to have to drop that swaddle quick smart!
#2 Age
The second reason that you may wish to drop the swaddle is that they've grown past the stage where the startle reflex wakes them up.
If that is the case, there is no harm in transitioning out of the swaddle.
The startle reflex typically disappears by 4 months of age (source).
Related: At What Age Can I Sleep Train My Baby?
#3 Strength
Sometimes babies aren't able to roll yet, however, if your baby is repeatedly breaking out of every swaddle you've tried, you need to consider transitioning.
The AAP is clear on its stance surrounding items that should not be in the crib for safety reasons.
Loose bedding is one of them.
If your baby is breaking out of the swaddle, there is the increased risk of them getting tangle in it.
Strategies for the Swaddle Transition:
#1 Slow and Steady
First up is a method from Val's blog. It requires zero funds but can take a while.
She recommends keeping one arm out of the swaddle and seeing how your baby does.
Let them get used to the freedom of movement slowly. Once they're used to having one arm out, leave the other arm out. Eventually, you remove the swaddle altogether.
You could plan to do it over a week or even two weeks depending on how confident you feel with it and how you feel as though your baby will do.
I would recommend doing one arm out for about 2-3 days. Start with bedtime because they are typically more tired then.
After you've done that, move to both arms out.
The PERFECT swaddle to do this with is the Halo Sleep Sack because it starts out as a regular swaddle and transitions to a sleep sack.
It is pretty amazing. Check it out HERE.
It'll take a little longer for your baby to get used to having both arms out but give them time to adjust and you'll be surprised at how well they do.
This is an awesome method if you don't have the budget to invest in any swaddle tools and if you aren't in a hurry.
However, if your baby is starting to roll or you're a bit like me and just want it over with quickly, then you might be interested in the other methods below. 🙂
#2 Sleepyhugs Sleep Swaddle
A couple of weeks ago Sleepytot New Zealand sent us the Sleepyhugs Sleep Swaddle and asked us for a review.
Well, Annie and I were more than willing to oblige.
Before I go any further, please know that this is not a sponsored post and that all opinions are my own. 🙂 Sleepytot New Zealand is (obviously) a New Zealand-based company that sells products to help your little one sleep well.
There were several patterns to pick from but this is the one we decided on. I love the sweet pastels in it!
So, what does it do? Here is an excerpt straight from their website:
"It's a transitional swaddle/sleepsuit – the answer to the Swaddle Transition!
The new revolutionary sleep suit that's helping babies transition from the swaddle wrap to full arm movement.
Helping them cope better with the 'startle reflex' and helping them sleep better and longer, giving baby the much-needed sleep they require to develop.
Oh, and gives parents back their sleep.
The SLEEPY HUGS sleep suit has been designed to allow your baby to move their arms freely while still providing an enclosed, secure feeling that they enjoy.
It is designed as a totally enclosed sleep suit but with a slight resistance in the arms so that they can move their arms around freely yet gives them that 'edge' feeling.
So, when they experience a startle reflex, they immediately feel secure.
PRODUCT INFORMATION
New Designs made using a lighter weight cotton making it suitable for the Spring/Summer seasons.
100% super soft cotton, naturally breathable and suitable for eczema
Fully enclosed arms prevents scratching
Wide sack design to suit hip dysplasia harness
Top zipper cover to protect baby's delicate skin
Bottom opening zipper for convenient nappy changes"
How did we find it?
I'll be honest and say I was a little nervous as Annie has been using a sleep sack for some time now and I wasn't sure how she would enjoy this.
She loved it!
When it came time to drop the swaddle with her it was quite easy as she went straight to tummy sleeping. I WISH I had had this for my son, though! The transition with him was rough and involved a lot of tears (from us both!).
Despite the fact that Annie has been using a sleep sack for a while I really like this sleepsuit for several reasons:
Her hands are covered and therefore I don't have to worry about them getting cold.
It is SO easy to put on (unlike her regular sleep sacks).
The fabric is lightweight and stretchy meaning she can move freely. (Plus it dries quickly!)
She looks ridiculously cute in it!
So, it is a win for us and will be well used. I highly recommend it and suggest you check out Sleepytot's website and all they have to offer. 🙂
#3 Drop the Swaddle Cold Turkey
This isn't something I've ever done with my kids but it is definitely a viable option, especially if you just HAVE to drop the swaddle for safety purposes.
If you do have to just do it cold turkey, I would recommend starting at bedtime and replacing the swaddle with a sleep sack.
I've used sleep sacks for all three of my children and have never had to transition or wean them from using it.
Once they were toddlers we just switched to a regular blanket and they never skipped a beat.
If you're dropping the swaddle cold turkey, expect it to take 3-5 days of things being rough and there being a bit of crying.
It may NOT take that long, but expect that and then if it is shorter you'll be pleasantly surprised.
#4 Tummy Sleeping
The third option is to let your baby sleep on their tummy.
DON'T SHOOT ME!
I know that the recommendation is to only let your baby sleep on their back and I completely understand so let me explain.
I'm only recommending doing this if your baby is mobile and able to get to their tummy on their own. If your baby is at that stage then it is by far safer to unswaddle them and let them sleep on their tummy than it is to keep them swaddled and at risk of suffocation should they roll.
Once out of the swaddle both of my kiddos were natural tummy sleepers and have slept really well ever since.
If it works for you then do it, if not…then that's also fine. 🙂
There are lots of other products and recommendations out there but these are the ones that I recommend.
Remember that all transitions take time. If your baby is struggling, don't jump to the conclusion that you are doing something wrong.
Give them time to get used to the freedom of movement and they will adjust.